Effective as of January 29
North Carolina Remains in a Modified Stay-At-Home Order and Extends Cocktails-To-Go Executive Order
Gov. Roy Cooper announced North Carolina will remain in a modified Stay-At-Home order until February 28. The executive order that allows bars and restaurants to sell cocktails to-go has been extended until March 31.
---
Effective as of January 8
North Carolina Remains in a Modified Stay-At-Home Order
Gov. Roy Cooper announced North Carolina will remain in a modified Stay-At-Home order, which will require people to stay at home between 10pm and 5am until at least January 29.
---
Effective as of December 21
North Carolina Allows To-Go or Delivery Sales for Mixed Beverages
Gov. Roy Cooper announced North Carolina will allow to-go or delivery sales for mixed beverages from restaurants and bars through January 31, 2021.The modified Stay-At-Home order remains in effect and the sale of alcohol for on-site consumption must still cease at 9pm. 
---
Effective as of December 11
North Carolina Enters a Modified Stay-At-Home Order
Gov. Roy Cooper announced North Carolina will enter a modified Stay-At-Home order, which will require people to stay at home between 10pm and 5am. Businesses including restaurants, bars, entertainment venues, personal care businesses, and most retail stores will be required to close by 10pm. Travel to and from work; to obtain food, medical care, fuel or social services; or to take care of a family member is exempted. The alcohol sales curfew is now 9pm, two hours earlier from the previous curfew. For more information, please click here.
---
Effective as of November 13
North Carolina Remains in Phase 3
Gov. Roy Cooper announced North Carolina will remain in Phase 3 until at least December 4. Indoor gathering limits have decreased to 10 people, down from the previous limit of 25. 
---
Effective as of October 2
North Carolina Moves into Phase 3
Gov. Roy Cooper announced North Carolina will move into Phase 3 at 5 p.m. Friday. This is the final step of Cooper's three-part plan to reopen businesses and resume social activities during the pandemic.
Limits that will change under Phase 3:
Large outdoor venues with seating greater than 10,000 can operate at 7% capacity.
Bars, nightclubs and dance halls can operate outdoors only at 30% capacity or 100 customers, whichever is less.
Music halls and venues for live performances can operate at 30% capacity of 100 customers, whichever is less.
Movie theaters can operate at 30% capacity or 100 customers per movie screening, whichever is less.
The outdoor parts of amusement parks can operate at 30% capacity.
Current limits that will remain the same under Phase 3:
Alcohol sales for on-site consumption are banned after 11 p.m.
The North Carolina face mask mandate is still in place.
Mass gathering limits remains at 25 people indoors and 50 people outdoors.
This executive order will be in place unless otherwise changed or its expiration date on Friday Oct. 23. To read the full executive order, click here.
---
Announced September 22
Governor Cooper Announces Additional $40 Million COVID Relief for Small Businesses
If your business has experienced extraordinary business disruption and not been able to open due to the COVID-19 coronavirus pandemic, the new Mortgage, Utility and Rent Relief (MURR) Program may be able to offer assistance with some of your fixed costs. Eligible applicants include the list below. Please click here to see if you are eligible for this assistance. 
Amusement parks
Banquet Halls (with catering staff)
Bars, taverns, night clubs, cocktail lounges
Bingo parlors
Bowling alleys/centers
Dance halls
Indoor fitness and recreation centers
Motion picture/movie theaters (except drive-ins)
Museums
---
Announced September 17 (Effective as of October 5)
Public Schools Able to Implement Plan A for Elementary Schools
Governor Roy Cooper announced that beginning on October 5, North Carolina public school districts and charter schools can choose to implement Plan A for elementary schools (grades K-5). Plan A continues to include important safety measures like face coverings for all students, teachers and staff, social distancing, and symptom screening, but does not require schools to reduce the number of children in the classroom.
Read More     |     Requirements for Opening
---
Effective as of September 1
Moving into Phase 2.5
North Carolina will take a modest step forward move into Phase 2.5 starting Friday, September 4th at 5pm. Mask mandates and other prevention methods remain in effect and are even more important to contain the virus. 
Phase 2.5 means the following for North Carolina:
Mass gathering limits will increase to 25 people indoors and 50 people outdoors from the current limit of 10 indoors and 25 outdoors. 
Playgrounds may open. 
Museums and aquariums may open at 50% capacity. 
Gyms and indoor exercise facilities, such as yoga studios, martial arts, and rock climbing, as well as skating rinks, bowling alleys, indoor basketball, volleyball etc., may open at 30% capacity. 
Bars, nightclubs, movie theaters, indoor entertainment facilities, amusement parks, dance halls will remain closed. 
Large venues remain subject to the mass gathering limits. 
11pm curfew on alcohol sales at restaurants extended to October 2nd.
Age requirement for masks includes children down to age 5.
Capacity limits at restaurants and personal care businesses (hair, nail salons, etc.) will stay the same.
---
Effective as of August 5
Phase 2 Extended
Gov. Roy Cooper said North Carolina's COVID-19 restrictions keeping high-risk businesses closed and mass gatherings severely limited will remain in place for another five weeks. Cooper announced Wednesday that the state will not be moving into Phase 3 on Friday, Aug. 7, when his extension was set to expire, but instead will remain in Phase 2 until Sept. 11. 
The new order means bars, gyms, movie theaters and amusement parks — places where people are usually in closer contact — will now be closed for nearly six straight months. Gatherings are still limited to 10 people indoors and 25 people outdoors, with some exceptions.
---
Effective as of July 29
CMS Changes School Reopening Plan; Opts for 'Plan C': Full Remote Learning
After reviewing data, CMS has changed its course on the district's reopening plans for the upcoming school year. CMS called an emergency meeting on Thursday to announce that schools will begin the 2020-21 school year with "Plan C," the fully remote option. The new reopening plans were voted on by the school board, and it passed unanimously. Students will start fully remote instruction beginning Aug. 17, and will continue until it is safe to enter the school buildings and be near their peers, according to CMS Superintendent Earnest Winston. 
The former plan, "Plan B + Remote,", was designed to send students back to school for two weeks of in-person instruction, and then move to fully remote after that. Now, CMS has chosen to forego allowing students and staff back into the buildings until further notice.
---
Effective as of July 23
Late-night Alcohol Sales Curfew
Late-night alcohol sales will be limited in Charlotte and some surrounding towns to help slow the spread of COVID-19. The new business proclamation that was signed by county officials along with leaders in Charlotte, Matthews, Davidson, Mint Hill and Pineville bans onsite food and drink consumption after 11pm in places that serve alcohol. Restaurants that serve alcohol will only be able to offer takeout and delivery after 11pm. Restaurants, breweries, wine shops, private clubs, bars, and any other business can't sell alcohol for onsite consumption between 11pm-7am. 
For more info on the alcohol sales restriction, click here.
---
Effective as of July 20
Iredell-Statesville Schools Reopen Under 'Plan B'
On July 14, 2020, Governor Cooper announced that schools would be allowed to reopen under the direction of Plan B. This plan allows schools the ability to reopen under a hybrid model that limits student capacity at each campus site. While districts may select to move forward with a more restricted model (Plan C), the option to still allow limited face-to-face instruction (Plan B) was adopted by Iredell-Statesville Schools. The Iredell-Statesville Schools Board of Education voted unanimously on July 20, 2020, to approve our system to open under Plan B with the option for parents to select Plan C if desired. Parents have the option to explore virtual options through their child's school or take part in iACADEMY through a homeschool/public school partnership.
For a full comprehensive summary of the 2020-2021 school year, click here.
---
Effective as of July 14
Schools Will Open for Both In-person and Remote Learning; NC Remains in Phase 2

Gov. Roy Cooper announced that North Carolina schools will reopen in August under "Plan B," allowing both in-person and remote learning. The "Plan B" approach lets students participate in a mix of in-classroom and remote learning. This plan involves some students potentially rotating schedules, with some students not coming onto campus at all. Schools will also be allowed the option of completely virtual learning, as laid out in N.C.'s "Plan C."
Face coverings will be required for every teacher, staff and student from kindergarten through high school. To help, the state will provide at least five reusable face coverings for every student, teacher and staff member. The state has already delivered a two-month supply of thermometers and medical-grade equipment for school nurses.
Cooper also announced that when the current executive order expires July 17, NC will remain under Phase 2 for three weeks.
For more guidance on school reopenings and safety measures being taken, click here.
For frequently asked questions about school reopenings, click here.
 
---
Effective as of June 24
NC Pauses in Safer at Home Phase 2 & Adds Statewide Requirement for Face Coverings
"As trends move in the wrong direction, North Carolina will not yet move into Phase 3. Governor Roy Cooper and North Carolina Department of Health and Human Services Secretary Dr. Mandy Cohen today announced that North Carolina will remain in Safer at Home Phase 2 for three more weeks. Cooper also announced that face coverings must be worn when people are in public places as officials seek to stabilize concerning trends of increasing viral spread. 
Growing evidence shows that cloth face coverings, when worn consistently, can decrease the spread of COVID-19, especially among people who are not yet showing symptoms of the virus. Until now, face coverings had been strongly recommended. Under today's executive order, people must wear face coverings when in public places where physical distancing is not possible. 
In addition, certain businesses must have employees and customers wear face coverings, including retail businesses, restaurants, personal care and grooming; employees of child care centers and camps; state government agencies under the Governor's Cabinet; workers and riders of transportation; and workers in construction/trades, manufacturing, agriculture, meat processing and healthcare and long-term care settings."
Read the full article here.
Exceptions: 
Executive Order No. 147 does not require Face Coverings to be worn by a worker, customer, or patron who:
1. Should not wear a Face Covering due to any medical or behavioral condition or disability (including, but not limited to, any person who has trouble breathing, or is unconscious or incapacitated, or is otherwise unable to put on or remove the face covering without assistance)
2. Is under eleven (11) years of age
3. Is actively eating or drinking
4. Is strenuously exercising
5. Is seeking to communicate with someone who is hearing-impaired in a way that requires the mouth to be visible
6. Is giving a speech for a broadcast or to an audience
7. Is working at home or is in a personal vehicle
8. Is temporarily removing his or her Face Covering to secure government or medical services or for identification purposes
9. Would be at risk from wearing a Face Covering at work, as determined by local, state, or federal regulations or workplace safety guidelines
10. Has found that his or her Face Covering is impeding visibility to operate equipment or a vehicle
11. Is a child whose parent, guardian, or responsible person has been unable to place the Face Covering safely on the child's face.
 
---
The NC Department of Health & Human Services have put together The Prevent and Protect Media Toolkit containing resources to empower community partners and small businesses to communicate about the cloth coverings state requirement to protect loved ones, employees and customers. It includes:
·         Social media graphics answering basic questions about wearing coverings over the mouth and nose. 
·         Posters for businesses and community organizations to print and hang that remind people to wear cloth coverings over their nose and mouth and celebrate the commitment businesses in your community have made to protect employees and customers. We encourage you to place the posters in your breakrooms, waiting rooms, building entrances or doors, and other frequented locations. 
In addition to materials about cloth coverings, there are social media posts and images, infographics, customizable flyers, and more to get the word out about preventative measures (3Ws), testing and contact tracing and help North Carolinians protect themselves and their loved ones against the spread of COVID-19. The NC DHHS will continue to update the page with new materials, so check back often. All materials are available in English and Spanish.  
---
Effective as of May 22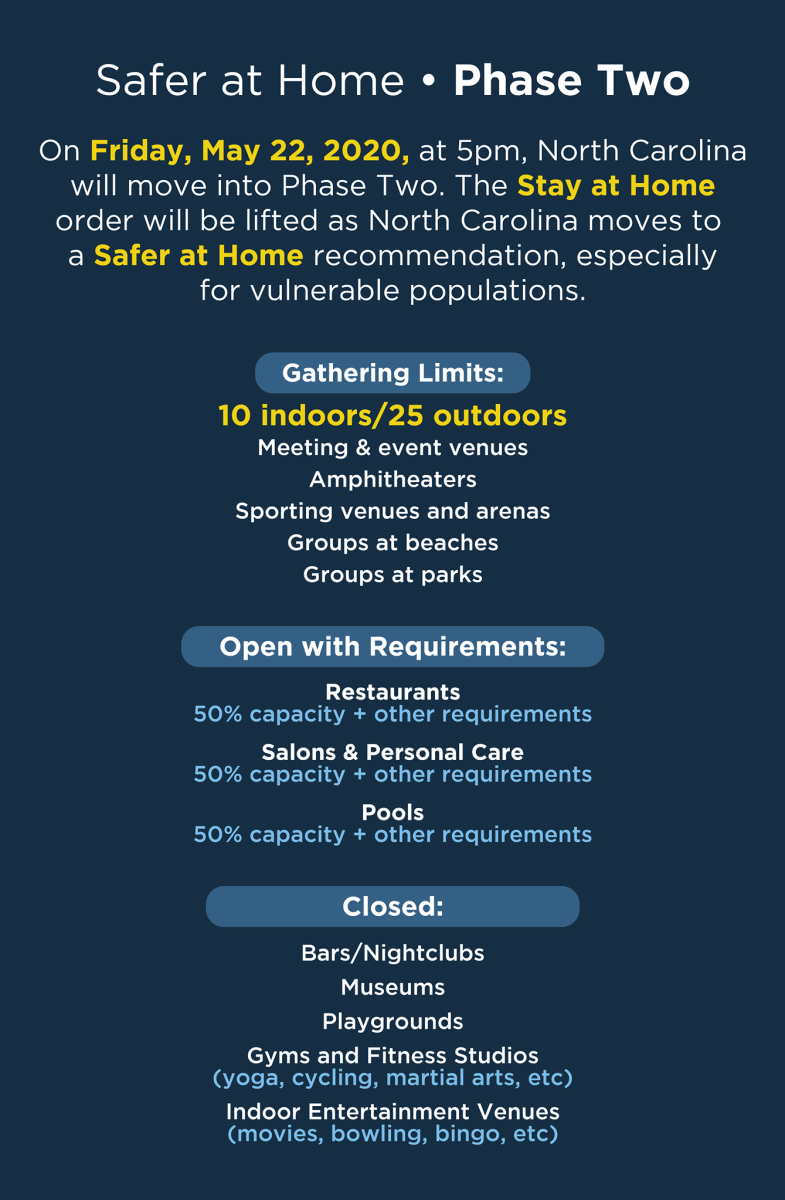 ---
Effective as of May 1
A statewide stay-at-home order that went into effect on March 30 is due to expire on Friday, May 8, and Phase 1 of reopening will begin. According to details in the plan, North Carolinians have flattened the curve and slowed the rate of acceleration in COVID-19 cases enough to do so.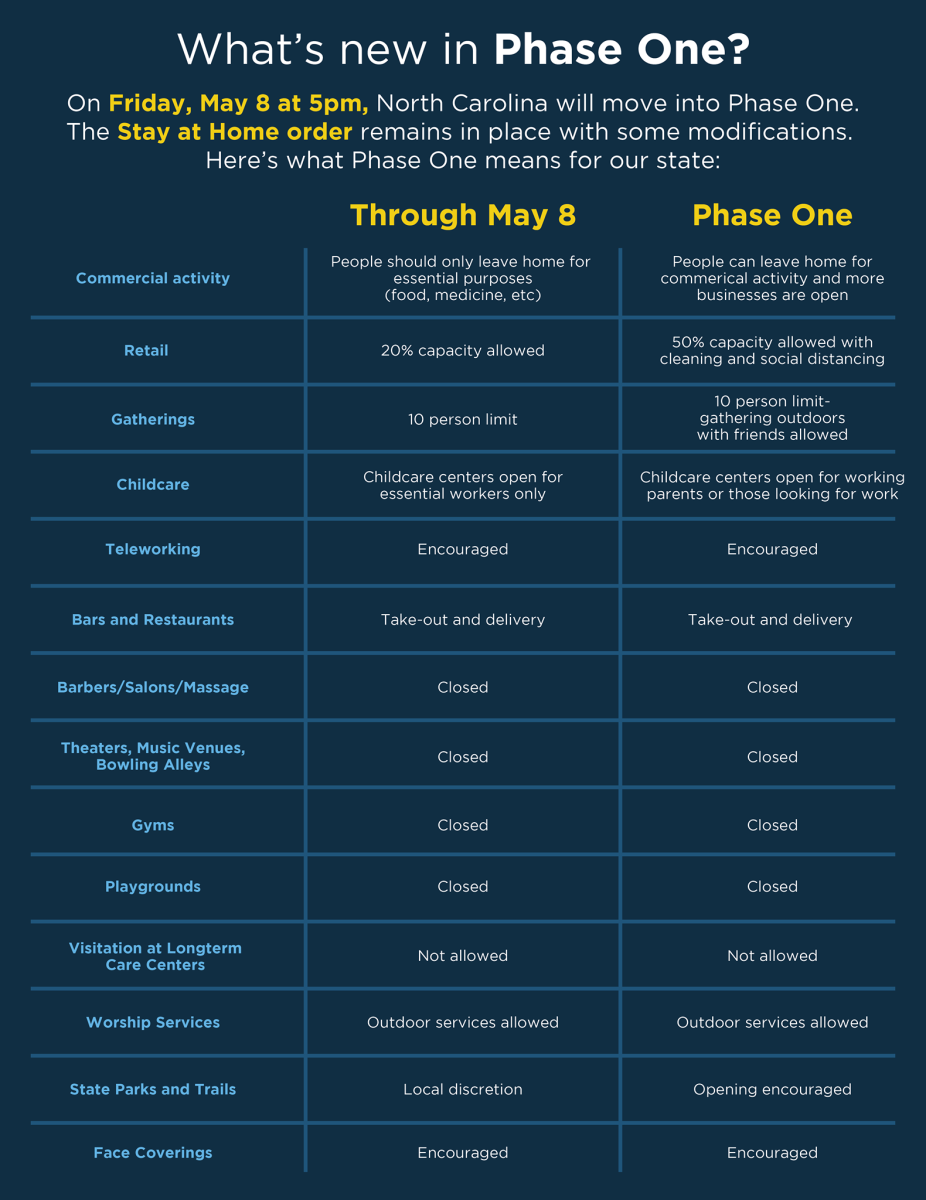 Phase 1 of Reopening North Carolina
Phase 1 begins May 8.
Certain restrictions will remain in place to keep social distancing efforts a top priority for society. Changes in the order include:
• People can leave their homes for commercial activity.
• Commercial retailers and services will need to implement social distancing policies including cleaning and other protocols.
• Parks can open subject to gathering limits (Mecklenburg County reopened the parking lots at county parks on Thursday.)
• Gatherings will be limited to no more than 10 people.
• Face coverings will be recommended in public.
• Restrictions will remain in place for nursing homes and other congregate-living settings.
• Teleworking will remain highly recommended.
(At least two to three weeks after Phase 1 begins, state officials believe they can enact Phase 2.)
Phase 2 of Reopening North Carolina
Phase 2 begins May 22.
The following changes are planned to be made in Phase 2:
• Lift the stay-at-home order with a strong encouragement for vulnerable populations to continue staying at home.
• It will allow the limited opening of restaurants, bars and other businesses. They will follow strict safety protocols such as reduced capacity and social distancing.
• Allowing gatherings at houses of worship and entertainment venues at reduced capacities.
• Allow an increase in number of people allowed at gatherings
• Open public playgrounds
• Continue restrictions on nursing homes and congregate-living settings
(The next phase is nearly a full reopening of the state, except for the nursing homes.)
Phase 3 of Reopening North Carolina
Phase 3 could begin as soon as June 20.
The final phase includes the following changes:
• Lessen restrictions for vulnerable populations with encouragement to continue practicing physical distancing.
• Allow increased capacity at restaurants, bars, other businesses, houses of worship and entertainment venues.
• Further increase the number of people allowed at gatherings.
• Continue restrictions on nursing homes and congregate-living settings
---
Effective as of April 29
Mecklenburg County Park and Recreation is loosening some restrictions tomorrow as part of the County's transition to North Carolina's Stay at Home Proclamation.
Effective April 30, parking lots for parks, greenways, and nature preserves will reopen for vehicles, instead of simply walk-in and bicycle access. In addition, boat ramps at Ramsey Creek, Blythe Landing and Copperhead Island will reopen.
Tennis will be allowed in County parks that follow safety rules and restrictions provided by the United States Tennis Association (USTA). Tennis players and all park patrons should observe the CDC's recommended social distancing guideline of at least six feet between individuals, and when that is not possible, wear a face mask.
Golf is still allowed with restrictions of only one person per golf cart and social distancing. County driving ranges are still closed.
Park playgrounds, sports courts, restrooms, and fields for group sports will remain closed. High contact sports like basketball, soccer and volleyball as well as softball/baseball are not permitted.
Indoor facilities like recreation, nature, and aquatic centers will also remain closed to the public until further notice.
Visitors cannot congregate in groups larger than 10.
For more information, go to MeckNC.gov.
---
Effective as of April 23, 2020
Governor Roy Cooper extends Stay At Home Order until May 8th and shared a three-phased approach, based on data, to lift restrictions.
---
Effective as of April 8, 2020
Mecklenburg Parks and Recreation: Park gates are closed to vehicles. Parks and greenways are available for walk-in and bicycle use only.
---
Effective as of March 30, 2020
Governor Roy Cooper issued a Stay at Home Order that will stay in place for 30 days or until it is repealed, replaced or rescinded by another executive order. The order directs residents to stay at home unless you need to leave for essentials such as a job, food, medicine, outdoor exercise or to help someone. For FAQ's, please click here. 
---
Effective as of March 26, 2020
Mecklenburg County has issued a "Stay at Home" Order and will remain in effect until April 16, 2020. The order will require county residents to remain in their homes in an attempt to reduce the number of new COVID-19 infections within the county. Exceptions will be allowed for those seeking medical treatment, buying food or exercising outdoors. Please click here for general FAQ of a "Stay at Home" Order.
---
Effective as of March 17, 2020
Governor Roy Cooper announced that North Carolina restaurants and bars must close except for takeout and delivery orders. Visit Lake Norman has been working hard to provide local residents and visitors a list of restaurants offering takeout, curbside pickup, and delivery orders along with updated hours of operation. Several attractions in the area have closed temporarily to help fight the spread of Coronavirus, however Visit Lake Norman has also built a list of places in the area that are still open while following the mandate of prohibiting gatherings of 10 people or more.