Exceptions: 
Executive Order No. 147 does not require Face Coverings to be worn by a worker, customer, or patron who:
1. Should not wear a Face Covering due to any medical or behavioral condition or disability (including, but not limited to, any person who has trouble breathing, or is unconscious or incapacitated, or is otherwise unable to put on or remove the face covering without assistance)
2. Is under eleven (11) years of age
3. Is actively eating or drinking
4. Is strenuously exercising
5. Is seeking to communicate with someone who is hearing-impaired in a way that requires the mouth to be visible
6. Is giving a speech for a broadcast or to an audience
7. Is working at home or is in a personal vehicle
8. Is temporarily removing his or her Face Covering to secure government or medical services or for identification purposes
9. Would be at risk from wearing a Face Covering at work, as determined by local, state, or federal regulations or workplace safety guidelines
10. Has found that his or her Face Covering is impeding visibility to operate equipment or a vehicle
11. Is a child whose parent, guardian, or responsible person has been unable to place the Face Covering safely on the child's face.
 
---
The NC Department of Health & Human Services have put together The Prevent and Protect Media Toolkit containing resources to empower community partners and small businesses to communicate about the cloth coverings state requirement to protect loved ones, employees and customers. It includes:
·         Social media graphics answering basic questions about wearing coverings over the mouth and nose. 
·         Posters for businesses and community organizations to print and hang that remind people to wear cloth coverings over their nose and mouth and celebrate the commitment businesses in your community have made to protect employees and customers. We encourage you to place the posters in your breakrooms, waiting rooms, building entrances or doors, and other frequented locations. 
In addition to materials about cloth coverings, there are social media posts and images, infographics, customizable flyers, and more to get the word out about preventative measures (3Ws), testing and contact tracing and help North Carolinians protect themselves and their loved ones against the spread of COVID-19. The NC DHHS will continue to update the page with new materials, so check back often. All materials are available in English and Spanish.  
---
Effective as of May 22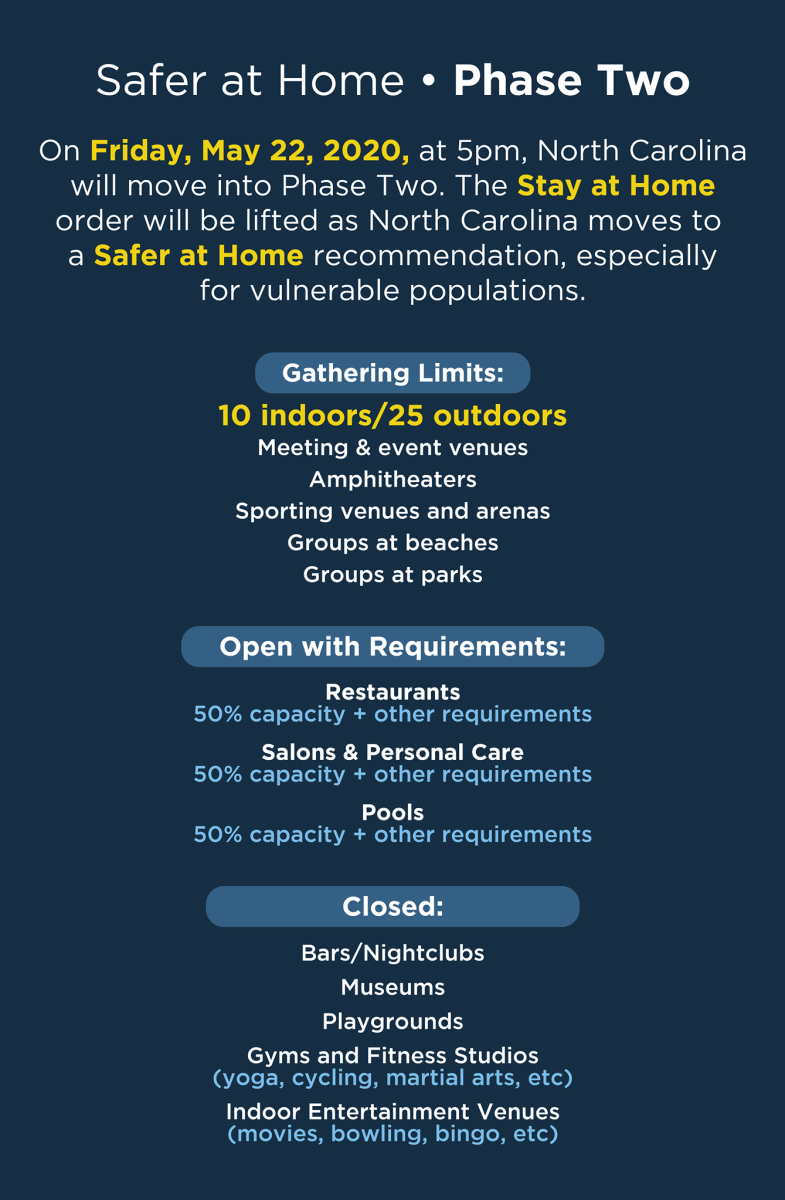 ---
Effective as of May 1
A statewide stay-at-home order that went into effect on March 30 is due to expire on Friday, May 8, and Phase 1 of reopening will begin. According to details in the plan, North Carolinians have flattened the curve and slowed the rate of acceleration in COVID-19 cases enough to do so.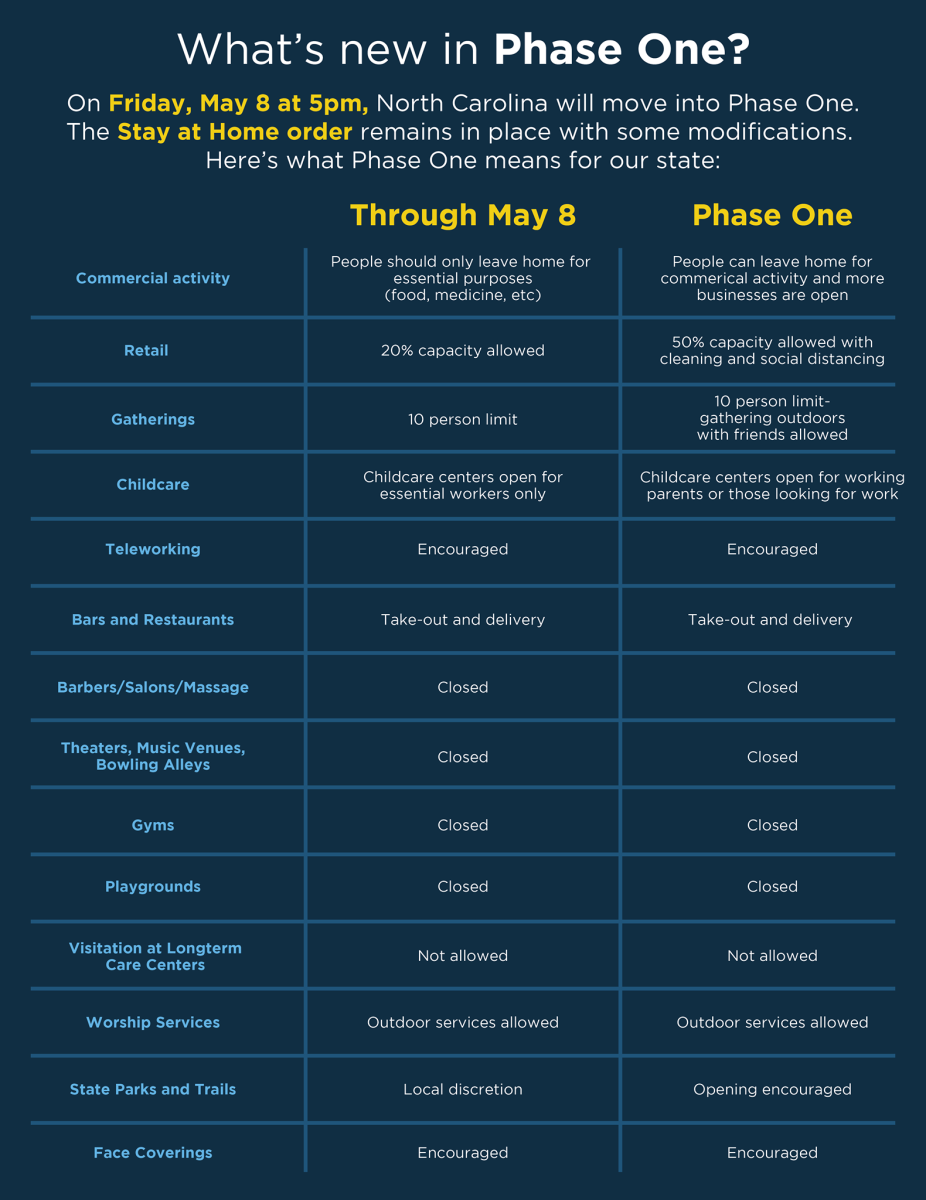 Phase 1 of Reopening North Carolina
Phase 1 begins May 8.
Certain restrictions will remain in place to keep social distancing efforts a top priority for society. Changes in the order include:
• People can leave their homes for commercial activity.
• Commercial retailers and services will need to implement social distancing policies including cleaning and other protocols.
• Parks can open subject to gathering limits (Mecklenburg County reopened the parking lots at county parks on Thursday.)
• Gatherings will be limited to no more than 10 people.
• Face coverings will be recommended in public.
• Restrictions will remain in place for nursing homes and other congregate-living settings.
• Teleworking will remain highly recommended.
(At least two to three weeks after Phase 1 begins, state officials believe they can enact Phase 2.)
Phase 2 of Reopening North Carolina
Phase 2 begins May 22.
The following changes are planned to be made in Phase 2:
• Lift the stay-at-home order with a strong encouragement for vulnerable populations to continue staying at home.
• It will allow the limited opening of restaurants, bars and other businesses. They will follow strict safety protocols such as reduced capacity and social distancing.
• Allowing gatherings at houses of worship and entertainment venues at reduced capacities.
• Allow an increase in number of people allowed at gatherings
• Open public playgrounds
• Continue restrictions on nursing homes and congregate-living settings
(The next phase is nearly a full reopening of the state, except for the nursing homes.)
Phase 3 of Reopening North Carolina
Phase 3 could begin as soon as June 20.
The final phase includes the following changes:
• Lessen restrictions for vulnerable populations with encouragement to continue practicing physical distancing.
• Allow increased capacity at restaurants, bars, other businesses, houses of worship and entertainment venues.
• Further increase the number of people allowed at gatherings.
• Continue restrictions on nursing homes and congregate-living settings
---
Effective as of April 29
Mecklenburg County Park and Recreation is loosening some restrictions tomorrow as part of the County's transition to North Carolina's Stay at Home Proclamation.
Effective April 30, parking lots for parks, greenways, and nature preserves will reopen for vehicles, instead of simply walk-in and bicycle access. In addition, boat ramps at Ramsey Creek, Blythe Landing and Copperhead Island will reopen.
Tennis will be allowed in County parks that follow safety rules and restrictions provided by the United States Tennis Association (USTA). Tennis players and all park patrons should observe the CDC's recommended social distancing guideline of at least six feet between individuals, and when that is not possible, wear a face mask.
Golf is still allowed with restrictions of only one person per golf cart and social distancing. County driving ranges are still closed.
Park playgrounds, sports courts, restrooms, and fields for group sports will remain closed. High contact sports like basketball, soccer and volleyball as well as softball/baseball are not permitted.
Indoor facilities like recreation, nature, and aquatic centers will also remain closed to the public until further notice.
Visitors cannot congregate in groups larger than 10.
For more information, go to MeckNC.gov.
---
Effective as of April 23, 2020
Governor Roy Cooper extends Stay At Home Order until May 8th and shared a three-phased approach, based on data, to lift restrictions.
---
Effective as of April 8, 2020
Mecklenburg Parks and Recreation: Park gates are closed to vehicles. Parks and greenways are available for walk-in and bicycle use only.
---
Effective as of March 30, 2020
Governor Roy Cooper issued a Stay at Home Order that will stay in place for 30 days or until it is repealed, replaced or rescinded by another executive order. The order directs residents to stay at home unless you need to leave for essentials such as a job, food, medicine, outdoor exercise or to help someone. For FAQ's, please click here. 
---
Effective as of March 26, 2020
Mecklenburg County has issued a "Stay at Home" Order and will remain in effect until April 16, 2020. The order will require county residents to remain in their homes in an attempt to reduce the number of new COVID-19 infections within the county. Exceptions will be allowed for those seeking medical treatment, buying food or exercising outdoors. Please click here for general FAQ of a "Stay at Home" Order.
---
Effective as of March 17, 2020
Governor Roy Cooper announced that North Carolina restaurants and bars must close except for takeout and delivery orders. Visit Lake Norman has been working hard to provide local residents and visitors a list of restaurants offering takeout, curbside pickup, and delivery orders along with updated hours of operation. Several attractions in the area have closed temporarily to help fight the spread of Coronavirus, however Visit Lake Norman has also built a list of places in the area that are still open while following the mandate of prohibiting gatherings of 10 people or more.