Lake Norman's theatre scene is something you can't pass up. The Davidson Community Players and Davidson College Performing Arts both offer great performances each and every year that feature local talent. It is composed of two divisions that connects with both the adult and youth audience. Cain Center for the Arts is now featuring a variety of live shows for the 2023 season! If you're planning a trip or happen to be around the area, then you must check out these upcoming shows!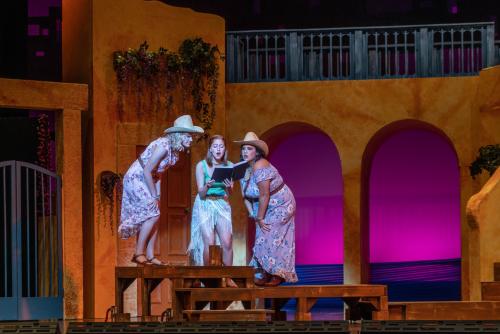 Comedy of Tenors
Native Gardens (Feb. 23-March 12)
Pablo, a high-powered lawyer, and doctoral candidate Tania, his very pregnant wife, are realizing the American dream when they purchase a house next door to community stalwarts Virginia and Frank. But a disagreement over a long-standing fence line soon spirals into an all-out war of taste, class, privilege, and entitlement. The hilarious results guarantee no one comes out smelling like a rose.
Cat on a Hot Tin Roof (March 23-April 2)
In a plantation house, a family celebrates the sixty-fifth birthday of Big Daddy, as they sentimentally dub him. The mood is somber, despite the festivities, because a number of evils poison the gaiety: greed, sins of the past and desperate, clawing hopes for the future spar with one another as the knowledge that Big Daddy is dying slowly makes the rounds. Maggie, Big Daddy's daughter-in-law, wants to give him the news that she's finally become pregnant by Big Daddy's favorite son, Brick, but Brick won't cooperate in Maggie's plans and prefers to stay in a mild alcoholic haze the entire length of his visit. Maggie has her own interests at heart in wanting to become pregnant, of course, but she also wants to make amends to Brick for an error in judgment that nearly cost her her marriage. Swarming around Maggie and Brick are their intrusive, conniving relatives, all eager to see Maggie put in her place and Brick tumbled from his position of most-beloved son. By evening's end, Maggie's ingenuity, fortitude and passion will set things right, and Brick's love for his father, never before expressed, will retrieve him from his path of destruction and return him, helplessly, to Maggie's loving arms.
Mary Poppins (June 22-July 2)
The jack-of-all trades, Bert, introduces us to England in 1910 and the troubled Banks family. Young Jane and Michael have sent many a nanny packing before Mary Poppins arrives on their doorstep. Using a combination of magic and common sense, she must teach the family members how to value each other again. Mary Poppins takes the children on many magical and memorable adventures, but Jane and Michael aren't the only ones upon whom she has a profound effect. Even grown-ups can learn a lesson or two from the nanny who advises that "Anything can happen if you let it."
Mary Poppins is an enchanting mixture of irresistible story, unforgettable songs, breathtaking dance numbers and astonishing stagecraft. This show is a perfect opportunity to showcase a strong, iconic female performer, as well as unique special effects and illusions.
The Explorer's Club (July 20-July 30)
London, 1879. The prestigious Explorers Club is in crisis: their acting president wants to admit a woman, and their bartender is terrible. True, this female candidate is brilliant, beautiful, and has discovered a legendary Lost City, but the decision to let in a woman could shake the very foundation of the British Empire, and how do you make such a decision without a decent drink? Grab your safety goggles for some very mad science involving deadly cobras, irate Irishmen and the occasional airship.
Yankee Tavern (Sept. 21-Oct. 8)
Just when you thought you'd heard every crazy 9/11 conspiracy theory, a stranger walks into the Yankee Tavern. There, inside the walls of this crumbling New York tavern, a young couple finds themselves caught up in what might be the biggest conspiracy of all. Steven Dietz's acclaimed and already widely produced dramatic thriller—a selection of the National New Play Network's Continued Life Project—is a fierce, funny, and ultimately mind-bending work of theatrical power that grips you until the final word. What you don't know can hurt you.
A Nice Family Gathering (Nov. 30-Dec. 17)
A Nice Family Gathering is a story about a man who loved his wife so much, he almost told her. It's Christmas Day and the first family gathering at the Lundeen household since the Patriarch died. At the gathering, Dad comes back as a ghost with a mission; to tell his wife he loved her, something he neglected to tell her while he was alive. After all, they were only married for 41 years. The problem is, she can't hear or see him. The trouble begins when Mom invites a date for dinner.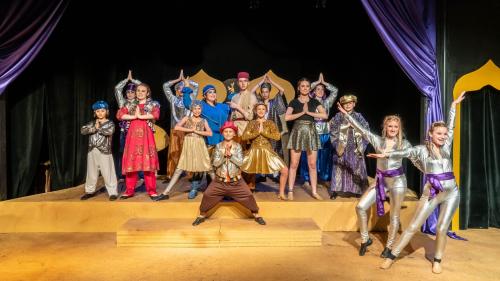 Aladdin Jr.
Disney's Newsies, Jr (Jan. 27-Feb. 5)
When powerful newspaper publishers raise prices at the newsboys' expense, the charismatic Jack Kelly rallies newsies from across the city to strike against the unfair conditions. Together, the newsies learn that they are stronger united and create a movement to fight for what's right.
Charlotte's Web (April 28-May 7)
Named "the best American children's book of the past two hundred years," it's the story about a famous spider. All the enchanting characters are here: Wilbur, the irresistible young pig who desperately wants to avoid the butcher; Fern, a girl who understands what animals say to each other; Templeton, the gluttonous rat who can occasionally be talked into a good deed; the Zuckerman family; the Arables; and, most of all, the extraordinary spider, Charlotte, who proves to be "a true friend and a good writer." Determined to save Wilbur, Charlotte begins her campaign with the "miracle" of her web. It's the beginning of a victorious campaign which ultimately ends with the now-safe Wilbur doing what is most important to Charlotte.
Elf, JR (Nov. 3-Nov. 12)
Based on the beloved holiday film, this hilarious fish-out-of-water comedy follows Buddy the Elf in his quest to find his true identity. Buddy, a young orphan, mistakenly crawls into Santa's bag of gifts and is transported to the North Pole. The would-be elf is raised, unaware that he is actually a human, until his enormous size and poor toy-making abilities cause him to face the truth. With Santa's permission, Buddy embarks on a journey to New York City to find his birth father and discover his true identity. Faced with the harsh reality that his father is on the naughty list and that his half-brother doesn't even believe in Santa, Buddy is determined to win over his new family and help New York remember the true meaning of Christmas.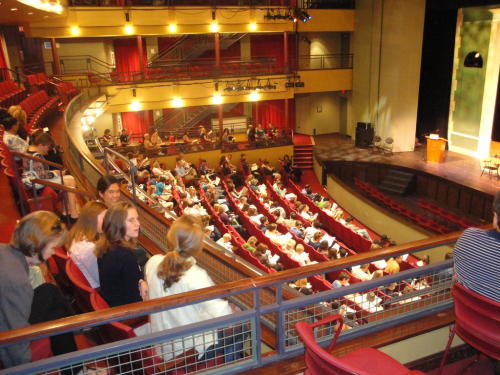 Duke Family Performance Hall
Everybody (March 29-31 and April 1-2)
This modern riff on the fifteenth-century morality play Everyman follows Everybody as they journey through life's greatest mystery – the meaning of living.
The Gruffalo
Breach of Peace: Stories of the Freedom Riders of 1961 (Feb. 24)
May 24, 1961 was the day 19-year-old Jean Thompson's father had prepared her for her entire life. "My parents always talked about the injustice of segregation, but they were optimistic; they didn't feel like it was going to last forever," Thompson recalled. "They raised us to be ready. I remember my dad saying the day will come, and when it does, you should be ready." On that day, she boarded a Trailways bus in Montgomery, Alabama with 11 other young Freedom Riders bound for New Orleans – and history. Within three months, approximately 300 other riders took up the mantle to desegregate buses, following the path of the first brave few. Mobs bloodily assaulted many. Others were arrested shining a light on a brutal, segregated South. BREACH OF PEACE is based on true accounts of surviving participants of the Freedom Rides as well as many other individuals involved in the early struggle for African-American equality. This solo-play is a living monument to those remarkable young men and women of various races, religions and backgrounds who rose to face the dangers of fighting for just and equal treatment for all. 
Dragons and Mythical Beasts (March 19)
Calling all brave heroes! Enter into a magical world of myths and legends in this fantastical new interactive show for all the family.
Unveil a myriad of dark secrets and come face to face with some of the most magnificent monsters and terrifying beasts ever to walk the earth. Discover the colossal Stone Troll, the mysterious Indrik and Japanese Baku; the Tooth Fairy (not as sweet as you'd think), an adorable Unicorn and majestic Griffin. Take your place among legendary heroes, just don't wake the Dragon…
From the creators of the West End smash hit Dinosaur World Live, who bring spectacular puppets to life, don't miss this brand new spell-binding adventure, live on stage!
Under the Lights (March 25)
Charlotte Ballet presents Under the Lights, choreographed by Charlotte Ballet II Director Christopher Stuart and set to the music of the iconic Johnny Cash. Under the Lights is a tribute to the life and legacy of "The Man in Black" and his beloved June Carter Cash. ArtsNash called this ballet a "seamless blend of classical, modern and popular dance styles".
The Gruffalo (May 6)
Join Mouse on a daring adventure through the deep, dark wood in Tall Stories' magical, musical adaptation of the classic picture book by Julia Donaldson and Axel Scheffler.   
Searching for hazelnuts, Mouse meets the cunning Fox, the eccentric old Owl and the high-spirited Snake. Will the story of the terrifying Gruffalo save Mouse from ending up as dinner for these hungry woodland creatures? After all, there's no such thing as a Gruffalo – is there?   
Songs, laughs and monstrous fun for children aged 3 and up and their grown-ups, in the much-loved show that's toured the world!  
As you can see, Lake Norman has got a variety of shows you don't want to miss! Be sure to get your tickets in advance as sell outs have become pretty common. You can even purchase season passes to ensure you get a seat at every show or build your own multi-show package. Don't forget to tag us in your photos @VisitLakeNorman on social media!