Lake Norman's theatre scene is something you can't pass up. The Warehouse Performing Arts Center and Davidson Community Players both offer great performances each and every year that feature local talent. The Warehouse is an intimate space that gives off a "living room" vibe to help create the most memorable experience and to make it even cozier, enjoy the show with some wine! Davidson Community Players is composed of two divisions that connects with both the adult and youth audience. If you're planning a trip or happen to be around the area, then you must check out these upcoming shows!
Warehouse PAC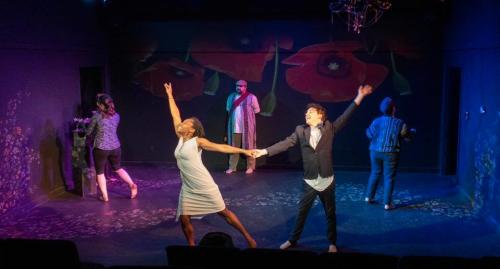 Eurydice
I'm in the Mood for Anyone, Except You (Feb. 7-Feb. 16)
Perfectly themed for Valentine's Day, this play celebrates the holiday with songs about love, relationships, and adult encounters gone wrong. This performance is part of the Claustrophobic Cabaret Series that features concert versions of full productions that showcase local talent.
Sweat (March 26-April 5)
Combining a number of relevant issues today from the economy and immigration to race relations and politics, Sweat provides characters that have their own unique views. Based in Reading, Pennsylvania in the year 2000, a group of friends are used to their normal daily routines working at the steel mill. However, talks about potential layoffs start to create tensions, especially when employees hear about the company recruiting non-union minority workers for less money. Taking the good and the bad, the play will get you to reflect on your own views while understanding the other side. You won't know who's right and wrong, but the play will always show you who's human. 
Important Hats of the 20th Century (June 4-June 20)
For those of you who may have clothes that have gone missing, this performance gives a theory of where they may end up. Sam Greevy is on top of women's fashion in the 1920's up until a top fashion designer, Sam Roms, brings back creations from the future. Imagine what Sam is going through as he learns about new pieces of clothing such as the sweatshirt, track suit, and skater pants. While Sam struggles to keep up with rapidly changing fashion, a teenager in 1998 Albany, New York suddenly starts to mysteriously lose his clothes. This comedy by Nick Jones, a staff writer and producer on Orange is the New Black, is one you don't want to miss!  
Macbeth (Sept. 25-Oct. 4)
A play by William Shakespeare, Macbeth takes you on a journey of a brave Scottish general who receives a prophecy from three witches that he will be the future King of Scotland. Consumed by ambition, Macbeth murders the current King Duncan to take over the throne, however he's then faced with guilt and paranoia.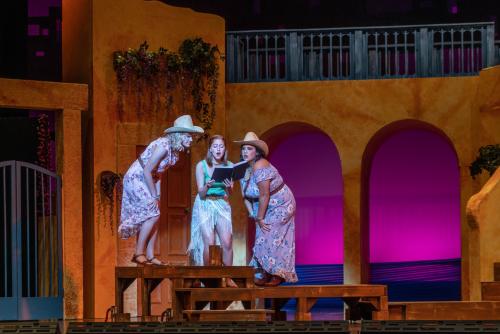 Comedy of Tenors
The Curious Incident of the Dog in the Night-Time (Feb. 20-March 8)
Based on the novel by Mark Haddon, this adaptation brings 15-year old Christopher to life. He has math skills that many of us wish we had, but lacks the ability to interpret everyday life. Christopher comes across his neighbor's dead dog in the middle of the night and is faced with suspicion. Determined to solve the mystery of who murdered his neighbor's dog, Wellington, follow Christopher's thrilling adventure that will turn his life upside down! 
The 25th Annual Putnam County Spelling Bee (March 26-April 5)
Everyone remembers the school's annual spelling bee, but Putnam County's is a bit different. This play spotlights a group of 6 teenagers competing to win the spelling championship. Stories that will make you laugh and cry, you'll build a connection to the 6 teens who fear the "ding" of the bell that signals a spelling mistake. 
Sister Act (June 18-June 28)
You may have read the book or seen the motion picture, Sister Act, but this performance is one to check out. Come out to the Duke Family Performance Hall at Davidson College and follow the story of a disco diva who's put into protective custody after she witnesses a murder. Disguised as a nun, she struggles to balance her new life with her old rigid lifestyle which might put her in danger of blowing her cover.
Present Laughter (July 16-July 26)
Another play taking place at Duke Family Performance Hall, Present Laughter follows Garry Essenedine who's a popular and pampered actor preparing to do an extended tour. While preparing to leave, Daphne, a beautiful aspiring actress, invades Garry's apartment. He's stuck in a situation that's embarrassing and misinterpreted by not only his wife, but also his partners and numerous admirers. Come see how he sidesteps complications with his "dazzling wit"!
The 39 Steps (Sept. 24-Oct. 11)
For those murder-mystery fans, The 39 Steps is one to add to your must-see list. Only four actors play over 150 characters in this story that's adapted from the 1935 Hitchcok film. Richard Hannay is just an ordinary guy who happens to meet a beautiful spy who's part of an international spy ring. After he finds her dead in his apartment, he's forced to elude police and uncover the secrets she had discovered.
A Christmas Story (Dec. 3-Dec. 20)
Based on the motion picture, A Christmas Story, this memoir of growing up in the Midwest follows a 9-year old Ralphie Parker who is pleading his case to get a Red Ryder BB gun for Christmas. He goes to his mom, his teacher, and even Santa Claus to get what he wants, but each of them denies him with the same response. The adaptation showcases the same elements as the movie does with the temperamental furnace, school bully, and the leg lamp.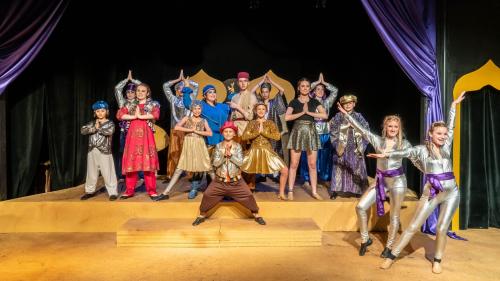 Aladdin Jr.
Madagascar, A Musical Adventure, JR (May 1-May 10)
Join Alex the Lion, Marty the Zebra, Melman the Giraffe, Gloria the hip hip Hippo and the rebellious penguins as they take over the stage in this musical adventure. Based on the DreamWorks animated motion picture, follow your favorite characters as they escape from their home in New York's Central Park Zoo and find themselves on an unexpected journey to the world of Madagascar.
Disney's High School Musical, JR (Nov. 6-Nov. 15)
Your favorite high school musical comes to life on the stage! Through twists and turns and teenage drama, the entire school comes together as winners on stage and on the court as the Wildcats win the championship game and Troy and Gabriella come out as true High School Musical sensations! Sing along to the widely known songs including Wildcat Cheer, Start of Something New, Get'cha Head in the Game, and We're All in This Together!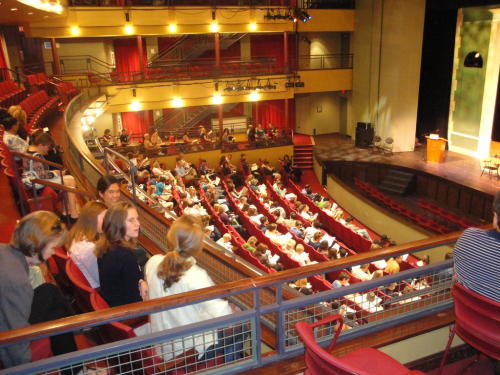 Duke Family Performance Hall
A Beethoven Celebration (February 16)
Celebrating the 250th birthday of the iconic Beethoven, this performance will feature his first piano trio Opus 1, No. 1, and most notably the Opus 97 "Archduke"
The Cake (February 20-23)
Della makes cakes and leaves the judgement calls to her husband, Tim. Her life is turned upside down when the girl she helped raise comes back home with news about her upcoming wedding. Instead of having a fiance, she has a fiancee! Della is conflicted with whether or not she should bake the cake for their wedding, so she'll have to start thinking for herself. Inspired by true events and written by This Is Us, Bekah Brunstetter, this play proves the most important ingredient is love. 
Gamut Dance Company 14th Annual Spring Performance (February 26-27)
Take advantage of this opportunity to see advanced dancers showcase their talents in modern, jazz, and ballet technique!
Russian National Ballet Presents Swan Lake (March 10)
Specializing in authentic performances of the world's most famous works, the Russian National Ballet brings to life Swan Lake! It will be performed by their 50-dancer crew at the Duke Family Performance Hall.
The Refugees (March 27-April 7)
Loosely based on ancient Greek myths and inspired by true events, The Refugees, covers the story of generational conflicts that erupt regarding the mass of uprooted migrants outside the walls of an imaginary city-state. This play provides a perspective towards climate change, xenophobia, and the cost to compromise our ideals.
Beethoven's Symphony No. 9 (May 3)
Don't miss out on Davidson College's last performance of the school year that will feature 150 singers from the choir, the Symphony Orchestra, and members of the Pro Arte Orchestra! They'll come together to perform Beethoven's 9th Symphony.
As you can see, Lake Norman has got a variety of shows you don't want to miss! Be sure to get your tickets in advance as sell outs have become pretty common. You can even purchase season passes to ensure you get a seat at every show or build your own multi-show package. Don't forget to tag us in your photos @VisitLakeNorman on social media!