Barbecue: a southern staple that has become America's obsession, has made a delicious presence in the Lake Norman area. Low and slow-smoked meats combined with flavorful sauces and savory sides is what barbecue is all about. From a small food truck to sprawling eateries, here are some of our favorite places to eat 'cue in Lake Norman. There is a notice that menus may have been adjusted depending on the restaurant and that reservations may be required. Restaurants are allowed to open their dining areas to 50% capacity. Please visit our Lakeside Curbside page to get the most up-to-date info on all restaurants at the lakeside of Charlotte.

What do you get when you combine a passion for BBQ and a passion for giving back to the community? City Barbecue. Every location smokes its meats on-site and makes all their sides from scratch. The menu features a variety of in-house smoked meats including, beef brisket, smoked turkey, pulled pork, and St. Louis-cut ribs. In case you can't decide, they offer a couple of Sample the City tray options which comes with a little of everything, sides, and cornbread. Pair your meal with one of their unique bbq sauces like Swine Wine, a vinegar based sauce and LowCo, a hot mustard based sauce. They want to create a fun, family-friendly environment that celebrates the community by giving back to local charities and nonprofits. Available for dine-in, curbside pickup, delivery.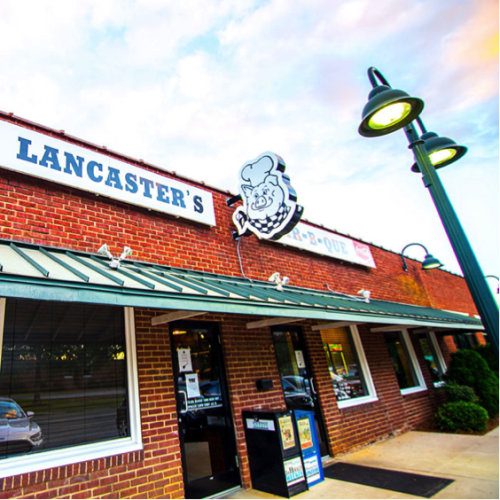 Hometown BBQ at its' finest with the hushpuppies to boot! The original Lancaster's BBQ opened in 1986 in a converted gas station. In 2006, Jeff and Terry Lancaster wanted to bring their melt-in-your-mouth BBQ, family-fun atmosphere, professional service to Huntersville. They picked the historic Puckett's Gas Station & General Store for the new location and created a hometown atmosphere while keeping the integrity of the building intact. Now let's get down to the 'cue. They offer a build your own combo which features any 2 proteins and 2 sides. Some of the most popular items are the Eastern Style BBQ Pork and the World's Greatest Wings. Like any great BBQ restaurant, their Fresh Sides are also crowd-pleasing. Along with the food, Lancaster's also offers a wide variety of craft beer, soda, and iced tea. Ever heard of a "Hawg Trawgh"? Available for dine-in and takeout.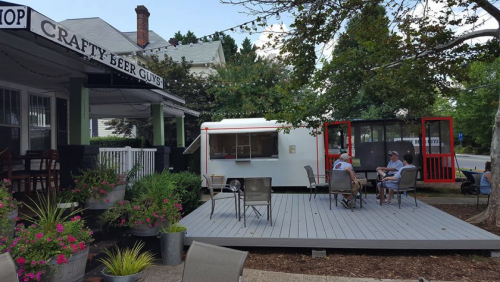 Started in a backyard in Fort Mill, SC, Dean McCraw, began to specialize in his Texas style BBQ. Since then McCraws has moved locations to Hunterville and brings their amazing BBQ along. Located beside Crafty Beer Guys is the food truck and smoker, where the magic happens. The brisket is smoked in a 100% wood fired smoker for 21 hours plus, along with ribs, pork, turkey, salmon, and much more. As you walk up to the truck, you get engulfed in a wonderful smell of smoked meat that will make your mouth water. They are only open Friday and Saturday from 12:00 pm until they sell out and they usually do sell out. They also have a rotating menu that changes from time to time. The brisket and the ribs are a must have. Authentic, mouthwatering barbeque, local beer, and a front porch? What more can you ask for!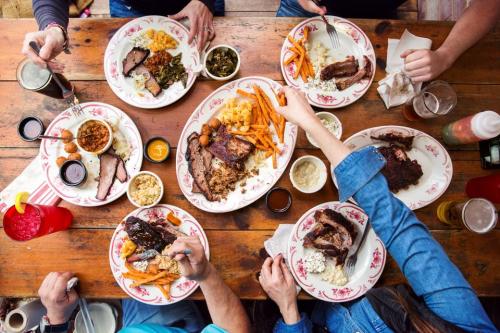 Midwood Smokehouse opened their Birkdale Village location in September 2017 and has quickly become a local favorite. Pitmasters burn hickory wood 24 hours a day to guarantee the freshest quality food. They also use different techniques and flavors from each region to make Carolina pulled-pork, Texas brisket, and St. Louis-style ribs. The Well Fed Platter comes with 4 proteins and 2 sides, perfect for those of us who want to try a little bit of everything! Bacon wrapped jalapeños and the mac & cheese are some of the most sought after sides. The Midwood Chopped Salad comes with smoked corn and can be topped with their bbq chicken, pulled pork or beef brisket, which is imported directly from Texas. Every location has a designated pastry chef that creates mouth-watering desserts that change every couple of months. Their passion and attention to detail not only shines in the BBQ but in the atmosphere and customer experience. Available for dine-in and curbside pickup.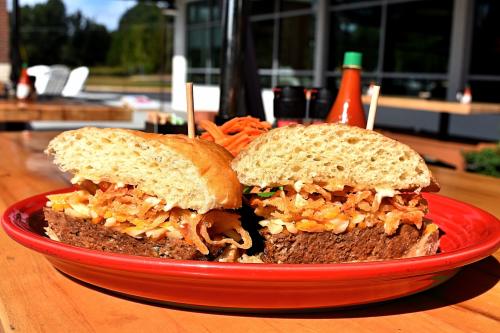 Brought to you by the owners of the beloved 131 Main, Cowboy Steak Chicken Ribs is Cornelius newest place to get barbecue. They make all their food from scratch daily and show their passion for great food in every aspect. This casual dining spot shows off its hickory & oak wood fire grill, in-house bakery, and smoker oven through an open kitchen. The BBQ Brisket Tacos, which features slow-smoked brisket are a must-try, cheddar/jack cheese, coleslaw, pickled red onions, and peach habanero BBQ sauce. Each basket comes with one of their made-from-scratch sides. Our favorites are the macaroni & cheese and the Mexican street corn salad. During the warmer months, the outdoor patio is a perfect place to sip one of their many selections of bottled soda or local craft beers. The patio also features a cornhole board and fire pit making Cowboy a wonderful place to hang out and grab a bite to eat. Available for dine-in and curbside pickup.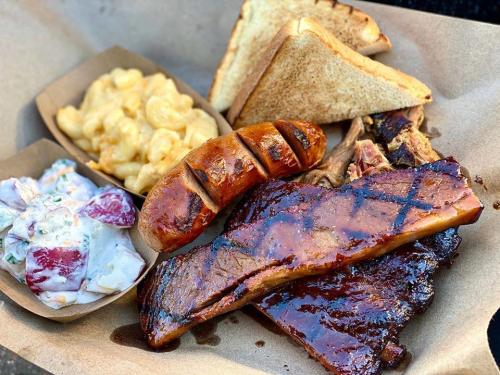 In 2005, Mac's Speed Shop opened their first shop in Charlotte and quickly became a well-loved barbeque joint. Their award-winning barbeque, homemade sauces and sides, and selection of 300 beers are what keeps patrons coming back for more. They combine traditional cooking methods and a high energy environment to create a memorable experience. Some of the most popular items on the menu include the Hickory Smoked & Pulled pork BBQ, which is dry rubbed then smoked for 12 hours, and the Beer Can Chicken, that is slow smoked and finished on the grill. What makes Mac's a unique place is their dedication to create delicious food and maintain a fun-packed environment. Available for dine-in and takeout.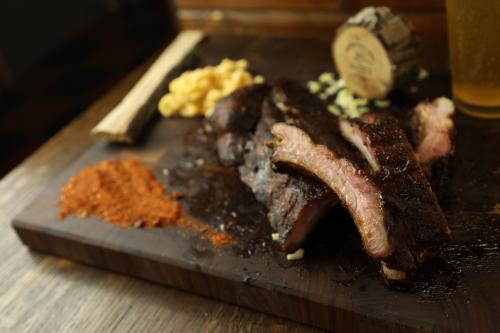 From the first day, the Food Truck was mobile to the day Smokey J's opened their brick and mortar restaurant, they have been and will continue to be, committed to serving our community. They love to be involved and hope to prove that in their day to day business. You need and deserve great food, and Smokey J's wants to give it to you! Smokey J's offers barbeque fans a place to enjoy great food and even have their own specialty sauces for sale! Available for takeout.
Did we miss any of your favorite BBQ spots around Lake Norman? If so, let us know in the comments below and be sure to tag us in your foodie adventures @VisitLakeNorman!