Thanksgiving is the one day where we can all agree on what we want to see on the dinner table, but for those of you cooking, it can be a tough task. So if you're one to host Thanksgiving each year and are looking for a little change, might we recommend eating out at any of the restaurants below? We've pulled a list of the best places that have offered food on Thanksgiving in the past, according to Yelp. With the challenges our restaurants have faced this year, we encourage you to keep an eye to see if they'll offer food this year and if so, to dine out/take out and support these local eateries.
For those football fans, Al's Bar is the place to go watch the Thanksgiving Day games! Last year, they had 50 cent wings and a couple drink specials as well. They haven't released anything yet about plans for this year, but we recommend to come back to this blog for those updates. 
Prosciutto-Wrapped Domestic Loin-Rib Chop
Choplin's atmosphere is a blend of casual dining and a modern steakhouse feel. Providing ingredients that are locally sourced and of the highest quality, each dish is carefully prepared. In the past, people have enjoyed the Scallops, Surf-and-Turf, and Fillet here for a unique Thanksgiving dinner. We suggest to keep an eye on their FB page as they usually post their special menus.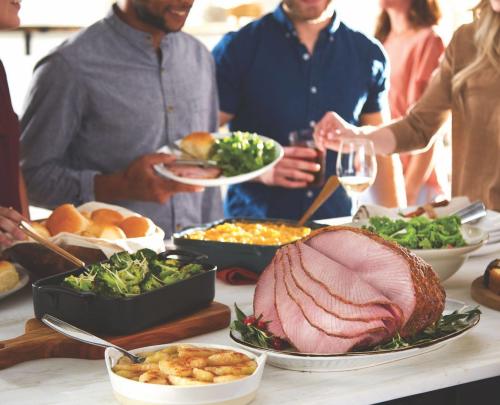 Got stuck with making this year's ham for Thanksgiving dinner? Don't fret, Honey Baked Ham provides some of the best hams you can find in the area! All you have to do is just give them a call and place an order to pick up. If you don't have Thanksgiving Day leftovers, you can always just come back for your own personal plate. 
If you're a big fan of turkey on Thanksgiving, but not a fan of the cooking part, then Mac's Speed Shop might be just the thing you need this year. In the past, they've taken orders for turkey and popular side fixings to help you put on a great meal for your family. They've usually been closed on Thanksgiving Day, but keep a lookout to place an order ahead of time this year!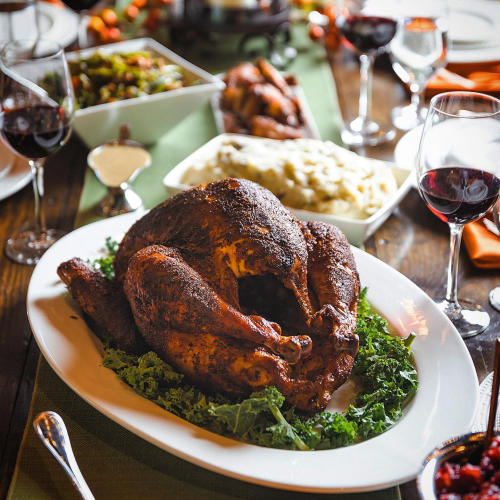 Midwood Smokehouse in Birkdale have also taken orders for Thanksgiving meals in previous years! This is perfect for those who aren't yet comfortable in dining out and would like to save some time in cooking this year. They've started taking orders as early as a couple weeks in advance and have usually sold out, so we recommend to plan accordingly. 
Known to have special menus for just about every major holiday, North Harbor Club offers your traditional Thanksgiving meals. With a beautiful view of the lake, you can enjoy a delicious meal here with your friends and family. Tickets will be $55 a person for a three-course meal and you can view the menu here.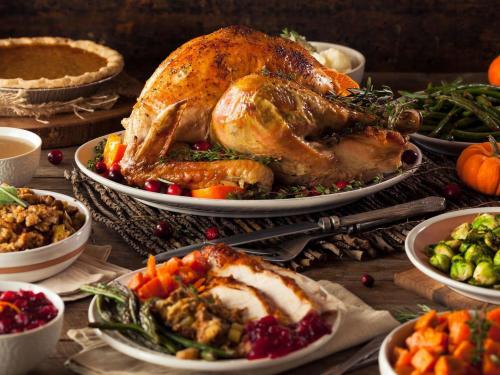 Red Rocks Cafe has been offering Thanksgiving Day meals for several years, which both visitors and residents have enjoyed. Located in Birkdale Village, this is a great place to meet with friends and family to grab dinner and maybe do some early Black Friday shopping! They're starting to take reservations, so plan ahead and secure your spot or place an order! 
The Harp & Crown will be accepting orders for their Thanksgiving dinners ($139.99) which serves 8-10 people! If you'd like to save yourself or someone else from doing the cooking, all you have to do is place an order now through November 22. It includes Roasted Turkey Breast served with home-made stuffing with Irish sausages and gravy. It also comes with sweet potato mash, broccoli casserole, mashed potatoes, and roasted brussel sprouts! You can add mac n' cheese and Apple Crumble Crisp for an additional cost. 
Let us know if you end up eating out or placing an order at any of these local establishments! If you have a favorite spot you love to go to for Thanksgiving that we missed, please let us know in the comments below and tag us on social media @VisitLakeNorman!