As the weather cools down, it's a great time to visit some of the cozy coffee shops around Lake Norman. Local coffee shops are staples in the community and serve as a hub for people to come work, drink, and socialize. There is a wide variety of coffee shops spread throughout our three towns, so whether you're in the mood for a coconut mocha from 77 Grounds to sharing a latte on the patio at Waterbean Coffee with friends, there will be a coffee shop perfect for you! 
19905 W. Catawba Ave
With delicious pastries ready to purchase and coffee that will warm you up, Bakery 28 is a place you'll want to give a try. They serve Black Powder Espresso, a locally sourced coffee originating from Mooresville, NC. Choose from their variety of individually-sliced cakes, cheesecakes, muffins, croissants, scones, and cookies to pair with their coffee. Whether you prefer regular coffee and espresso drinks or iced coffee and lattes, we're sure you'll find the perfect drink suited for you.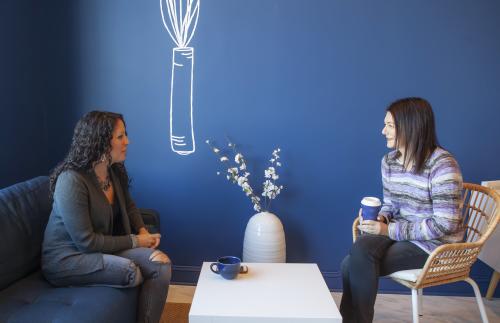 Two friends catching up at Bakery 28 (via bakery28.com)
If you happen to have a special occasion coming up, they'll be happy to create the cake you crave from scratch. Their pastry chef, Keli, uses seasonal products sourced locally and has been featured on the Food Network on Sugar Rush, Romance Novel Cake Challenge, and The Holiday Baking Championships. She has also been a guest pastry chef at the famed James Beard House in New York City. Next time you're in Cornelius, stop by for a Black Powder Coffee & one of their fresh pastries!

Review: "I tried their almond croissant and their Blondie and coffee. Their coffee is from Black powder coffee...Delicious" - Kim S    
20920 Torrence Chapel Rd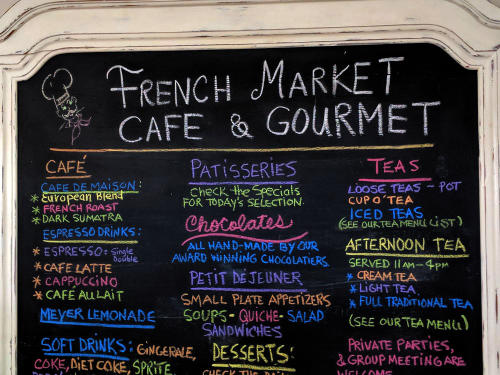 The expansive menu at French Market Cafe
French Market Cafe is a quaint little shop in Cornelius which established in 2010 and is considered a hidden gem by many locals. Their unique atmosphere is a beautiful home-like setting and one that you won't find anywhere else. You'll feel like you're back at Grandma's house as soon as you step into the shop. They offer brunch, lunch, and the tea menu is extensive offering a variety of black, green, herbal, white, oolong, and other flavored teas. If you're not an avid tea drinker, they do have coffee and espresso drinks available. This cafe provides a charming and quaint atmosphere to enjoy with your friends and family.

Review: "This is such a charming French bakery and cafe! They have numerous hot teas to choose from" - Suzanne S.  
21314 Catawba Avenue
If you've heard of Old Town Public House, then you might be familiar with Public Grounds Coffee. Public Grounds is right near the Cornelius Town Hall on East Catawba and resides in OTPH. In the evenings, this spot usually has live music and great local beers. However, in the mornings, Public Grounds makes for a cozy coffee shop with a great atmosphere for reading, working, and meeting with friends.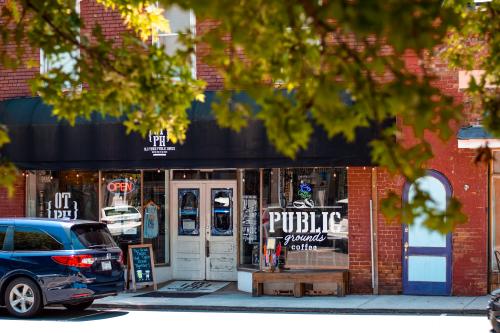 Public Grounds Coffee in Cornelius
Public Grounds prides itself in ensuring their ingredients are all locally sourced, with coffee beans coming from Mooresville, pastries from Davidson and bagels from Huntersville! They also provide teas and syrups which are all carefully selected from trustworthy producers. While their menu is expansive, you can count on their friendly and knowledgeable staff to make sure you feel right at home as soon as you come in. It's a great spot to connect with others or give yourself some "me-time" in Old Town Cornelius!

Review: "Highly recommend! The Mexican Mocha is spice on! The Cavandish stout is creamy goodness!" - Kelly K    
19420 Jetton Road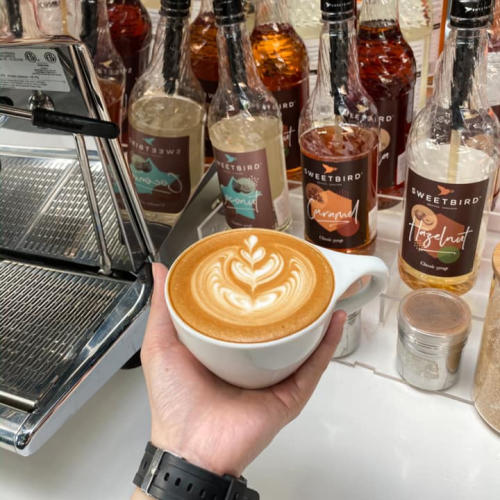 An artisan latte crafted by a Waterbean barista

Waterbean Coffee is a minimalist yet inviting coffee shop with two spots near the Lake Norman area, one in Cornelius and one in Huntersville. People love the high quality beverages one can get here and the friendly service their team provides. There's also plenty of space to get work done or meet with a few friends, including a quaint outdoor patio. Their baristas are known to be super welcoming and really make sure you have a pleasant experience. The Iced Volcano and Iced Snickerdoodle are must-tries if you haven't yet! If you're looking for something sweet, we suggest getting their macaroons. Whether you are simply grabbing a quick cup of coffee, having a meeting or just hanging out, you'll feel right at home at Waterbean Coffee.

Review: "Skip the big chain. This place is fantastic! Care given to each custom order and friendly. I wish there were more of these where I live!" - Jim W.
605 Jetton Street
 

Located in the heart of Downtown Davidson, 77 Grounds is a laidback, contemporary coffee shop staffed with baristas who are ready to brighten your day. They serve classic coffee beverages along with hand-crafted specialty drinks and teas. 77 Grounds opened in August 2020, and has since become a local favorite with their popular menu items like their coconut mocha. This shop also serves Pure Intentions Coffee, a locally roasted coffee originating in Charlotte, NC. For those who don't do dairy, they offer oat milk and almond milk to accommodate your needs. Even if you drink dairy, their 12 oz oat milk latte for only $4 is certainly worth the try!

Review:"The cold brew here is good! They make a great iced vanilla almond milk latte." - Tyler M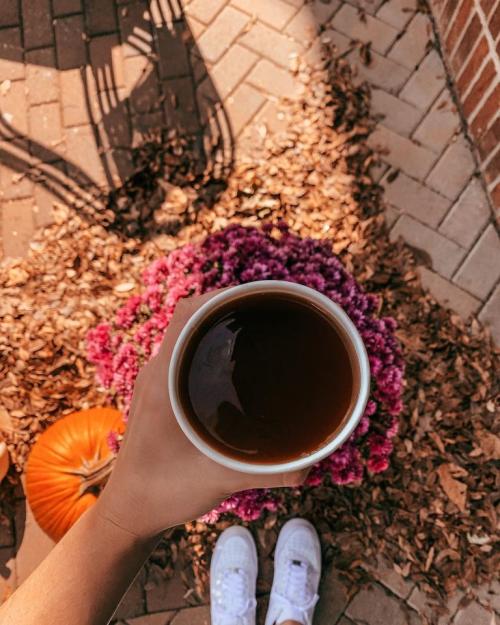 @77grounds via Instagram
108 South Main Street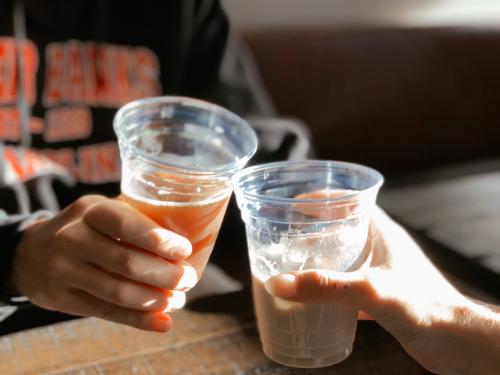 Two friends enjoying drinks at Good Drip Coffee (via Facebook)

Known to serve popular seasonal beverages, Good Drip Coffee is another great shop to consider checking out in Downtown Davidson. Many of their syrups are made in-house and some of their most popular items include their warm vanilla milk steamers! Customers praise the welcoming vibe and art you'll find on the walls that will make you want to linger a little more. It also makes for a great space to work privately or get some studying done. Not only do they offer delicious brews, but they are an ethically conscious coffee shop featuring delicious "kyoto-style cold brews." You'll certainly want to come back to try all of their menu items!

Review:"Love the coffee, kombucha and lemonade here! Love the vibes!" - Joy S.
8519 Gilead Road
When Defined Coffee opened in 2018, founders Anthony Nugnes and Keifer Moskaluk's main goal was to curate and serve the best available coffee from around the world. Three years later, Defined Coffee is still striving to this goal by serving the finest coffee possible to the Huntersville community. Their beans are harvested at small farms and roasted at local Carolina roasters such as, Hex, Methodical and Jags Head.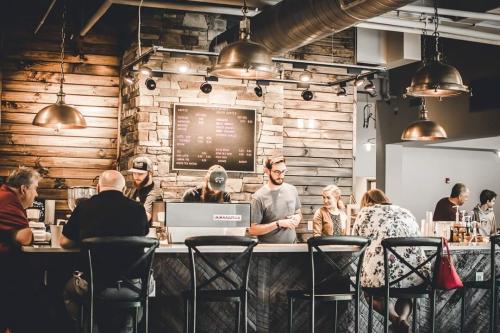 Inside of Defined Coffee (via LinkedIn)
Each of their drinks is hand-crafted using proper technique and equipment to ensure the finest drinking experience. Their shop has expansive indoor and outdoor seating along with modern conference rooms and even a special place for your kids to play! Defined carries delicious fresh pastries, and one of their most popular is the chocolate cupcake with cream cheese. Whether it's drip coffee, espresso, a latte, or tea, their friendly staff will ensure you leave satisfied and ready to come back!

Review:"Love the coffee, the atmosphere and the service at Defined Coffee" - Giulia G.
   
104 Main Street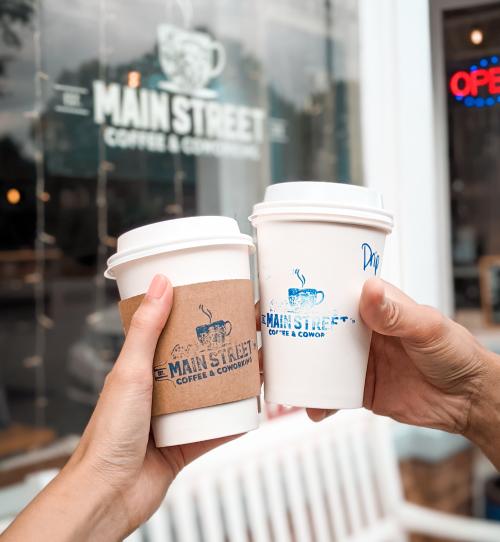 Two friends sharing a cup at Main Street Coffee & Coworking
Located in Huntersville, Main Street Coffee & Coworking is not like your traditional coffee shop. This spot offers a variety of craft coffee drinks, fresh juices and a selection of international coffees & snacks on the first floor. On the second floor, you'll find a hidden gem equipped with work stations, a business center and even hammocks! Main Street Coffee is a great place to try something new or get some work done. You can even get free drip coffee or kombucha with any of their day and monthly passes. If you stop by here, we recommend getting their Gingerbread Latte or their Morning Buzz, which comes with cinnamon and honey. Their pastries are on a rotating menu locally sourced from Lake Norman bakers, so they always offer something new on a regular basis.
Review:"The drinks were amazing! I got the white mocha w/ extra shot, my niece got a cold brew with caramel and oat milk. She's a huge Starbucks fan and said it was way better than Starbucks" - Christine B.

 
All of the coffee shops we mentioned above are locally-owned so we highly recommend giving them each a visit whenever you're craving coffee or need a spot to meet with friends. Whenever you give them a visit, be sure to tag us in your coffee pics on social media @VisitLakeNorman for a chance to be featured! If we missed a local coffee shop, let us know in the comments below.