As warmer weather approaches, spring marks the return of some of our favorite events & festivals that you don't want to miss. Lake Norman hosts a variety of events & festivals that are fun for the whole family. From watching athletes throw battle axes to exploring some of the best local artwork, there is sure to be something for you to enjoy this spring. This season brings some of the best signature events to the area so mark your calendars to be in Lake Norman for the next couple of months!
---
Brunch! Spring Food Truck Rally
March 27th @ 10am-2pm | Rural Hill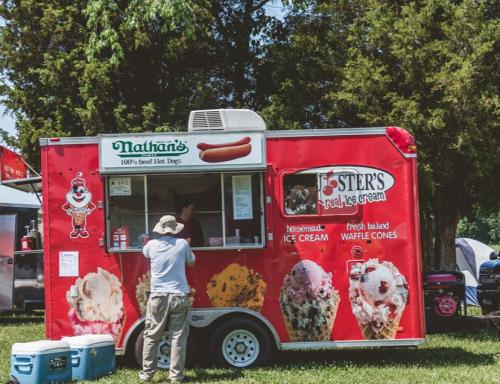 The Spring Food Truck Rally is one of the many amazing events that Rural Hill is hosting this season, and what better way to have Sunday Brunch than overlooking the beautiful scenery at the Rural Hill Nature Preserve. There will be various food trucks serving all of your favorites along with wine, craft beer and mimosas for adults to enjoy! There will also be live music performances throughout the event.
After you've tried all of the food trucks, you can take a scenic hay ride around the historic property or hike off any culinary excesses along their 2.5 mile trail. There is no admission fee for the event, and parking is only $5 cash. Don't forget to say hey to the fluffy highland cows!
Loch Norman Highland Games 
April 9-10th | Rural Hill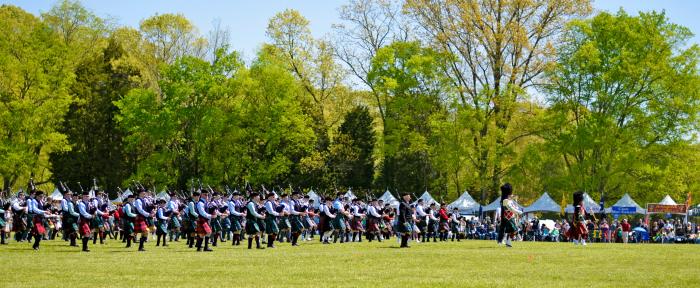 After a two-year closure, one of Lake Norman's most highly-anticipated events will be back open to the public! Loch Norman Highland Games is an annual two-day celebration full of fun and Scottish culture for the whole family. Come watch world-ranked professional heavy athletes perform in seven traditional Scottish events that include throwing a battle axe, shooting long bows, and throwing weights for distance and height. You can experience all the festivities of Scottish culture like bagpipe bands, highland dancing and even try some haggis!
For the kids, make sure to pick up a passport that allows them to learn about Scottish heritage and traditions by going to tents representing different parts of Scotland. Music and dance performances will also be happening throughout the two-day event. Tickets are now available, and you can even get tickets to camp out overnight across from the main festival site! Find tickets here.
'Tawba Walk Arts & Music Festival 
April 23rd @ 2-8pm | Oak Street Mill
The 'Tawba Walk Arts & Music Festival will be held in the heart of Old Town Cornelius and it features brilliant local artists, live music, food trucks, local craft breweries, and an epic kid zone! There won't be just one, but two stages for live bands and performances.
Walk down the street and see over 100 local artists showcasing their work, so be sure to bring some money as you may find some pretty unique craftsmanship. Walking creates an appetite, so there will be two different food truck courts ready to satisfy those munchies. The kids will have bounce houses, face painting, and various arts and crafts to participate in. Round up your crew and mark your calendars for the return of the Lake's most action-packed community festival!
April is for Arts 
April 22-24th | Main Street, Davidson

Town of Davidson
April is for the Arts is a month-long celebration of the art and culture in North Mecklenburg, and Davidson will host a 3-day event dedicated to their town. Kicking off the weekend, the Gallery Crawl will transform Main Street and South Main Street into lively art galleries for visitors to peruse through. There will also be an additional showcase at the Homewood Suites at the Circles @ 30, and the Gallery Crawl will take place from 6-9pm on Friday, April 22. 
On Saturday and Sunday, Art on the Green will be taking over Downtown Davidson. Attracting thousands of people each year, this is Davidson's largest annual arts festival and will be held from 10am-5pm on April 23rd & 12-4pm on April 24th. This popular event will showcase pieces from over 50 artists along the East Coast in many different mediums, ranging from watercolor to ceramics to sculptures! Visitors can also enjoy local cuisine and live music performances during the festival, and be sure to stick around to see the first Concerts on the Green of the year at the Village Green.
Join the Town of Cornelius in celebrating Earth Jam 2022, their annual Earth Day Celebration! Participants of all ages will enjoy free "green" activities including arts & crafts, tree planting demonstrations, nature walks, live bands, wildlife habitat improvements, and more!
Stroll around the booths to explore sustainable products on display, and learn more about how our community members are working to preserve our local ecosystem. Local businesses will be showcasing their environmentally friendly products and services. We encourage everyone to stop by the event and learn about areas in your life where you can make changes that will be better for you and your community.
BrightFire Music & Arts Festival 
April 30th @ 4-10pm | Rural Hill
BrightFire Music & Arts Festival is an innovative and colorful celebration of life & renewal expressed through music, art, dance and fire! The festival is an artist-led version of Beltane, a tradition in Celtic culture which marks the end of the cold, dark winter and signals the beginning of renewed life of summer. There will be a mainstage concert along with 5 intimate acoustic stages, a night market filled with local craftmanship, delicious food trucks like Lobster Dog, a Midnight Mulligan Beer Garden and so much more! 
You can indulge in delicious food trucks and craft drinks, make a flower crown, learn to dance at the maypole, enjoy the live concerts with dance and fire performances, and even meet up at the fairy village for a tea party! You won't want to miss the unforgettable experience of the sunset fire-lighting show, which will also premier a new performance from Anne Harris, Fred Dunlap and THE MARK dance company. Gates will open at 4pm, with mainstage performances beginning at 6pm and the Sunset Fire-Lighting show at 8pm. All ages are welcome! Find tickets here.
Hello Huntersville Music & Arts Festival
May 1st @ 2-6pm | Veterans Park

Kick off the month of May by coming out to the annual Hello Huntersville Music & Arts Festival! Centered around celebrating local artistry, there will be artwork on display from regional area artists.
You can take part in the fun by making your own crafts! Try your hand at weaving or bring out your creative side through making mosaic art and painting murals. There will also be live music performances from local artists taking place at the amphitheater for you to jam out all night long, and the streets will be filled with unique entertainment for people of all ages to enjoy. This event is free to the public and open to all!
NC Brewers & Music Festival 
May 7-8th @ 2-8pm | Rural Hill
The NC Brewers & Music Festival is a two-day event celebrating great music, North Carolina and its brewing traditions. Grab a group of friends and come enjoy the free tastings of the best brews that the state has to offer, all while enjoying live music from renowned musicians!
Friday night will feature individual sets from the Larry Keel Experience and Acoustic Syndicate, while Saturday night will feature jams from The SteelDrivers, Katie Pruitt, Jade Bird and more artists! There will also be a tasting session on Saturday only, but there will still be plenty of delicious NC brews for you to enjoy over the weekend. Weekend camping passes are available for the Rural hill campground, and you can even get two free passes to the Friday Night Jam with each purchase of a weekend camping pass! You won't want to miss out on this festival, so mark your calendars for the first weekend of May! Find tickets here
Cornelius Jazz Festival
May 21st @ 5-9pm | Smithville Park
The Cornelius Jazz Festival is a family-friendly community event with music and fun for everyone. Come listen to the many jazz bands that will be performing, while drinking the area's local craft beer and munching on the foodie favorites. There will also be activities for the children so there's something to do for all ages! Money raised at the event will benefit Send-A-Kid-To-Camp at the Lake Norman YMCA.
Lake Norman is a great place for family and friends to come together. As always, don't forget to share your experience and tag us in your posts on Facebook or Instagram @VisitLakeNorman!