Thurgood Marshall, the first African American to become a Supreme Court Justice, once said, "In recognizing the humanity of our fellow beings, we pay ourselves the highest tribute". Throughout the history of America, the black community has continuously been deprived of equality after the atrocities of slavery, Jim Crow laws and segregation. Black History Month provides us with an important opportunity to celebrate the achievements of African Americans and recognize their central role in U.S. history. One way to celebrate Black History Month is by learning about the history of the black community in your local area, so we'll take a closer look into our towns of Cornelius, Davidson, and Huntersville.
 
Cornelius
The town of Cornelius is putting together their annual celebration in partnership with the Smithville CommUnity Coalition, and the event will be back in-person! Smithville is a historically black neighborhood and has been an integral part of the Town of Cornelius since 1869. Smithville was established just after the Civil War when former slaves were freed. You can learn more about the history of Smithville and black history in Cornelius on Saturday, February 26 at the Cornelius Town Hall from 1-3pm.
The celebration is a free community event open to all, and this year's program will feature guest speaker Abigail Jennings. Jennings is a historic preservation advocate with strong ties to the African-American community, and she will be speaking on the importance of HEARTS Park in Huntersville, a new park with a vision to engage visitors with place-based history. There will also be children's activities, performances and refreshments, along with an art exhibit featuring NC artist Gil Horne Jr.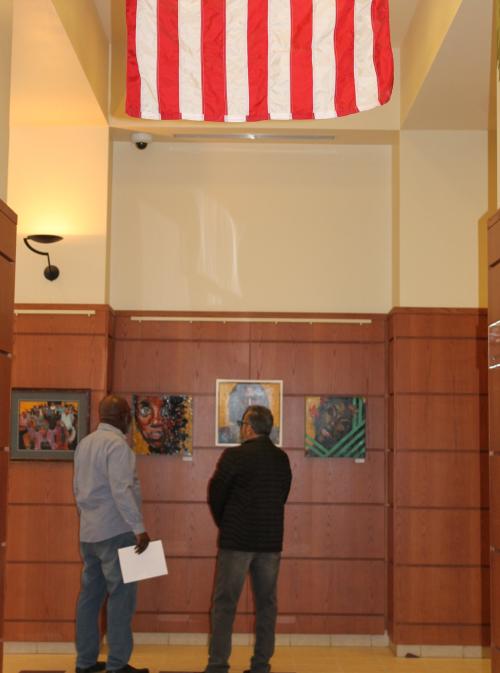 Visitors viewing artwork in the Cornelius Town Hall
Gil Horne Jr. grew up in Milwaukee with a passion for artistry, and his artistic career began at an early age. Horne's father worked for a paper company and would return home with stacks of printer paper for Horne and his older sister to doodle on. By his teenage years, Horne found an outlet for his childhood trauma through his artwork and his passion eventually led him to Charlotte in 2016. In just a few years, he went from working in the produce department at Food Lion to becoming a full-time resident artist at a Charlotte gallery. Horne was launched into the Charlotte art scene in September 2020, with his successful solo show, "BlackBoy", and has received recognition on a national scale.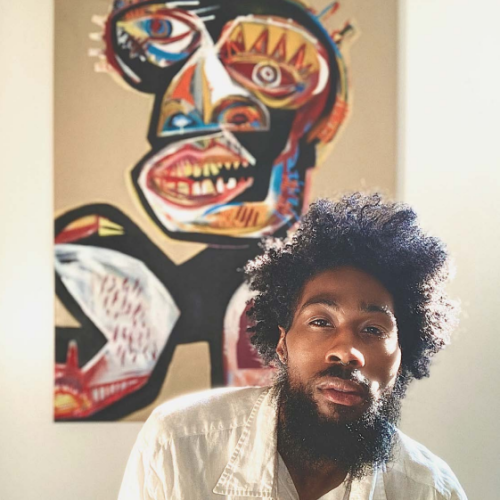 Artist Gil Horne Jr. (via cornelius.org)
Following the conclusion of the annual celebration at the Town Hall at 3pm, you can continue the day by joining the Town of Cornelius in presenting a plaque of historic designation to Pott's Barber Shop. Pott's Barbershop is the first black-owned barbershop in Cornelius, and has been in the same spot on Catawba Avenue since the 1960s! The building was designated as a historic landmark in October 2021, and the shop is the oldest business owned by African Americans in Cornelius. Along with being open for over 70 years, the barbershop broke racial barriers through integrating their shop as black barbers cutting white hair for 12 years before integration. Join the Town of Cornelius in celebrating Pott's Barbershop and the African-American heritage that helped build the Cornelius community to be what it is today.
Davidson
The Africana Studies Department at Davidson College has focused on black history dating back to the 1960s while honing in on new directions that truly reflect the realities of the 21st century. In an interview with Prof. Daniel Aldridge, he goes on to say that celebrating Black History Month is important because "more knowledge is good, and knowledge of history is good for everybody." It's not only important to touch on the Civil Rights Movement and the history of slavery and struggle, but it's also critical to know about the rich social and cultural history of the black community.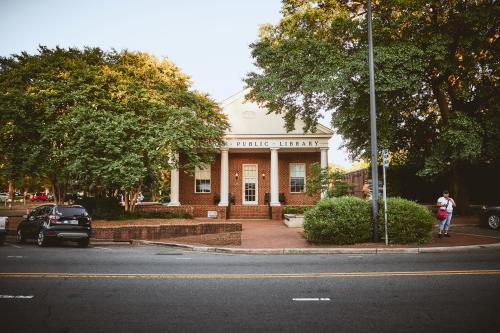 Davidson Public Library
At Davidson, the first formal observance of Black history was April 1976, when the Black Student Coalition invited the faculty to participate in "Black Week." In the late 80s, the Black Student Coalition was formalized through the creation of the Black History Month Cultural Art Series, and the BSC has continued to provide a strong voice for the black community at Davidson College. The Black Student Coalition will be celebrating it's 55th anniversary on February 2nd this year.
Huntersville
The town of Huntersville has several historical sites including Rural Hill which has been preserved for people to explore and learn. The Rural Hill property is home to two schoolhouses - the Davidson Schoolhouse and Bethesda Schoolhouse. The Davidson Schoolhouse is a one-room building that was built in 1890 which was originally open to white children living in the nearby community.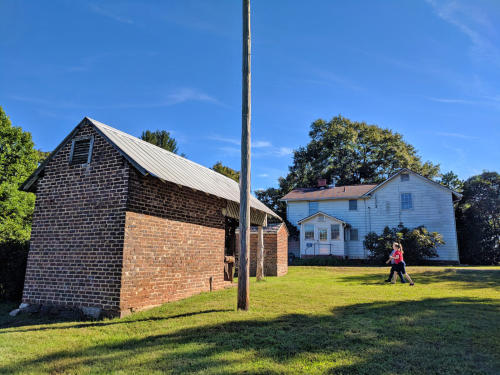 Rural Hill
After the construction of a larger schoolhouse in 1911, the children were relocated to the new building. The smaller building remained open for African American children until they were relocated to Long Creek School. The Bethesda Schoolhouse was built around 1898 and is currently one of only two known existing rural one-room schoolhouses for black children still standing in Mecklenburg County. This schoolhouse was built by a popular local black farmer, named John Young, and his initiative in establishing this school for African American children is critical to the history of Lake Norman.
The Town of Huntersville is hosting many different celebrations this month to recognize the influential history of Black residents in the area. Every Monday throughout February, you can join the community at the David B Waymer Recreation Center for weekly Black History Month programs! Each event will be free to attend and open to all ages! All attendees will need to pre-register for each event, and you can find registration information here. You can find a list of the programs below:
February 7, 2022 – History Presentation by: Community Leaders: Bee Jay Caldwell and Varona Wynn 

February 14, 2022 – Showing of Hidden Figures Movie w/ Popcorn & Candy 

February 21, 2022 – Special Performance by Drums 4 Life  

February 28, 2022 – Black History Bingo/Trivia 
---

While Black History Month runs in February, it's important to take the time to learn about different cultures throughout the year to help us gain a global perspective on various topics. When we take the time to learn and listen, we become better informed citizens which will help shape a better life for future generations.