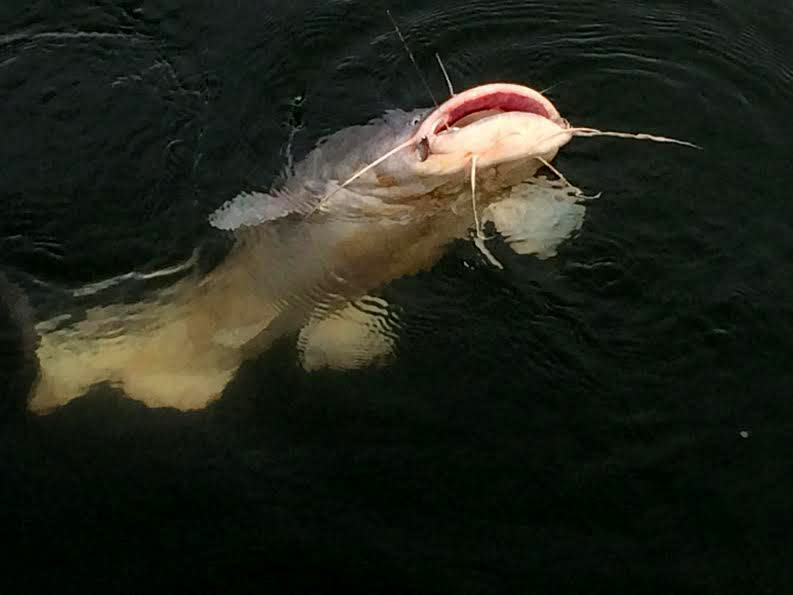 A trophy flathead catfish. Photo courtesy of Capt. Gus Gustafson
The upcoming Christmas/New Year holidays are a great time to take advantage of Lake Norman's fabulous freshwater fishing. Not only is the fishing excellent, but there are usually several mild days between Christmas and New Year's Day.
Hybrid striped bass, the newbie to Norman, become energized when water temperatures dip into the low fifties and high forties. Cool water makes them hungry, so they gorge themselves with shad and herring. The feast begins at dawn, a big mealtime for hungry stripers too, so get an early start and the fish will greet you with open mouths! On good days, you might boat the creel limit of four, sixteen inch hybrids (or striped bass in combination) before the morning sun clears the eastern tree line. NOW, that's worth getting up for! Anglers who prefer to sleep-in or wait for the temperatures to warm, will also catch fish, but maybe not as quickly as those who take advantage of the early feeding period.
Another worthy opponent is the bass. When hooked, they have the ability to leap from the water. Some believe that bass stop biting in cold weather. That is simply is not the case. In fact, some of the very best bass fishing occurs during the winter months. Successful winter anglers recommend downsizing baits and working them slower than normal. Unlike summer bass fishing, the sunny side of the lake attracts more bites this time of year. Larger bass spend considerable amounts of time absorbing the heat generated by the rays of the sun in the shallows, while smaller ones are feasting in deeper water.
Pan fish are also active in December. Try using a small minnow on a colorful jig head. Dip it around a brush pile or bridge piling and wait for the tug. Typically, it will be a crappie or white perch, but occasionally, you will hook a bass, hybrid or catfish. The creel limit is twenty, eight inch or larger crappies per day. On most days, the average fish is ten to thirteen inches in length, so release the smaller ones.
Lastly, the winter holidays are great times to introduce children to the sport of fishing, so consider a new fishing outfit, combined with a day of fishing on Lake Norman, as a present. Not only are the chances of catching fish excellent, but to spend a day on the water with a child is a priceless experience. If you don't have a boat, bank fishing is permitted at the Marshall Steam Plant, the McGuire Nuclear Station, and the fishing pier at the Lake Norman State Park.
Gift Ideas – A perfect gift item for any member of the family is a life jacket. Infant, child and youth character life jackets are bright, colorful and easy to spot in the water. Prices begin at $15.00. Adults like the lightweight, low profile comfort and peace of mind afforded by a manual or automatically inflatable life jacket. Prices begin below $100. Warning: Only purchase life jackets approved by the USCG.
Tips from Gus! Underwater roadbeds that crisscross most area impoundments are excellent migration routes and primary feeding areas for a variety of fish. Topographic maps that show underwater structure can be purchased at area tackle shops or online at www.lakenormanmaps.com.
Hot Spots of the Week: Crappie fishing is excellent when fishing minnows around bridge pilings and covered boat docks. Good bets are the bridges and marinas in the Mountain Creek arm of Lake Norman. Hybrid striped bass up to twenty inches, while difficult to locate at times, are easily tempted into hitting either live or artificial baits. Those familiar with winter fishing find hybrids in the same haunts they catch the larger striped bass. Recent catches have been reported in Reed, Mountain, Little and Cornelius Creeks. Anglers vertical jigging for spotted bass are catching dozens per trip along edges, ledges and drop-offs. Bass are suspended in water to depths of fifty feet.
Lake Conditions – Lake Norman is mostly clear with surface water temperature in the fifties in open waters not affected by power generation. The water level is about 3.1' below full pond on Lake Norman and 2.7′ below full on Mountain Island Lake.
Capt. Gus Gustafson of Lake Norman Ventures, Inc. is an Outdoor Columnist and a full time Professional Fishing Guide on Lake Norman, NC. Visit his website @ www.Fishingwithgus.com or call 704-617-6812.