Brent Long, Cornelius, N.C. resident and official Visit Lake Norman (VLN) pro angler, caught 20 bass weighing 78 pounds, 13 ounces to win first place and the top prize of $125,000 at the national Walmart FLW Tour Major on Table Rock Lake in Branson, Missouri.  The four-day tournament was the third of ten 2012 tournaments, which culminate in anglers qualifying for the 2012 Forrest Wood Cup World Championship of Bass Fishing.  https://www.flwfishing.com/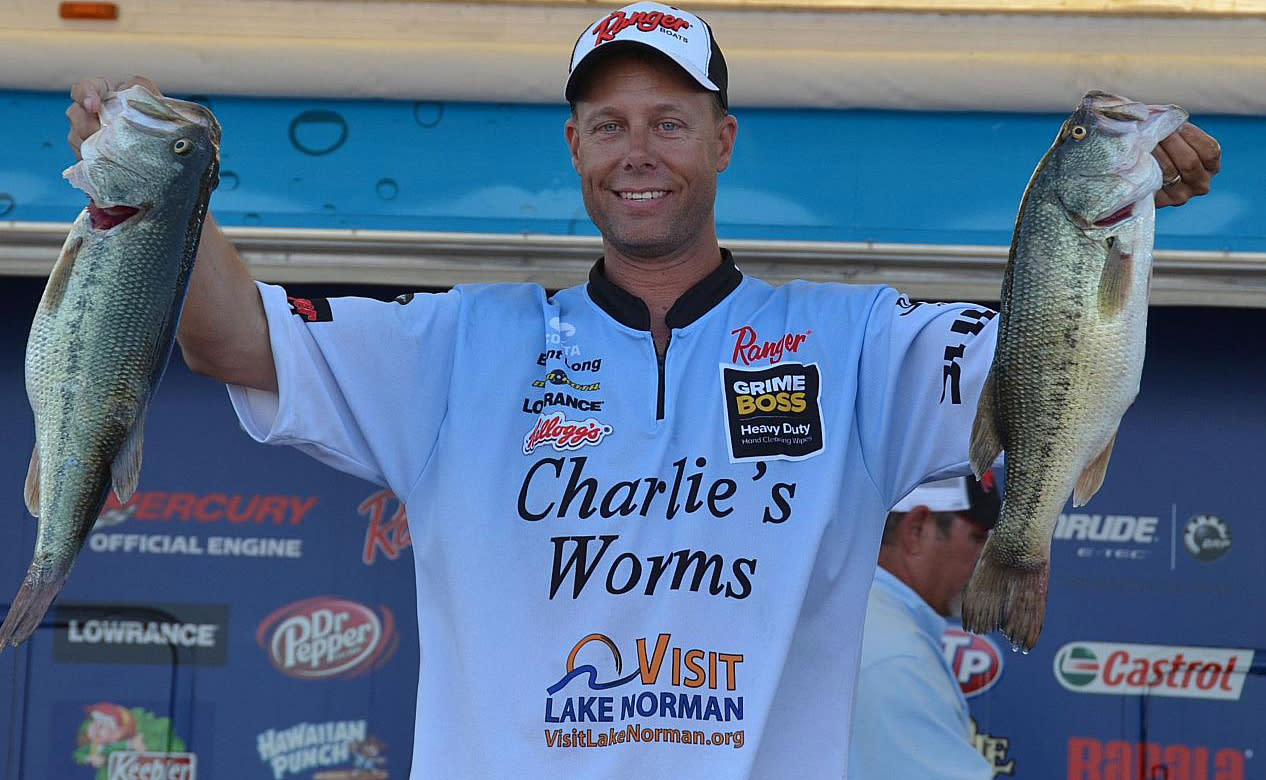 VLN has had a sponsorship agreement with Long since 2010 that includes placements of the VLN logo on his pro jersey, boat wrap, and commits him to fishing tournaments on national professional bass circuits.  Travis Dancy, Sports Sales Manager for VLN said "We are proud to sponsor Brent.  He is an exceptional angler who displays genuine integrity and is a passionate advocate of his home lake.  The partnership has been both successful and impactful."  www.visitlakenorman.org
Long credits a wrong turn upon his arrival at Table Rock Lake as the key to his decision to fish the "Long Creek" arm of the Ozarks reservoir.   He noticed the water in that area was reddish-brown. Long said, "When I went over that arm of the lake, I saw that it was murky, and I said to myself, 'this is where I'm going to spend all four days in the tournament'." Throughout the tournament he stayed in the general area observed from his vehicle, flipping wood cover with a black and blue jig and a "Flipping Bug" made by another of his sponsors, Charlie's Worms.
The win gives Long his second FLW Tour championship trophy, winning his first in June 2010 at Lake Guntersville in Alabama.  Said Long, "When you win one, they can say you just got lucky, you are a one-hit wonder. When you win two, I think that solidifies you as a good angler."  Long, a lifelong resident of the Lake Norman area and a local General Contractor was born in Lincolnton and then moved over to Cornelius in 2007.  He learned fishing with his father at a young age, entered his first tournament at 17 and began fishing on the pro circuit in 1997.
Coverage of the Table Rock Lake Tournament will be broadcast in HD on the NBC Sports Network May 6, 2012 from 1:00 – 2:00 pm ET.  The FLW show is broadcast to more than 559 million households worldwide. 
For more information, please contact Travis Dancy, Sports Sales Manager for Visit Lake Norman, at 704-987-3300 or tdancy@lakenorman.org.