Although this year's ALSCO 300 race will be held without fans in attendance, our central location provides easy access to a variety of restaurants that make for a great and safe way to enjoy the race. But in case you didn't know lets take a look into what our area has to offer in the NASCAR world! 
Dining Stops
NASCAR diver Denny Hamlin, driver of the number 11 FedEx car is a co-owner of Little Big Burger, located in Cornelius. "I'm excited to open my first Little Big Burger in my own community, right down the street from where I live," said Hamlin. Although it's temporarily closed due to COVID-19, we recommend supporting this burger joint by purchasing gift cards you can enjoy at a later time!
Red Rocks Café, located in Birkdale Village in Huntersville, is a great food option in NASCAR country. Reopening their dine-in area on May 22 at 5pm, Red Rocks has implemented safety guidelines, and you might run into your favorite driver as the restaurant is popular with plenty of people within the racing world. With a driver-themed menu, you can eat your favorite driver's meal for a reasonable price.
Racing Shops and Activities - Closed until further notice
The NASCAR Hall of Fame is an interactive attraction honoring the history and heritage of NASCAR. You can practice your racing skills in the in-car simulators, perform a pit-stop on a stock car, and see a plethora of artifacts and exhibits depicting the history of NASCAR all in the same location.
Joe Gibbs Racing employs several drivers and two of their most dominant drivers on the track are Martin Truex Jr and Kyle Busch. Their shop is open to the public, with the opportunity to shop in the team's gift shop, see various artifacts throughout the history of JGR, and even get a look inside the garage where the cars are built. Martin Truex Jr captured his first win at Charlotte in 2019 with a dominating victory in the Coca-Cola 600. On any given day, Joe Gibbs himself may come strolling into his race shop while you are there.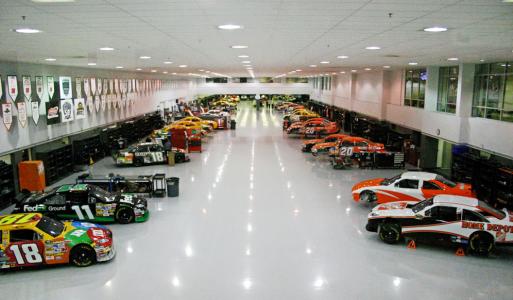 Joe Gibbs Racing Fan Fest - TBD
Every year around September, Joe Gibbs opens up his gift shop, museum, and garage to the public, along with the chance to meet and greet with some of NASCAR's biggest stars. Get autographs from all drivers and crew and make it a memorable day in Lake Norman.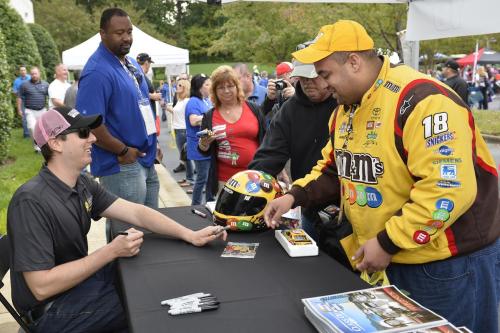 Victory Lap
Have an itch to do some racing of your own? Take it slow - or fast, and check out Frankie's Fun Park located in Huntersville, the GoPro Motorplex in Mooresville, or Victory Lane Karting in Charlotte. Because of the pandemic, both of these spots are currently closed, but you can still help support their businesses by purchasing gift cards! They make for a great gift to any kiddos in the family that can be enjoyed when it's safe to do so!
Want the true NASCAR experience? Get behind the wheel of a stock car at the Richard Petty Driving Experience, located at Charlotte Motor Speedway. With Speeds up to 165 MPH, it's the only place in the area where you can truly put the pedal to the metal.
With many great hotels to choose from, Lake Norman provides the NASCAR experience right at your fingertips. Dine in the restaurants the drivers dine in, play in the places they play, and stay in the area many drivers call home. No matter what pit-stops you make along the way, Lake Norman's combination of activities and fun bring a relaxing (or speedy) vibe to your weekend.