Next week, the International Wheelchair Basketball Association will be coming to Lake Norman! Visit Lake Norman (VLN) in partnership with Cornelius PARC and Huntersville Park & Recreation will host the International Tournament of Champions (August 8-13, 2011). There will be 250 athletes on 12 National Teams representing 7 different countries.  These teams will compete in the World Championships & 2012 Paralympics. Semi-finals & finals will be held Friday, August 12 & Saturday, August 13 at Lake Norman Charter High School.
Following the NWBA, be on the lookout for other sports events in the local area!
Upcoming Events:  (Primary Event Location C=Cornelius, D=Davidson, H=Huntersville)
VisitLakeNorman.org Kickoff Soccer Event (C, D & H) (8/20-21/2011)
Warrior Dash Carolina's 5K (H) (8/27-28/2011)
US Team Trials F2C Remote Control Airplane Championships (H) (9/2-5/2011)
Carolina Criterium Remote Control Airplane Regional (H) (10/22-23/2011)
Top Gun Softball Winter World Series (H) (11/4-6/2011)
Lake Norman Fall Classic Soccer Tournament (C, D, H) (11/19-20/2011)
Ryan Newman Charity Fishing Tournament (C, D & H) (12/9-10/2011)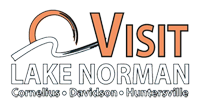 The following Visit Lake Norman update information is for your information.  Please visit our website at 
www.VisitLakeNorman.org
 for more information!