Every veteran has a story. No matter where they served, how long they served, or when they served, every story has value. The Lake Norman area widely recognizes the bravery and valiant service of all of our servicemen, and we continue to celebrate our rich history through our historical monuments located across our three towns.
---

Davidson

Davidson College War Memorial
World War I & II, Korean and Vietnam War, and Iraqi/Afghan Wars
 

This memorial observes alumni of Davidson College who sacrificed their lives while serving their country. Located behind Elm Row between the Old Well and the Carnegie Guest House, the memorial originated as a World War II monument and subsequently expanded by alumni to honor the Korean War, the Vietnam War, WWI, and the Iraqi & Afghanistan Wars. The World War II memorial includes over 159 names of fallen soldiers, with 193 names across all memorials of those who paid the ultimate price for their country. According to President Carol Quillen, "Davidson's mission is centered on preparing students for lives of leadership and service in the world, and those who serve in our military exemplify those ideals. This beautiful space on our campus allows us to honor their service and reflect on lives lost."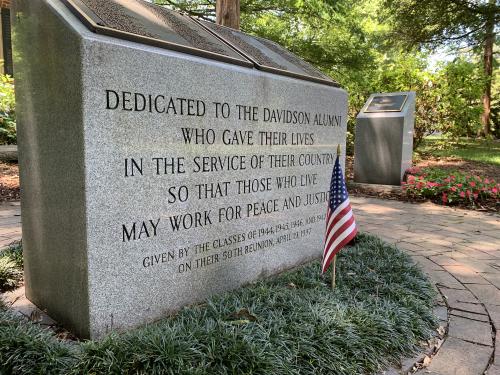 Davidson College War Memorial
Erwin Lodge
World War II
Erwin Lodge is a unique stone building memorializing two brothers and former students of Davidson killed in World War II, George and Edward Erwin. Located on the northern side of campus off of Grey Road, the lodge was constructed in the mid 1940s and was originally a gift from the parents of George and Edward, with their father being an English professor and their mother being a librarian for Davidson College. Marked with a college sign, you can follow the gravel drive up to the lodge with parking available.
General Davidson Memorial Historic Site
Revolutionary War Era
 

This memorial is a pillar made out of local stone and rock constructed in honor of General William Lee Davidson, and marks the location of where General Davidson fell during the battle of Cowan's Ford in 1781. Standing at 8 ft. tall with a metal plaque telling the story of General Davidson's role in the battle, this memorial is one of four to General Davidson in the Charlotte area.
This monument was actually lost throughout the course of history and was found by a bulldozer driver during the construction of the McGuire Nuclear Station during the 20th century, which was built right across from the General Davidson Memorial park in Huntersville.
 
Alexandriana
Revolutionary War Era

Alexandriana is a monument dedicated to the signing of the Mecklenburg Declaration of Independence on May 20, 1775. Located off of Old Statesville Road, the monument was built where the signers first enacted the Declaration and was also the former homesite of John McNitt Alexander. John Alexander was one of the original signers of the Declaration, the secretary of the committee that drew up the document, and he was believed to be one of the largest landowners in Mecklenburg County at his time of death. There is also a half-mile hiking and walking trail that passes the Declaration plaque which is open & accessible to the public.
Veteran's Park
Modern Era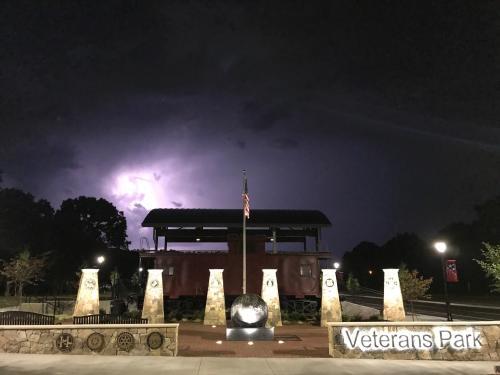 Huntersville Veterans Park

Located in the heart of downtown Huntersville, Veteran's Park is home to the Huntersville Veterans Memorial, amphitheater, and a festival lawn. The memorial consists of six monuments representing each branch of military service, and a granite globe rotating on water which symbolizes our veteran's impact on a global scale. There is also a large red caboose serving as a backdrop to the Ice House amphitheater stage, designed for children. Veteran's Park is also home to the weekly Huntersville Growers Market, an outdoor, open air market of local farmers with fresh produce and craft items.
Never Forget | 9/11 Monument
Iraqi/Afghan Wars


This award-winning memorial commemorates the first responders, military personnel and citizens who were impacted by the events on September 11, 2001 and serves to educate future generations about the historical significance of the events on this day. Located at Cornelius-Lemley Fire Station #1, the monument includes a piece of steel from the World Trade Center and is open 24 hours a day, 365 days a year for the public. The Cornelius PARC Department have been recognized for two consecutive years by the NC Recreation and Park Association Arts and Humanities award for the Never Forget | 9/11 Monument.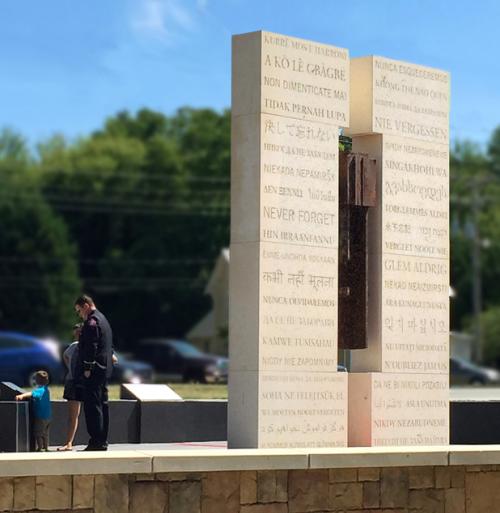 Never Forget | 9/11 Monument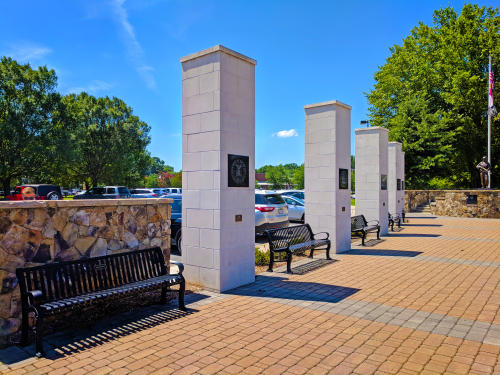 Cornelius Veteran's Park
Cornelius Veteran's Monument
Modern Era

Constructed on the grounds of the Cornelius Town Hall, the Cornelius Veteran's monument immortalizes former residents of Cornelius who have served this great nation. Dedicated on November 11, 2011, there are over 1,100 names of veterans, living or deceased, who served in the U.S Military and lived in Cornelius at one point in their lives.
This monument also features a six-foot-tall bronze statue of Corporal Jerry K Camp, a recipient of the Purple Heart and Congressional Medal of Honor. To this day, Master Sgt. Crump is one of few in Mecklenburg County to receive this prestigious award. The Town of Cornelius continues to collect names of local veterans who wish to have their name inscripted. If you or a loved one want more information on how to have a name added, click here to fill out an interest form.
These memorials amongst other historical landmarks are important to the Lake Norman community, as it reminds us of the honorable service from our fellow citizens and the rich history of our towns. Our team at Visit Lake Norman wants to salute all veterans and active servicemen who give so much to ensure the values of freedom and patriotism that makes our nation so great. If you visit one of our historical or veteran monuments, make sure to tag us @VisitLakeNorman and honor our community's great landmarks.