Forest therapy can be experienced in a variety of ways and locations at Lake Norman. The key to forest therapy isn't about covering a lot of miles, but to walk through nature with intention and just take it all in. Whether you hike a trail by yourself or go on a biking trip with your family, every experience with nature is unique to each individual. The Visit Lake Norman team has been working from home since the start of COVID-19, so we all individually went out to enjoy the local parks and trails and provided their personal experiences and memories of forest therapy. To give you a glimpse of our experiences, we've shared below our own perspectives of enjoying forest therapy at the lakeside of Charlotte.
Cyndi Bartley's Experience
When I think of forest therapy, I think about driving down backroads like on Neck Road to Historic Rural Hill or Sample Road through Latta Nature Preserve, seeing only tree canopies and the road.  I have memories of these roadways from the past 13 years in every season.  In the winter months, trees are barren with no leaves and after a snow fall they are snow and ice covered white limbs. Fall brings colors of orange, yellow and red with dashes of green and brown in between. My favorite time, the Spring, shows new bright green growth with blooms of pink, purple and white. Then Summer is loaded with continuous greenery. Someone not familiar with North Carolina let alone most southern states, will be overwhelmed with the lush and vast forests we have to offer.   
I grew up hiking and camping and haven't lost those traditions with my family today. Try looking up at the tree canopy with green leaves swaying and the sky peaking through in the background. At times the forest is so quiet yet all your senses is so in tune with every noise it makes. Leaves and branches crack with every step or a thud from a branch falling from a nearby tree. Have you ever heard a large tree fall naturally? That is a loud crash and boom sound I will never forget. As I am in my thirties, I have a whole new appreciation for nature. The beauty of forest therapy can be a gateway to meditation whether taking in its surroundings in your backyard or at a nearby park for 10 deep breaths to hours. When attending a conference last summer, a session's keynote speaker shared several keys to happiness. Since then, we have been implementing happiness visuals and messaging in our marketing initiatives which has been so fulfilling. One key to happiness takeaway is to spend 20 minutes a day outside. I encourage you to stop and smell the roses or see the trees for sake of this blog more often. The sights and sounds will not escape your mind and you can take those memories with you wherever you go.  Some of my favorite spots to recommend around Lake Norman include Jetton Park, Lake Davidson Nature Preserve and Latta's Nature Preserve.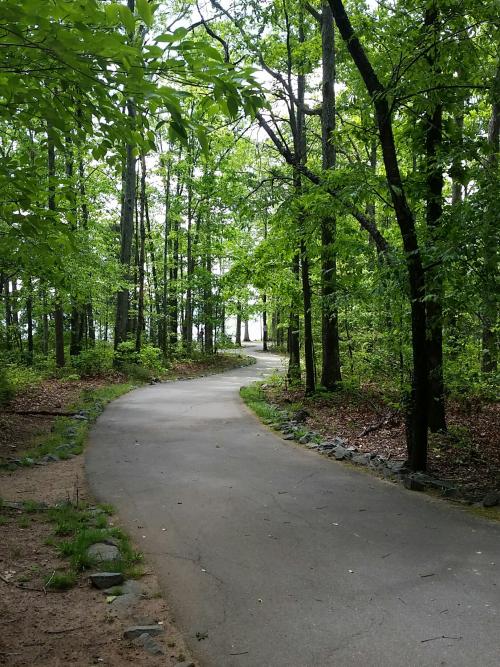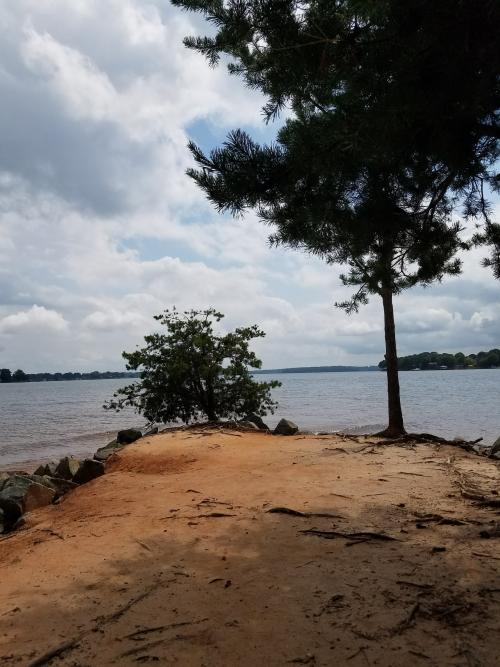 Jetton Park is a go-to waterfront park of Cornelius.  I love it because it is so close to our visitor center for any quick lunch break.  You can spend time walking the 1.5 mile paved loop. However, I enjoy most are the natural trails that divert away from pavement to the waters edge.  Even on hot summer days, the trees provide a refreshingly cooling shade.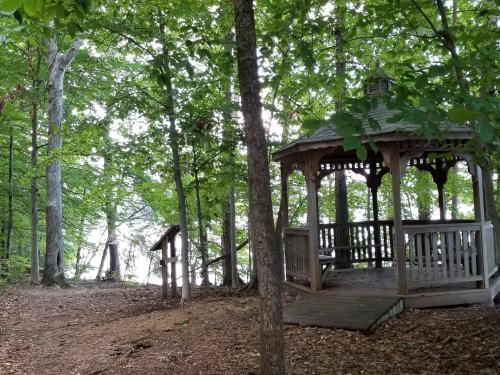 Lake Davidson Nature Preserve is sometimes a forgotten asset we have nearby.  The entrance can be deceiving being tucked away behind Davidson Day School athletic fields.  There are benches you can find along the natural trail and a gazebo to take an extra minute or two to spend in the forest.  The best part is the great views of Lake Davidson.
Historic Latta Plantation
Huntersville's Latta Plantation Nature Preserve is the place to spend all day if you want with water access to Mountain Island Lake and 16 miles of hiking trails.  There are trails that I have yet to discover and looking forward to it one day.  I have the most experience walking the raptor trail of Carolina Raptor Center and the grounds of Historic Latta Plantation.  We love bringing our intern's here each summer for outings to experience our attractions first-hand.
Rodrigo Carreon's Experience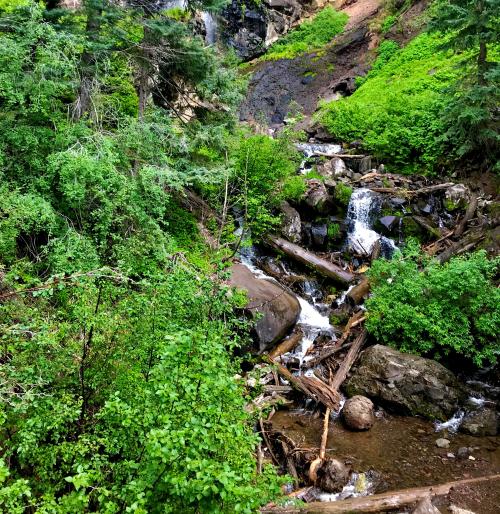 Trail in Catawba
Being able to go outside for a run was so refreshing, since we've been at home for about a month now. There was a slight breeze early Saturday morning and I could hear the birds chirping. As I was running, I tried to keep a constant rhythm to my breathing and once I found it, I felt so relaxed. It was a funny feeling because you'd think one would get tired with each step but it really felt as if I was gaining energy instead. I didn't start off with the intention of running 3 miles that morning, but after the first mile, I felt so at ease to keep running and before I knew it, I had almost ran a 5k! It was easy for me to get "lost" in the run, not physically lost, but so mentally relaxed that I lost track of how long I had been running because I was just taking in the view ahead of me and was so focused on my breathing. After I had finished running, I felt loose and motivated to get stuff done at home including some yard work that I kept pushing to the side.
Jennie Leng's Experience
In the beginning of this stay-at-home order, there are times where I would be indoors all hours of the day. On my laptop clicking away with various background sounds coming from every direction. With three other roommates and two dogs, silence doesn't come often. Music plays from one room, someone is cooking in the kitchen, the washer and dryer bangs around with clothes, and my brother's Shikoku never fails to bark at one of the roommates because, for whatever reason, he does not like him.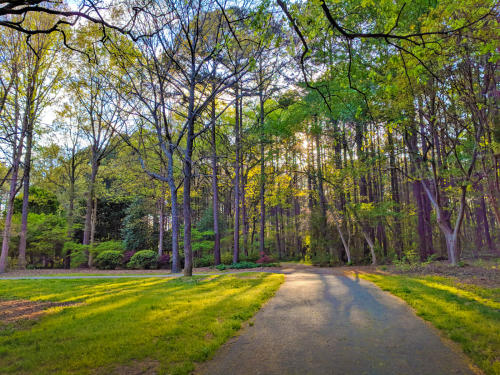 As I looked out the window one day, it just looked too nice and warm out. It would be a shame not to enjoy what nature had to offer. I asked my fiancé to take a walk around the neighborhood with me right before lunch. When taking that first step outside, my initial reaction as I squint is, "wow this sun is too bright." After a good minute, my eyes finally adjust so I can take in the luscious trees and green grass paired with the sounds of the wind and birds chirping. It is absolutely calming and revitalizing.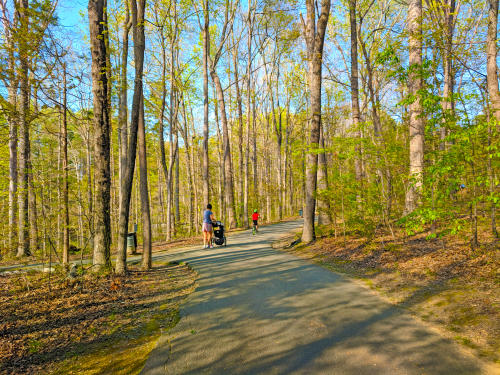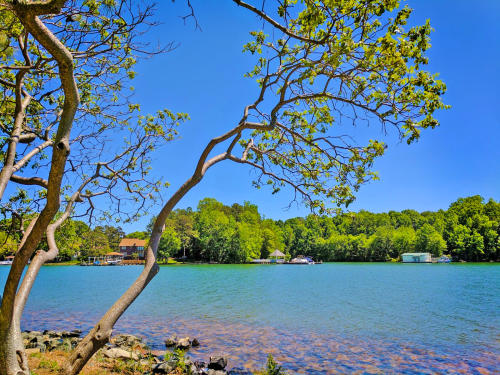 Stepping outside is like hitting the refresh button for me. Escaping the work and distractions of the past couple hours. It resets my mind like nothing else can. After only a 10-15 minute walk, I come back feeling happier and more attentive with an increased amount of creative flow. Now it is imperative that I reserve 10 or more minutes out of my day to at least sit outside, without my phone, and take in the natural beauty that surrounds me.
Something about nature makes us feel and think better and it is a free resource that we have taken for granted. As a community, it would be beneficial for us to consider how to save our environment and preserve our natural spaces and parks.
Hayes Almond's Experience
I think getting in the forest can help put your mind at ease during stressful times especially now during the pandemic. I believe everyone should get outside even if it's only for a couple of minutes to connect with nature.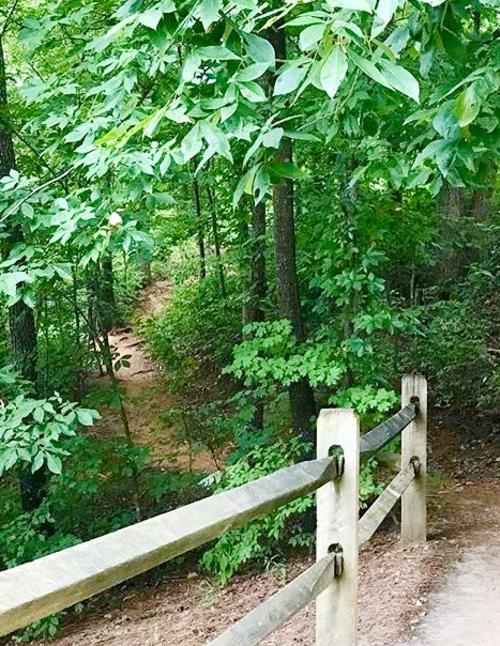 Bond Park - Cary, NC
On my run, I saw a couple of squirrels and birds along the trail. It was a very peaceful experience with lots of relaxing sounds. Some of the sounds I could hear that were refreshing include stream water, sticks falling, and animals running through leaves. When I was on the trail, I felt more relaxed and less stressed compared to when I am at home. It felt like breathing was easier because I was connected with the forest. It was as if nature was protecting me from the outside world. It was pretty cool to see nature around the lake and how it changed my mood in different parts. Some parts of the trail gave me more energy than others. I felt calmer when there were more trees and happy when there was a great view of the lake. There was also a steep dam at the end of the trail which I found pretty exciting. If I got close enough to the water I could see fish. At the end of my run, I felt really energized and ready to start my day off by getting stuff done. Overall, If I had to sum up my perspective of the experience I would use the word relaxing.
As you can see, Lake Norman provides an abundance of opportunities to try out forest therapy. It has great health benefits so we'd love to see you take it all in by tagging us in your nature retreats on social media @VisitLakeNorman!
For more information on Lake Norman's trails, check out another blog A Guide to Hiking and Biking. 
For more in-depth information on Forest Therapy, check out another blog Have you tried Forest Therapy? 
Header Image courtesy of @cjazzlloyd via Instagram