The lakeside of Charlotte boasts a variety of activities and places for people to experience. Whether you're planning a trip to the area or just driving through, there's plenty to do in the town of Cornelius! Located right off I-77 and a 20-minute drive from Charlotte, Cornelius is a place you'll want to spend a day exploring! We've got you covered with this 1-day itinerary that'll help you get the most out of being in this lake town, but if you feel like it's a lot to pack in one day, don't worry, there are plenty of hotels to choose from that are located minutes from the places we'll mention below. 
9:00am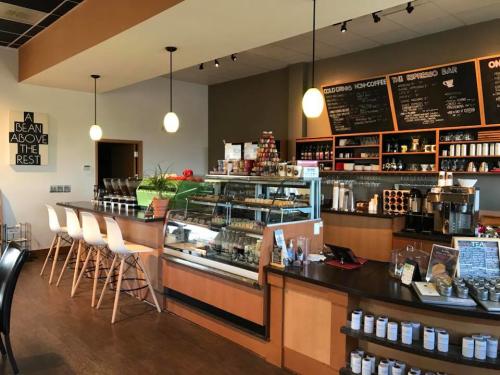 Waterbean Coffee
Kick start your day with a hot cup of coffee and light breakfast at Waterbean Coffee. Their breakfast sandwiches are one of the popular items on their menu but if you have a sweet tooth in the mornings, then may we suggest their macaroons? Coming in a variety of flavors including key lime pie, chocolate, and red velvet, these are one of the best macaroons you'll find in the area!
10:00am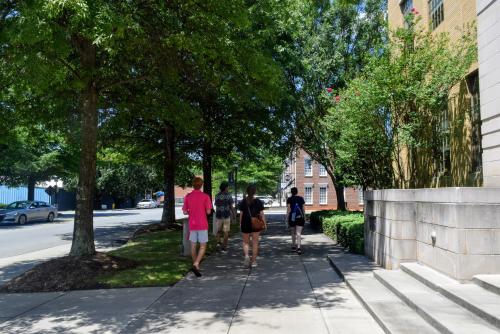 Downtown Cornelius
Dive deeper into learning about the town by doing the Cornelius Historical Walking Tour (North Trail) and (South Trail). The walking tours promote the work of historic preservation, encourages exercise suitable for the entire family, and educates students, residents, and visitors about the evolution of Cornelius. While guided tours aren't available right now, you can still print off both walking tour handouts and do a self-guided tour. You can do it at your own pace and spend more time at places that really peak your interest. 
12:00pm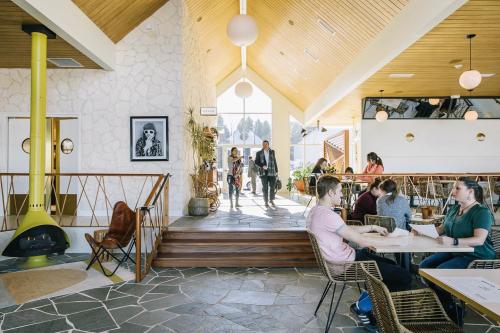 Hello, Sailor
After a couple hours of walking around and learning the history of Cornelius, we suggest grabbing a bite to eat at Hello, Sailor, which is located right by the water. At Hello Sailor, Joe and Katy Kindred serve up seafood, hand pie and retro charm. As soon as you walk in, you'll find the most aesthetic background to snap a photo with your friends or family. Once you're seated, you have to order their hush puppies! One of their most popular lunch items is the Spicy Chicken Sandwich and the Lobster Roll, but you can't go wrong with any of the other items on their menu. 
1:30pm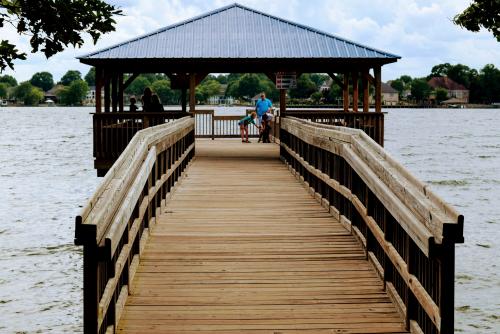 Ramsey Creek Park
After you've refueled, head over to Ramsey Creek Park! This waterfront park covers 46 acres and features a public swimming access area that's open from Memorial Day to Labor Day, boat launching and docks, a new playground, picnic shelters, nature trails, and a fishing pier. Shelters are available for rental and provide a great place to sit along the shores of Lake Norman and the trails offer a great place to walk and admire nature at its finest.
4:00pm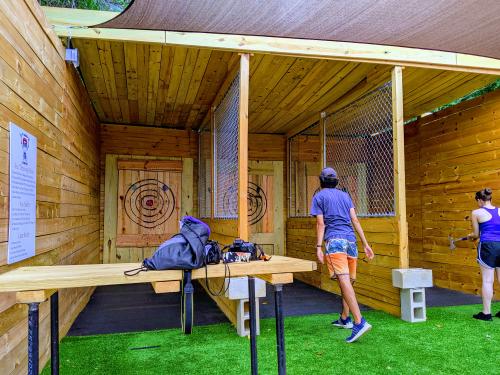 LKN Mini Golf
After you've spent some time by the lake, we suggest to go inland and stop by LKN Mini-Golf. This isn't just your typical 18-hole mini golf course. LKN Mini Golf also features a laser maze, Saz's snoballs, a rock climbing wall, food and refreshments. Did we mention you can give it a go at axe throwing? This is the only place in the area where you can try this, so we recommend this as a must-do activity! One of their staff members will give you proper training so that you become an "axepert" in no time! Closed-toe shoes are required for this activity.
6:00pm
Port City Club
After a packed day, sit back and enjoy a dinner at Port City Club, a uniquely designed restaurant located right on the waters of Lake Norman. Not only will you enjoy a view of the lake but the atmosphere is bright, cheerful, casual yet classy! It's always good to treat yourself, so why not do it with food? Their menu provides dishes made with the freshest local ingredients so you are sure to get your evening munchies satisfied!
7:30pm or Sunset time

@trevoronthetrail via Instagram
Lake Norman prides itself with having some of the best sunsets in the area and Jetton Park is one of the perfect places to witness this beauty! It includes picnic sites, lighted tennis courts, walking trails, gazebo, sunning beach (no swimming), and playground for the little kids to play in. Watching a sunset on Lake Norman is the best way to top off a day, so we highly encourage you to make this happen next time you visit.
Cornelius has become a popular lake town for all people to enjoy as it provides a variety of things to do. Whether you're planning to visit with family or friends or just want to take a solo trip and escape for a bit, Lake Norman is the place you want to be. We love seeing any photos you tag us in @VisitLakeNorman on social media so we hope to see yours soon!