Who doesn't love a good outdoor patio? Fresh air, nice weather, and a view. But did you also know that it is a good time to eat outside? That's right. Dining out is an experience that you don't want to miss, so enjoy your favorite restaurant from a different perspective and a new setting.
Cornelius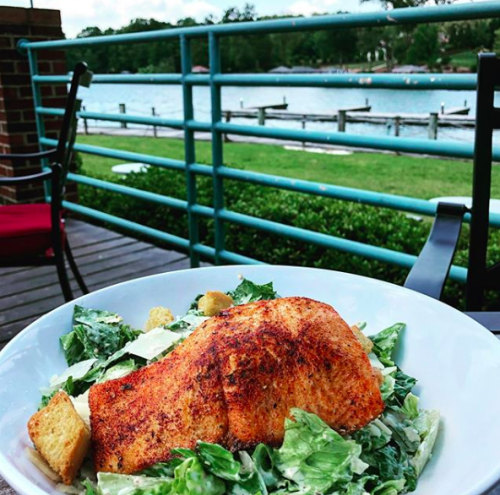 Port City Club
Distinctive low country Charleston feel with a full view of the open kitchen and hickory wood fire grill are warm and inviting.
Top dishes: Southern Shrimp and Grits, Cajun Penne Pasta, Thai Steak, Fresh Cut Salmon. 
Bar & grill with a comfortable atmosphere serving innovative drinks & upscale American fare.
Top dishes: Crab fries, Fish tacos, BBQ Ribs, Ahi Tuna Poke, Chicken Tenders
Casual food served in a comfortable and unique environment.
Top dishes: Classic Crafty Burger, Avocado bites, Pimento Bacon Burger
Galway Hooker
Cozy, old-school pub serving Irish & updated bar food originally stood in Ireland then rebuilt here.
Top dishes: Garlicky Tuscan Shrimp, Dublin Fries, Bourbon Beef Medallions. 
Warm, cozy Irish pub provides a mix of traditional cuisine with modern flavors.
Top dishes: Braised Beef Brisket, Roasted Chicken, Filet Tips, 12 oz. Pork Chop
A Southern-leaning menu of fish dishes & fried favorites is served in a chic, light-filled atmosphere. *Lake-view Patio*
Top dishes: Crab legs, Petit Bistro Steak, Flounder
Sports pub with a collegial vibe, daily drink specials & TVs, plus Sunday brunch & an outdoor patio.
Top dishes: Calamari, Fish & Chips, Bang Bang Shrimp Pasta
Waterfront eatery with outdoor tables & a lounge seating serving steak, seafood & cocktails. *Lake-view Patio*
Top dishes: Eggplant Parmesan, Lobster ravioli, Crab Cake Salad, Steak
Casual eatery specializing in chicken tenders
Top dishes: Chicken Tenders, Crispy Chicken Sandwich, Hand-Spun Shakes
---
Davidson

Kindred Restaurant 
A refurbished cotton mill turned sleek, a bustling sports bar with American eats & a large beer list.
Top dishes: Buffalo shrimp, Fish Tacos, All-American Burger, Salmon, NC Flounder
Handcrafted tacos & burritos, plus cocktails & beer, served in a chill bistro with sidewalk tables.
Top dishes: Quesadillas, Carnitas, Tacos, Burritos (build-your-own), Margaritas
Cozy spot offering traditional American breakfast
Top dishes: Bacon Cheddar Burger, Eggs Benedict, Omelettes
Eclectic New American fare with local sourcing, including wood-smoked meats, plus a beer emphasis.
Top dishes: Steak, Grilled Porkchop, Taphouse Burger, Goat Cheese Salad, Shrimp and Grits
Stylish, chef-driven hot spot with sidewalk seating showcasing unique takes on American classics.
Top dishes: Ravioli, Farmhouse Cheeses, Crispy Oysters, Blue Tilefish
Contemporary Mexican cuisine served in an enchanting atmosphere & outdoor patio providing views of gardens and downtown Davidson
Top dishes: Pollo Mestizo, Carne Asada, Tacos Al Pastor
Regatta-themed New American fine-dining destination with waterfront patio & 9 boat slips for guests.
Top dishes: Suff Roasted Chicken Breast, Herb Crusted Tilapia, Light House Burger
Old fashioned diner with premium American cuisine and famous hand-spun milkshakes. 
Top dishes: Cheesesteak, Chicken or Cheese Quesadillas, Wraps, Burgers
Traditional American Breakfast cafe with an array of delicious and healthy options. 
Top dishes: Breakfast Burritos, Flavored Flapjacks, Omelets
---
Huntersville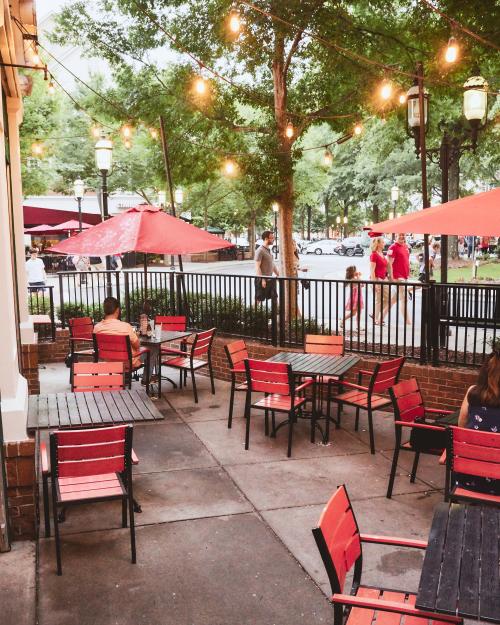 Red Rocks in Birkdale Village
Burger bar that also includes salads, sandwiches, and beer
Top dishes: Magic Mushroom Burger, Buffalo Chicken sandwich, Create Your Own Salad
Contemporary grill chain offering a seafood-centric menu, plus steaks & cocktails.
Top dishes: Bang Bang Shrimp, Tilapia, Salmon, Lobster
Welcoming joint featuring pizza from a wood-fired brick oven, plus sandwiches & craft beers.
Top dishes: Bronx Bomber Pizza, Housemade Mozzarella Sandwich, Meatball Pomodoro
Cafe 100
Southern-inspired comfort-food dishes served in a converted house.
Top dishes: Chicken Parmesan, Atlantic Salmon, Chicken Alfredo, House-meat Lasagna
Unique sushi creations & Asian-fusion fare in a polished setting with a sidewalk patio.
Top dishes: Sushi, Bento box, Stir Fry bar, Ramen, Pad Thai
Burgers, flatbreads & other American fares, plus cocktails, in a sports-bar setting.
Top dishes: "Firecrackers" (boneless wings), Firecracker melt, Ziti
Family friendly dining, and bar, features a pool table and TVs
Top dishes: Chicken, Salad, Ribs, Burgers, Pizza
Laid-back, eclectic American Bar with live music, flat screen TVs, and a wide array of American cuisine.
Top dishes: Chicken wings, Lobster roll, Fried Chicken BLT, Flatbreads, Steak, Burgers 
Modern, laid-back gastropub with ample flat-screens, specialty cocktails.
Top dishes: Lamb Lollipops, Guinness Wings, Whiskey Maple Porkchop
A southern BBQ eatery featuring Texas/NC inspired dishes.
Top dishes: Pulled chicken, Ribs, Chopped BBQ, Pimento Cheese Fries
Local American eatery serving sandwiches, hot dogs, tacos & cocktails in a casual, offbeat space.
Top dishes: Pterodactyl burger, The Patsy Melt, Ding Dong Chicken, Chicken Philly
Upscale yet laid-back American eatery featuring ample outdoor seating & a diverse wine list.
Top dishes: Filet Medallions, White Rib's, Blackened Mahi, Crab Cakes
You can't go wrong visiting any of the restaurants mentioned above and to ensure you get the most up-to-date info on restaurants during the COVID-19 crisis, please visit our Lakeside Curbside page. Let us know if you visit any restaurants in the area by tagging us @VisitLakeNorman!