The culinary scene in the lakeside of Charlotte has seen several new restaurants open their doors within the last couple months. From top-notch roadside burgers and hand-made pizza to mouthwatering bbq and pies, we've got the rundown on new eateries to check out. So before you get more cravings, lets get started!
Open daily 11am-9pm
Juan Loco in Cornelius opened their doors a little over a month ago, but they've quickly become one of the area's top spots for burritos and tacos. Their menu is filled with mouthwatering, fresh Mexi-Cali cuisine bursting with flavor. Vegetarians can also indulge in this new eatery as Juan Loco offers a variety of meat-free options including the Fresca Quesadilla and Black Bean bowl with no chicken. 
Google Review: The food is delicious, the atmosphere is fun, and the staff is friendly. Juan Loco will be a staple restaurant for us! - Joy
Open Sun-Thur 11am-9pm, Fri & Sat 11am-10pm
The popular modern day "roadside" burger stand has opened in Birkdale Landing. Shake Shack is known for its 100% all-natural Angus beef burgers, chicken sandwiches and flat-top Vienna beef dogs. Their crinkle cut fries are perfect in every way! Grab one of the shakes on your way out, having vanilla, chocolate, black & white, strawberry, and cookies & cream to choose from. They also offer floats and cups of frozen custard. 
Google Review: The atmosphere is great. All of the employees are inviting and friendly. It is super easy when it comes to ordering and getting your order very quickly. - Jackson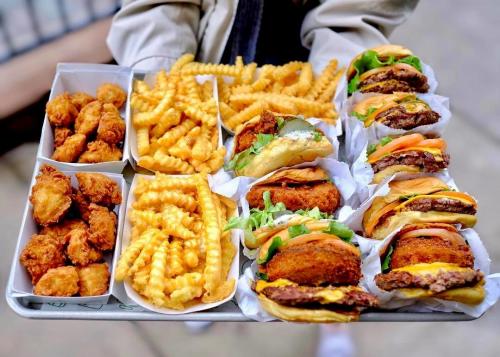 Open Mon-Thur 11am-10pm, Fri-Sun 11am-10:30pm
Birkdale Landing had two restaurant openings in the last month. Inizio is dedicated to the art and craft of true neopolitan-style pizza providing guests with handcrafted pies made from the freshest ingredients in the area. Try their Margherita or Pistachio pizza. Pair it with one of their wines, either by the glass or bottle, or one of the local craft beers on tap! They are located right next to Shake Shack and share an outdoor greenspace with tables and chairs if you'd like to take in the good weather. 
Google Review: Great place to eat! Service was very fast, pizza was excellent. Closest thing to pizza in Italy I've had! - Austin
North State BBQ
Open Mon-Sat 7am-2pm
For barbeque fans, you'll want to try out North State BBQ which opened their new kitchen in the Cashions Quik Stop in Cornelius. They have set up eight tables inside as well as outdoor seating. North State BBQ's name comes from a nickname for North Carolina. But the array of barbecue sauces and types of meat make it a fun and full-flavored find no matter what state you call home. For breakfast, they'll be serving homemade biscuits and fresh eggs among other traditional meals.
Google Review: Everything is good. My favorite go-to. All the sides are excellent: corn pudding, fried okra, mac and cheese. Try the BBQ rolls! - Maurlene
Open daily 11am-10pm
All-you-can-eat crab legs on Mondays. That's just one of the few things people have loved about the new seafood restaurant that took over the old Lake Town Tavern location. It remains under the same ownership, but the building has received significant upgrades. Their menu features fish camp motif and a Jimbo's Platter that includes flounder, shrimp, oysters, fries, and coleslaw. Kat's Seafood Kitchen pride themselves from having everything hand-made with the exception of the clam strips. Because of the owner's work experience, you'll find their menu tailor to a variety of unique regional tastes ranging from Miami-influenced entrees to Eastern Tennesee fish camp. 
Google Review: Tried a few things on the menu so far (oysters, crab legs, steamed shrimp) and everything has been great! So nice to have a good seafood restaurant around! Highly recommend! - Chapin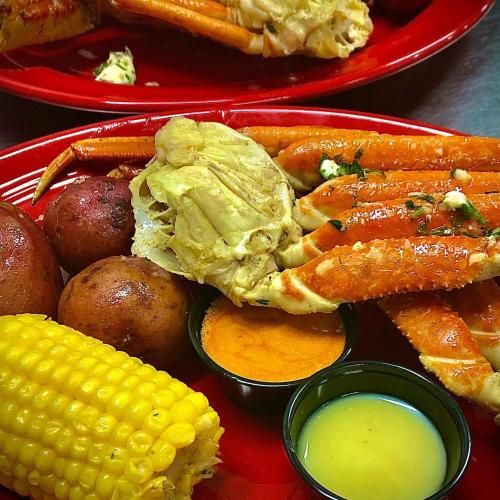 Open Tue-Thur 10am-7pm, Fri & Sat 10am-9pm, Sun 12pm-5pm
Calling all pie lovers! Buttermilk Sky Pie Shop opened their doors next to J.Jill in Birkdale Village. This pie shop bakes nine flavors each day with proceeds from one of their pies benefitting a local charity each month. What makes this pie shop different are their pies coming in 4 inch and 9 inch sizes. Choosing which flavor to go with can be a hard decision but samples are provided during your first visit. They have special discounts when you purchase 4 or more pies together, even coming neatly packaged in clear wrap. You can also personalize your order if you are gifting these to someone special. If it's for someone else, we suggest you grab one for yourself too because you won't want to miss out. 
Google Review: When I first entered the shop, I was hypnotized by the smell of baked goods! - Tileshia
As you can see, the lakeside of Charlotte continues to enhance its culinary scene. We recommend you try these new eateries and let us know about your experience in the comments below. We love to see the foodie shots on social media so be sure to tag us @VisitLakeNorman! For a list of all the restaurants in the area, check out our Restaurants page.