Ushering in a new year can be exciting, but somewhat stressful with so many New Year's resolutions being bombarded at you.  Committing yourself to a new goal can be intimidating, but it doesn't have to be! If you're aiming to be less stressed, more flexible and develop a healthy new hobby, then yoga might be the perfect resolution for you.
The origins of yoga can be traced back to India over 5,000 years ago, and the main goal of yoga is to build strength, awareness and harmony in both the mind and body. Yoga has since become a globally adopted exercise practiced around the world with many physical and mental health benefits for people of all ages. Easing stress & chronic pain, improving circulatory health and increasing muscle strength are just some of the many benefits that yoga can provide.  If you think this sounds like something you'd want to try in the new year, Lake Norman has plenty of spots that offer classes or just a peaceful place to practice.
---

Yoga Sessions inside the Bradford Market
Wind down from the day with a yoga session held outdoors on the Bradford farm's historic property. Built over 100 years ago, the Bradford Farm is an integral part of the history of the Lake Norman community and it's quaint yet alluring landscape serves as the perfect backdrop for a yoga session. Every Saturday, you can come out to the Bradford Market in Huntersville for a 60-minute Vinyasa flow, an energetic style of yoga developed in America. You can even enjoy a complimentary kombucha during or after your practice! Afterwards, we definitely recommend browsing their shelves and picking up some delicious farm fresh produce.
 
Community Yoga was founded in Cornelius 17 years ago with a vision to create a place where people from all backgrounds can gather and improve their overall health. Their goal is to create a welcoming environment for all to come for students of yoga at all levels. At this time, the studio space is closed but they are open virtually with Zoom classes and in-person classes per their schedule. Community Yoga offers a wide variety of classes for all skill levels, ranging from dynamic and energetic sessions like the Ashtanga Inspired class all the way to their Gentle Stretch class designed for anybody to attend. This yoga studio is known for it's warm and welcoming peaceful space all while hosted by local yoga guru Amy Schneider. Yoga mats are provided during drop-in classes, and different materials like bolsters and straps can also be provided upon request. Whether you are a seasoned veteran in yoga or you're looking to try out your first class, Community Yoga in Cornelius is a great option. 
iShine Yoga & Wellness was established in 2008 in Huntersville, and was opened to fill the void for students & teachers of a local studio which was closing. Since their opening, iShine Yoga has been a place for students to connect with their yoga practice and become part of their larger community while improving their overall health. Known for maintaining a very welcoming and loving environment, iShine offers a variety of classes ranging from Power to Deep Stretch and all the way to Yoga Nidra, a 60 minute class of guided meditation and deep rest. Different sessions are offered every day of the week in both the mornings and evenings, so you can join a class without changing your schedule. They even offer child watch for all of the busy parents out there!
 
Yoga On Davidson is a hot yoga studio that offers heated and non-heated classes in a comfortable yet modern setting. Located in the heart of Downtown Davidson, Yoga On focuses on a desire to re-invent the yoga experience with an innovative approach to studio design, with classes created to instill a deep knowledge & appreciation of the practice of yoga. Their main classes include Deep Stretch, Vinyasa Flow and Power sessions. Not only do these styles of yoga focus on proper breathing, relaxation and meditation, but Yoga On will also consistently provide a great workout with each class. By combining optimal yoga poses with energetic routines in a heated room, these sessions will improve your circulatory health along with flexibility and strength! Classes are currently being offered online and in-studio.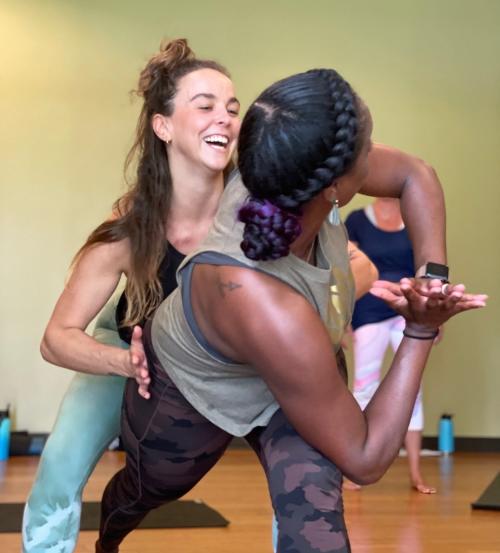 An instructor guiding a session at Melting Point Hot Yoga (via Facebook)

Melting Point Hot Yoga is a specialty hot yoga studio located across from Birkdale Village and offers an atmospheric space that embodies serenity, fitness, relaxation and healing. Performing yoga in a heated room helps enhance your overall yoga experience as it allows you to find a deeper stretch in your poses and helps you release toxins at a faster rate, all while reducing the risk of injury! Melting Point offers a variety of classes both in their hot and non-heated space, and some of their classes include Vinyasa, Deep Stretch, Strength/Core Classes and Therapeutic sessions designed for those with chronic pain. There are also private sessions and workshops available for those looking for 1-on-1 training. The instructors all have their own unique style but they all are encouraging throughout each session and ensure that each person who attends feels welcome, regardless of skill level.
 
Yoga Om is an intimate, small-scale yoga studio located in Huntersville and is oriented towards those looking for internal healing of their mind & spirit through yoga. Specializing in yoga for anxiety and mental health, Yoga Om was established in 2013 with a mission to guide their students towards embracing and understanding the Art of Yoga along with how to naturally improve their quality of life. The owner, Joy, has been inspired by yoga all her life and began teaching therapeutic yoga in 2006 in Rome, Italy. She continues to apply her international wealth of experience towards every session, and applies her teachings to her own styles of Ashtanga and Vinyasa yoga. 
 
YogaSix is a locally owned and operated yoga studio located in Cornelius with a focus on providing a sensory yoga experience accessible to all levels of expertise. YogaSix offers six different classes oriented towards providing different, specific body benefits, and each instructor has been trained in the YogaSix methodology to provide a consistent yet creative experience for each class type every time. Their six core classes include an introduction session, a Restore session, Slow Flow Yoga, Hot Yoga, Power sessions and a Sculpt & Flow session! YogaSix is also committed to keeping their studio a safe environment at all times, and thoroughly sanitizes their studio between each class.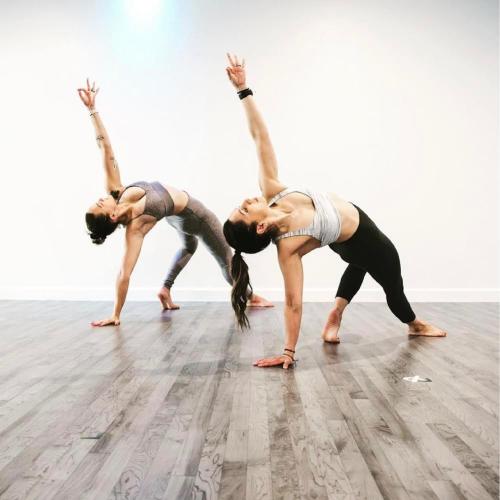 Two instructors at YogaSix Cornelius (via Facebook)
Tejas Yoga Lab is a diverse yoga studio located in Cornelius with a main focus on providing a welcoming yoga experience for everyone of all skill levels. Their instructors embody Tejas Yoga's core values of service, love and respect for all, and they work towards empowering their students with a holistic approach to yoga. Both owners of Tejas Yoga have a combined experience of 700 teaching hours and their open approach to yoga has helped a diverse community of people from all walks of life grow to appreciate the benefits of regular yoga practice. Tejas Yoga Lab offers a wide range of classes, ranging from Beginner's and Gentle Yoga all the way to Vinyasa and Restorative yoga. They also offer private yoga instruction and yoga parties.
 
Beer and Yoga? Why not! Every week, breweries in our area host regular hourly yoga sessions in their outdoor spaces. You can visit D9 Brewing Company in Cornelius which hosts a yoga class inside the brewery, or head to Lost Worlds Brewing for an hour of stretching & strengthening in their outdoor biergarten. This is a great way to get out, meet new people and decompress with yoga and craft beer.
If you're looking for more healthy activities to kick start your new year, check out all the great parks and trails that Lake Norman has to offer!
Keeping resolutions throughout the whole year can be challenging but we hope the places above help you maintain a healthy lifestyle all of 2023. Feel free to share with us your yoga experience and any other locations that we may have missed @VisitLakeNorman on FB and Instagram.