Are you craving food early in the morning again or tired of making breakfast each day? The Lake Norman area has so many breakfast and brunch options to choose from that have phenomenal food and provide egg-cellent service. We put together a list of options you should consider for your next morning craving and in case you were wondering, the restaurants below are open at 50% capacity to ensure the safety of people dining in!
Café 100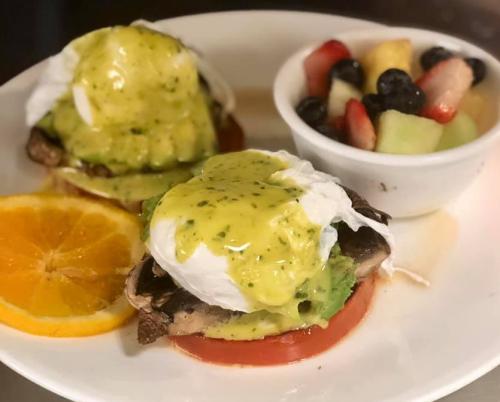 "Cafe 100 is one of my favorite places. The food of a high-class restaurant with better portions. Awesome wait staff and a casual atmosphere. If it's nice out I will even eat crab cakes on the patio with my dog Betty." 
- David Zion
Café 100 is a family-owned restaurant that provides a mixture of classic homemade meals and modern twists! They offer a variety of daily specials and serve your favorites until 2:30 pm each day. Café 100's purpose is to provide excellent food, exceptional service, and a comfortable inviting atmosphere that'll make each visit a memorable one. Whether you're the breakfast or brunch type, they have something that everyone can enjoy!

With locations in Davidson and Huntersville, the Famous Toastery is a popular spot to eat around the area whether you're craving a burger or salad when you wake up, eggs for lunch, or brunch any day of the week. Breakfast is served until 3pm so if you sleep in, you'll still be able to enjoy your favorite meals. The Avocado Omelet is a fan favorite consisting of fresh avocado, tomato, chopped bacon, & parmesan wrapped in 3 eggs. They also offer a fan favorite Cali Benedict containing two eggs any style, fresh avocado, grilled tomato on a toasted English muffin topped with their homemade Hollandaise. Also, the Davidson Village Inn and Famous Toastery Davidson property are offering free continental breakfast as part of their room rate as well as two other American Breakfast options to add on including hot breakfast like french toast, eggs, and bacon. The Davidson Village Inn will place your breakfast orders and it will be ready to pick up at 8am to eat in their dining room or in the comfort of your own room.
"Love eating here with the family, clean bathrooms, friendly employees, great food, good atmosphere for family and friends". - Restucci Angela
"Outstanding! We had a wonderful stay at the Davidson village Inn. Joy and Laura were so accommodating! The inn is very quaint and well kept and clean. It was a crazy time because of covid-19 shutdowns but the staff made sure we had everything we needed. We will be back​" - Diana D via Trip Advisor
"Safety/Comfort/Excellent Service. Staying overnight anywhere during the coronavirus situation was concerning, but after a recommendation from a friend to stay at the Davidson Village Inn, we made a reservation for our last-minute trip North from Florida. The website listed all of the additional safety procedures being used, which gave us some confidence. The Inn met all of our expectations. Even though we were the only people staying there that night, they "kept the Inn open for us"! We were contacted by phone and email to detail the remote check-in, which conveniently met our desire for a late check-in. The room was clean, comfortable and well appointed. Although we left early the next morning to finish our travels as quickly as possible, we were so grateful for their concern and customer service. We will surely be return visitors when our schedule permits a more leisurely visit (lovely town!)​"  - BJC via Trip Advisor
---

"Just had breakfast at The Egg at Davidson. Glad they were able to open back up...missed it. Delicious as usual and smiling faces...I'm assuming. Hard to tell with face masks." - Wayne Bradshaw
Davidson's The Egg offers take-out and delivery including wholesale items! Enjoy one of many flavorful omelets, or a mouth-watering Bacon Cheddar Burger with family and friends in the cozy dining room or outdoor covered patio. The Egg is one of the best breakfast spots in the Lake Norman area, so hop in the car and come see for yourself! 
"Warm, welcoming place with great breakfast. Food was delicious, service was great and we enjoyed our time there." - Esther M. Alcamo
The Fresh Egg is the newest, freshest breakfast spot in Cornelius. They offer the same quality food and great service as it's sister company and is located in the same space where the original "Fresh Chef" was. A popular item here would be the Fresh Egg Platter which contains two eggs served any style with your choice of one meat and one toast, plus one side item. There are so many side options to choose from, some sides are fruit, mashed potatoes, mac & cheese, green beans, and many more.
"Best chicken and waffles I've had in a while. Great prices. Awesome mimosas, friendly atmosphere." - Perette Campbell
The Metro Diner located in Huntersville is a favorite breakfast place and has been satisfying customers for nearly 25 years. The menu includes innovative new dishes created from local ingredients. Known for welcoming service and award-winning food, Metro Diner is a great stop for locals or anyone that is passing through. The Metro Diner officially opened in-restaurant dining to serve the community once again! They continue to offer take-out and delivery options, too.

"We love this coffee shop. great service lovely owner Brian and in the evening good beer and wine. Plus good music upstairs. Wish we had one in the UK !!" 
-Djmiles Miles
Summit located in Davidson has served coffee, pastries, fine teas, and micro-brewed beer from its only location the 100-year-old building with live music on weekends. Summit Coffee is one of the coziest, friendly atmosphere, and community connections around.
"Misty (owner) and her team are wonderful! Great food & atmosphere - highly recommend!" - Courtney Muncy
A local favorite right across from Davidson College opened in 1951 and has continued to be a tradition to visit if you are in town. The Soda Shop has walls that tell a story of the history of the restaurant and their customers. Come visit in this comfortable, timeless environment where people gather to eat, drink, and socialize. You never know who might be at the next booth or table! Afterward, take a stroll along the expansive brick sidewalks past the trees that line Main Street. It's an idyllic setting that is most perfect in its simplicity and charm.
"It was wonderful and so was our waitress! I would definitely recommend this place."
- Maxine Cabrera Cybulski
World-class dining is complemented by the waterfront ambiance of Lake Norman. Open for lunch, dinner, and Sunday brunch, the North Harbor Club offers fine cuisine using fresh ingredients and the perfect touch of their Executive Chef. Curbside and dockside service are available so come on down.
Whether you're a breakfast or brunch person, Lake Norman has a variety of restaurants that bring the freshest food to the table. Most restaurants have been able to open back up at 50% capacity, so we encourage you to support local eateries during these trying times. For the most up-to-date info on our restaurants, please visit our Lakeside Curbside page! Don't forget to tag us in your delicious foodie photos on social media @VisitLakeNorman for a chance to be featured!