The brewery scene has been ramping up around the Lake Norman area, providing a friendly atmosphere for people to enjoy a drink and even listen to live music. Lost Worlds Brewing recently opened in Cornelius and they are all about creating a space for like-minded people to come together and enjoy being part of the community through beer. We are happy to give you a glimpse into their brewery through these Q's answered by Lost Worlds Brewing's founder, Dave Hamme!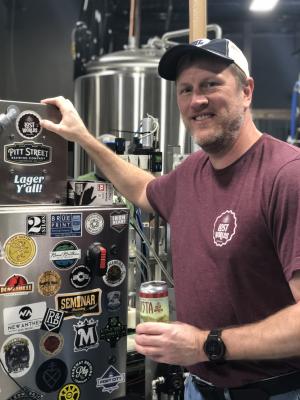 ​
Lost Worlds Brewing's founder, Dave Hamme
Q: Does your brewery/beer have any connection to the local area? If so, what?
When it came time to launch a craft brewery, Allison and I wanted to build it in the community where we live and where are kids grew up. Having lived in the area for 17 years, we've seen the growth first-hand. Being a part of the local community is important to us, which is why we have community partners and work closely with local businesses.
Q: Which beer is your favorite and why?
Through my experience opening a craft brewery, I've gained an appreciation for a well brewed beer. You might not like peaches, but you may appreciate a homemade peach cobbler. I have the same perspective on beers. I love a crisp refreshing beer on a hot day like our Euchre. On a colder day, I'll enjoy a Porter. And although they don't sell well in this area, I love a well brewed Rauch Beer.
Q: Which beer is your best seller and why do you think that is?
Our top best-seller so far is our Euchre Golden Ale.  We designed this beer to cater to Lake Norman and local golf courses and other recreational areas. Many of our guests want a crisp, refreshing beer that doesn't skimp on flavor.  One regional beer expert described Euchre Golden Ale as 'sunshine in a glass.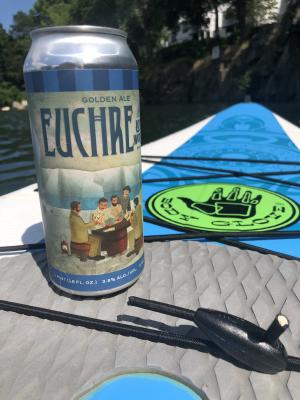 Best-Seller Beer: Euchre Golden Ale
Q: What is something that sets your brewery apart from other breweries?
We believe our beer and our branding make us unique. First, our Director of Brewing, David (DG) Gonzalez is an industry veteran with a list of accomplishments that's unrivaled in our industry.  His knowledge and experience means that we are giving our guests quality craft brews. Second, we have built a brand that calls to adventurers, history lovers, outdoor adventurers, and travelers that permeates through our taproom and to the stories we tell with our beers. We want to inspire our community to get out and experience the world.
Q: How do you decide on new beer flavors?
DG and I communicate probably 30 times a day. We see a new type of hops, taste a new beer, or simply get inspired by news that bounces into our awareness. From that initial inspiration, we review what our guests are drinking and the potential styles that a that complement our six Basecamp beers that we always have on tap. When we land on a new recipe, it becomes part of our Adventure Series. We name these introductory brews after world explorers.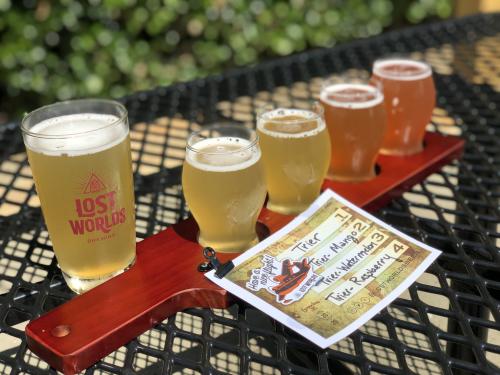 Q: How has COVID-19 affected your brewery and what's something you've learned from it?
While opening during a pandemic was never part of our risk planning, we learned that we adjust well as a team.  We condensed our one-year plan into one month and started off canning our product and opened our doors selling to-go beers. We also signed with a local grocery operation to sell 4-packs and quickly figured out how to survive.  We've since opened our taproom at 50 percent capacity and learned how to restructure the way we serve our guests and make them feel safe.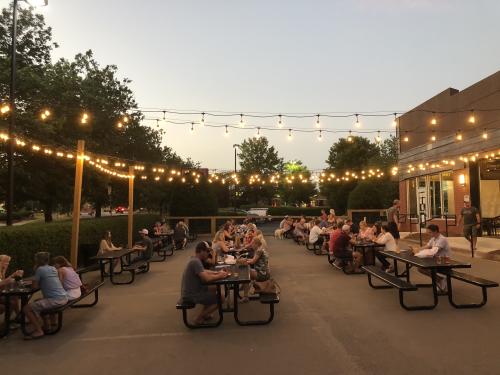 "AWESOME brewery! I don't typically like craft beer, but tried 4 different ones here today and loved all of them! Staff was super friendly and helpful as well. No complaints. We'll be back soon!" - Matt
Stay tuned to learn more about what makes the local breweries, like Lost Worlds, popular among visitors and residents, their favorite brews and why, and more!  If you try out Lost Worlds Brewing, let us know by tagging us on social media @VisitLakeNorman!