Here at Lake Norman, we love all kinds of different arts and sculptures because of the history it represents as well as the unique culture behind them. To show off the various collection of pieces, we went out to hunt for each one to gather more information. 
---

Huntersville, NC 
Our first stop was in Huntersville where we saw various art sculptures scattered around town. Some of the pieces were interactive sculptures meaning people could touch, play, or interact with it in some way. 
"Flight 28078" is a sculpture made out of truck & bicycle parts from a scrapyard. Created by Artist Rich Nossel, this is a kinetic sculpture that changes directions around as the wind blows.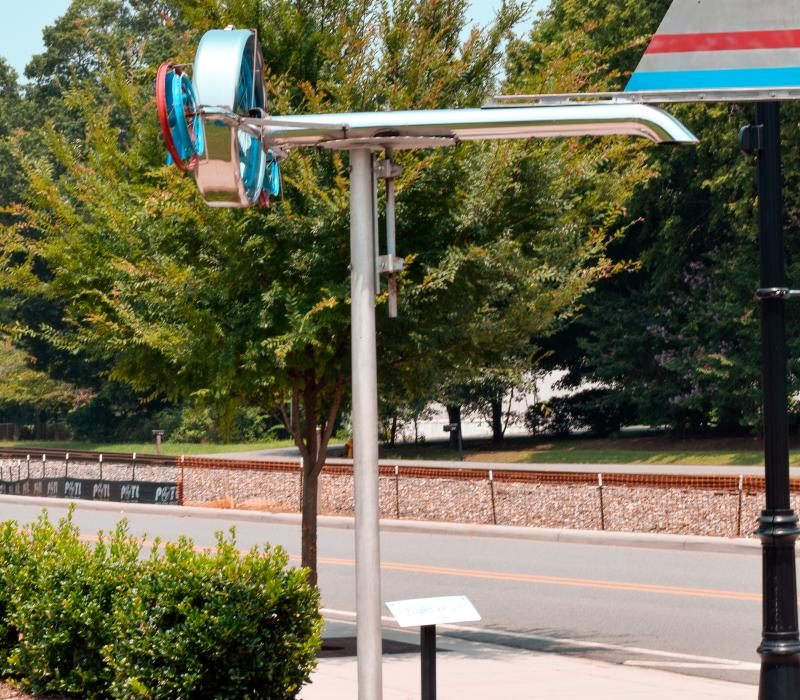 The sculpture to the right, "Ice House," was created in the memory of the old days where people from the town would gather at this specific location to get ice as well as talk about daily news going on. At night, the brick on top will light up giving a nice glow to the sculpture.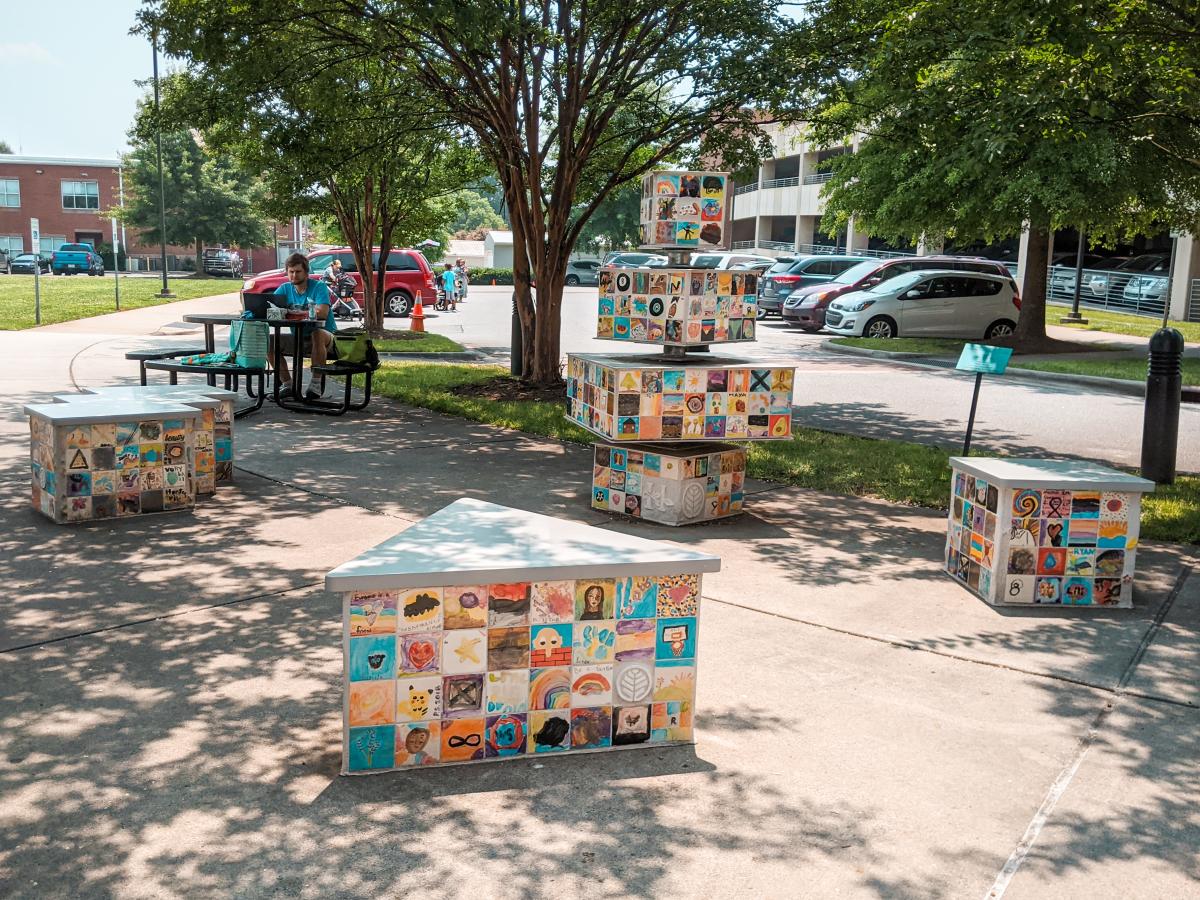 This piece above, "Funfetti," created by Grace Scott is a sculpture placed outside Discovery Place KIDS where kids can play, twist, and sit on. The individual tiles on the piece were designed by kids who can now proudly see their own artwork on public display.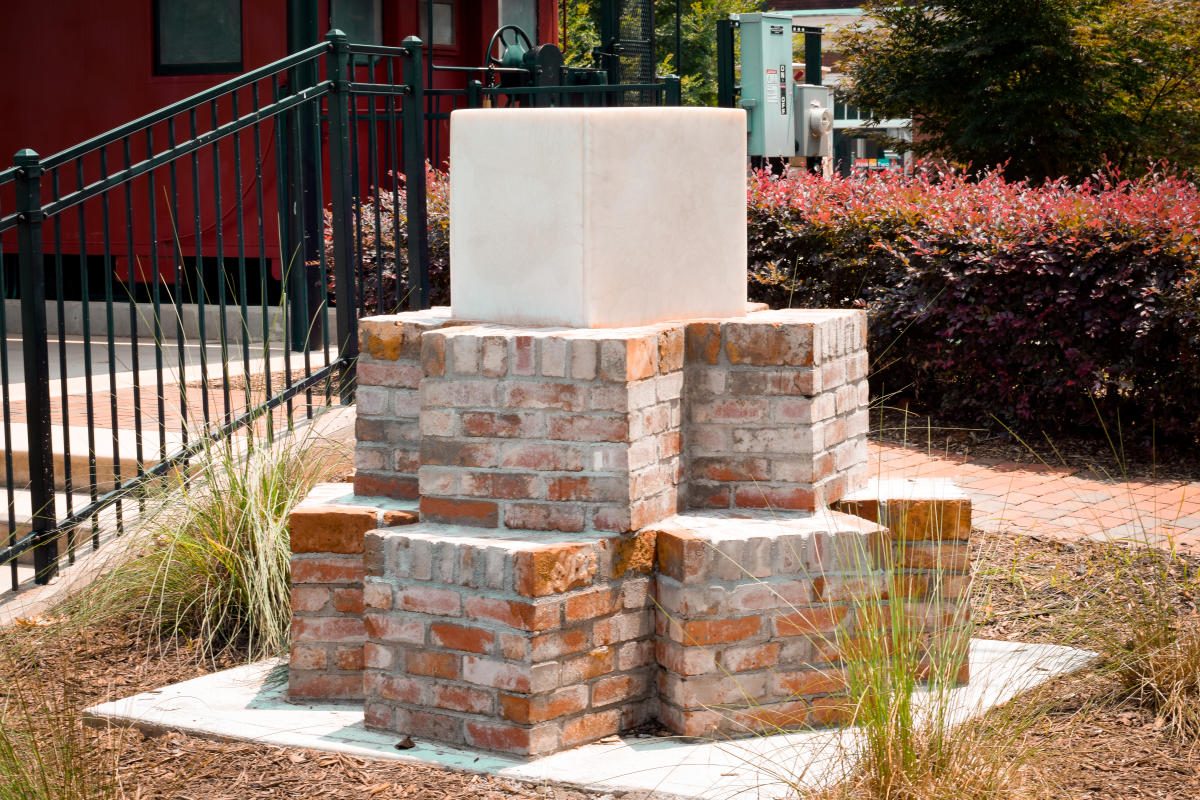 As Huntersville tries to get more public art, there are some very nice murals and paintings around town to keep an eye out for, such as the paintings on the bus benches and the bird mural for some great pictures. We also recommend crossing the street to Veterans Park to check out the floating globe to see the beautiful craftsmanship that went into creating it. 
Cornelius, NC 
After playing with some cool art, we went over to Cornelius, NC where some of the art sculptures were based around history. 
The "Never Forget" monument on the right was placed in Cornelius to honor the first responders and citizens who were affected by the events that happened on September 11th, 2001. It is also a way to teach future generations about what happened as well as our nation's history. The monument is open to the public all year round for viewing and reflection. What's unique about this monument is that it includes a piece of steel from the World Trade Center.
The sculpture on the left is a man named Jerry K. Crump who served in the U.S military during the Korean War. The statue was placed there to represent his service and act of valor. Jerry received a Congressional Medal of Honor and is also a purple heart recipient. This statue was created by Lena Toritch and is located within the Veterans Monument.
Another artwork you can find around the area is the statue of Mark Twain outside of the Cornelius library where you can sit next to him and take some fun pictures. There is also a Humpty Dumpty sculpture outside of the Cornelius Elementary School where viewers can read some of the poems engraved onto the piece. If you're up to the challenge, there is a mini word search on the right side of the Humpty Dumpty book sculpture as well.
Davidson, NC
Last but not least, Davidson was our last stop with the most art and sculpture out of the 3 towns. Home to Davidson College, we walked around the town and campus to see some of the unique art they had.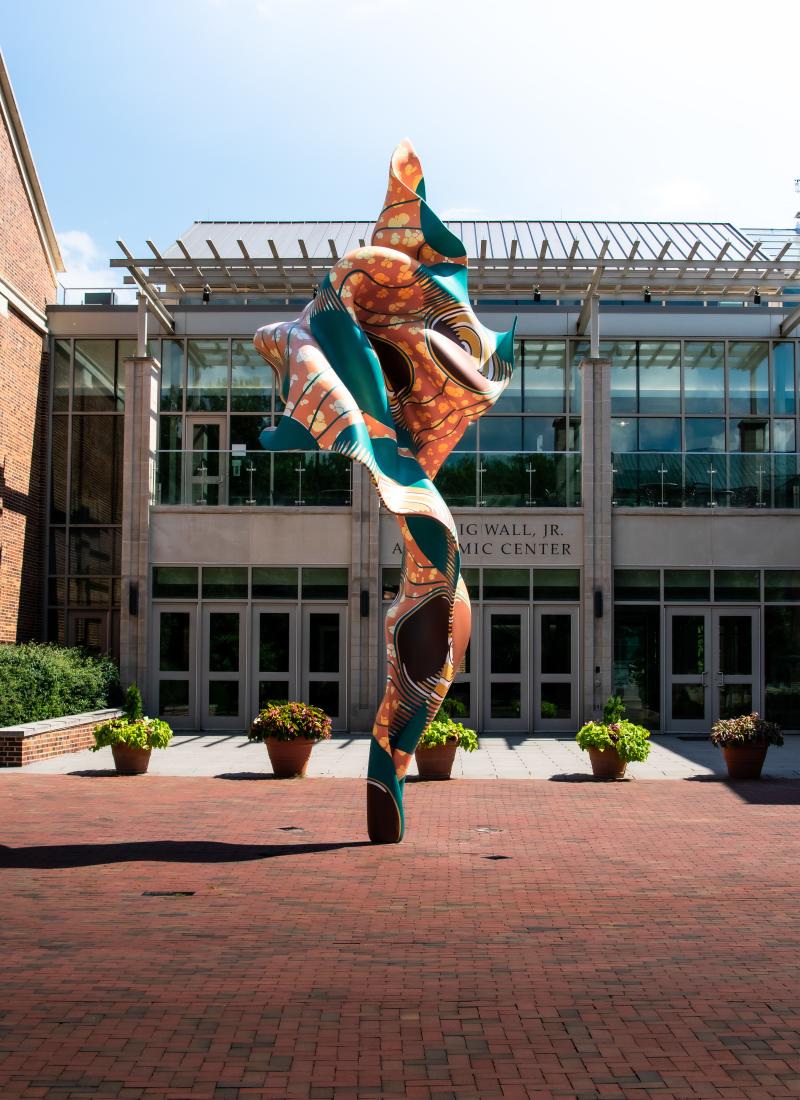 The sculpture that stands out the most was the "Wind Sculpture" on top created by the famous British artist Yinka Shonibare. This piece is right outside of the E. Craig Wall, JR. academic center inside the college. it features a mix of bright orange and blue colors surrounding the piece as it shines bright when the sun hits it. 
"Common Ground" created by Patrick Dougherty in 2020 was a piece that was worked on by Davidson College students, faculty, and staff volunteers as they collect materials to help build this amazing piece. Patrick's goal with this was to redirect the buying and selling of art to the experience of making it which we thought was very insightful. 
The Sculpture below "Spirit Waves Fountain" is a unique piece that was created in 2003 by Jesus Moroles that features Texas pink granite and Fredericksburg granite. The unique thing about this piece is that it is also an Infiniti fountain where water will come out from the top and cycle back in for an endless loop.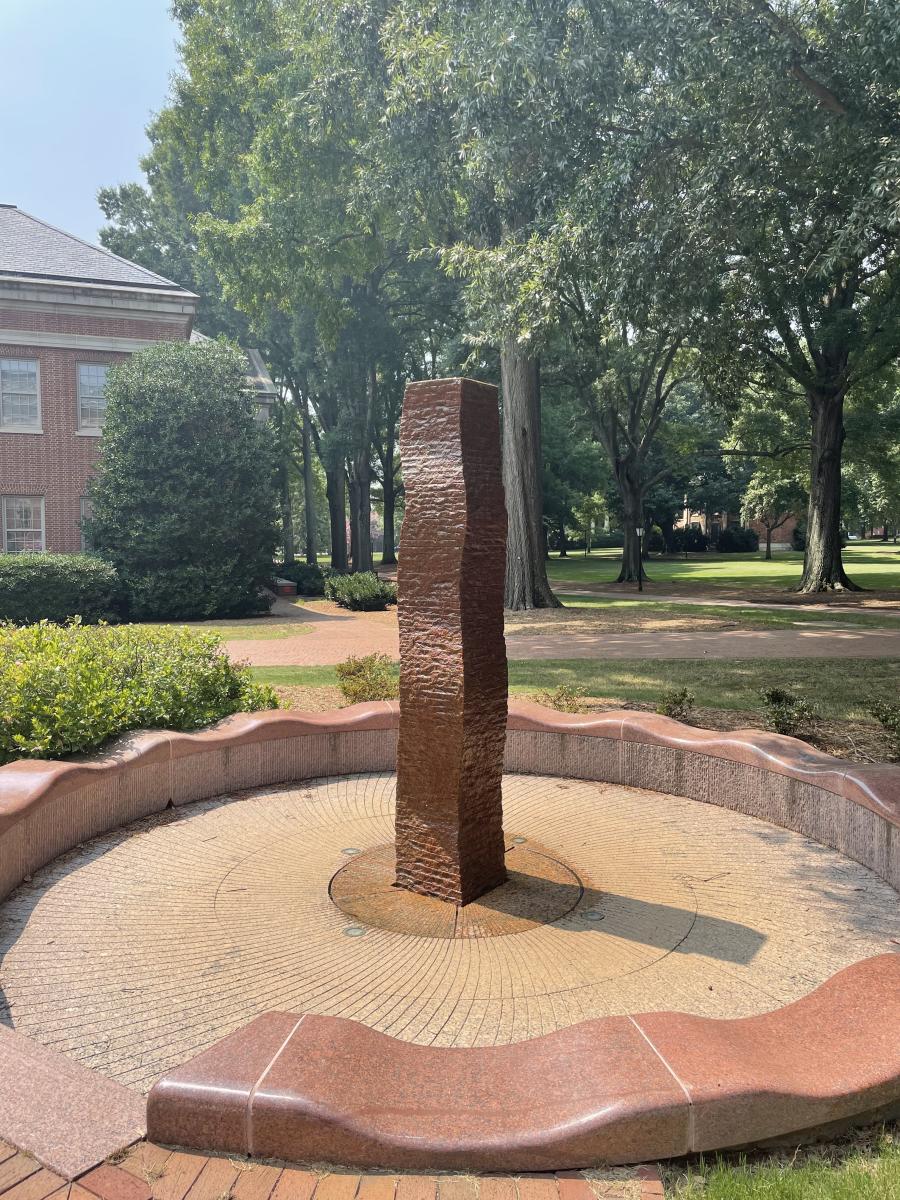 "The group of Ten" below was created by Magdalena Abakanowicz in 2011 that features 10 different body heights standing next to each other. This sculpture can be a fun and interactive piece with a group of people.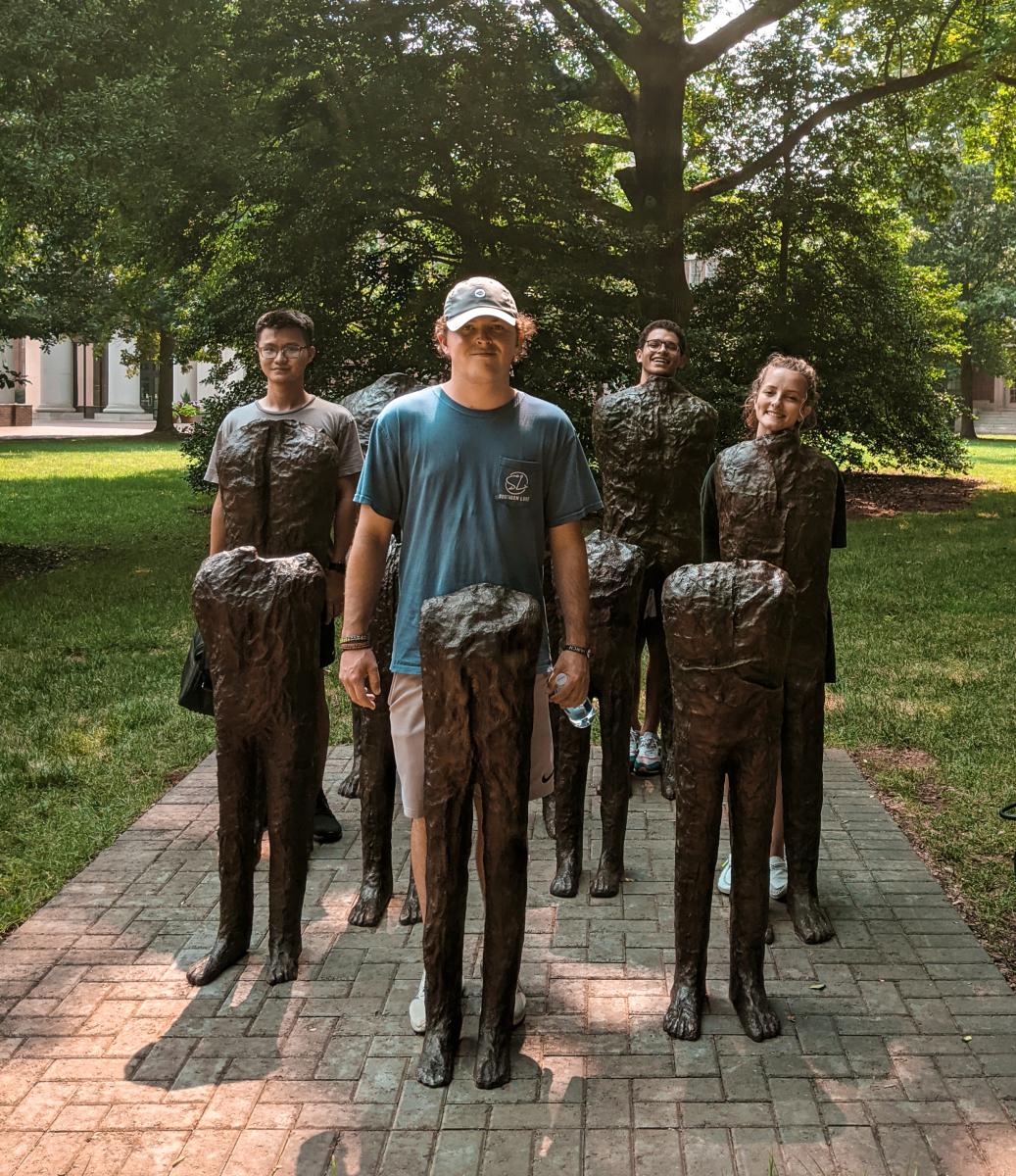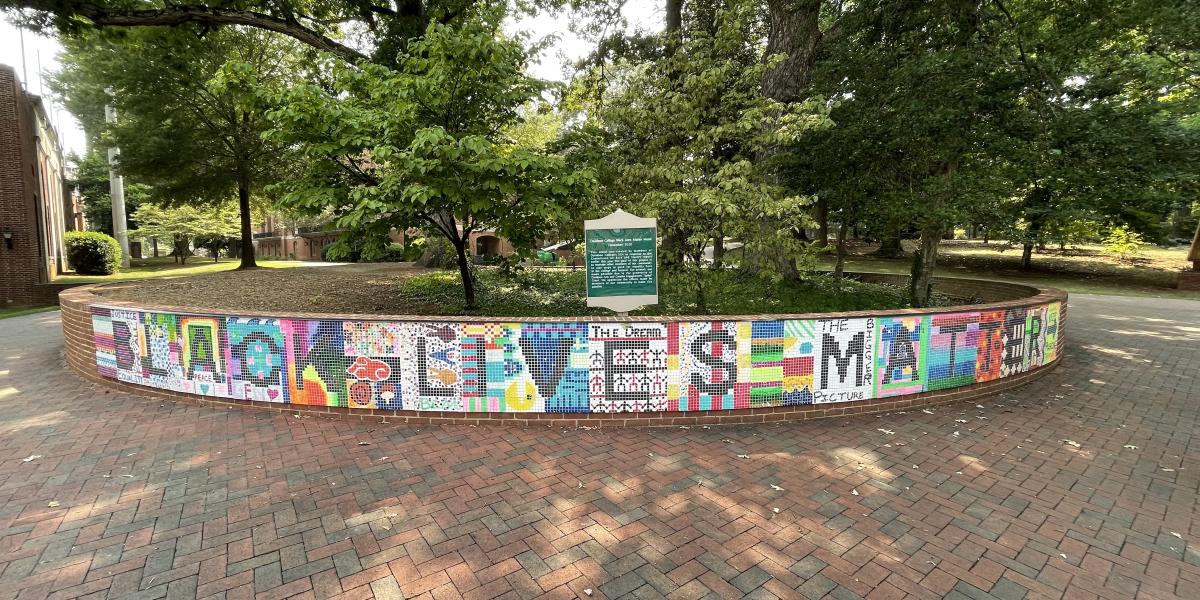 "Davidson College Black Lives Matter Mural" was created in 2020 by members of the SGA to respond to the race and slavery reports that happened in early 2020. The goal was to motivate members of the community to push for equality here at the college and outside. This was made possible due to the arts and creative "spike" grant. 

Right beside the Davidson Public Library, you can find the "Davidson Book Garden" that was designed by W.J'Nell Bryson in 2012. The purpose of this was to instill the love of learning. This artwork was possible due to a generous grant from Wells Fargo as well as support from other community funders.

As we head across to downtown Davidson, behind Summit Coffee, we found this sculpture "Dance of Life" sitting out in the open. This sculpture was created by Douwe Blumberg in 2015 given in memory of Patricia Tucker Knox by her brother. This sculpture was made to celebrate grace, beauty, and vitality.
Going out and hunting for arts and sculptures is a sure way to have a fun day filled while learning about the different backgrounds and artists. We encourage you guys to head over to see these beautiful pieces for yourselves so you can learn more about them as well as interact with some. Be sure to tag us on social media @VisitLakeNorman and let us know what your favorite piece is!