Home to over 30 different species of birds, the Carolina Raptor Center has become one of the area's most visited attractions! We love to take a deeper look into the places that make the lakeside of Charlotte unique, so we sat down with Kris Cole, the Advancement Director of the Carolina Raptor Center for a virtual Q&A to gain a closer look. You might be surprised to learn a thing or two even if you happen to be a Raptor member!
Q: Could you briefly summarize what Carolina Raptor Center (CRC) is and does in your own words?
A: Carolina Raptor Center's mission is to connect humans with the natural world through the exploration and rehabilitation of birds of prey. We know that inspiring engagement with the natural world elevates our mental, emotional, and physical health. We are excited and passionate about sharing the wonder of nature with our guests.
Q: How did you become involved with Carolina Raptor Center?
A: Like many Charlotteans, I visited the Raptor Center with my (now 20 year-old) daughter when she was little. Later, my daughter volunteered at CRC first through Hands on Charlotte, then through CRC's SOAR program. I have been working in the nonprofit community in Charlotte since 2009, and when the Advancement position opened at CRC I was looking for a new opportunity. As a life-long outdoorsman, I'm so happy to be on the staff at CRC and I have the enviable position of bragging about our amazing staff to anyone who will listen. I have been fortunate to work at some of the best nonprofits in Charlotte, but I really feel that CRC is my home.
Q: What does the Raptor Center mean to you?
A: CRC means so much to me. I am 100% sure that my daughter's experiences at CRC have fueled her passion for wildlife. She is currently a Junior at NC State majoring in zoology and I know her time at CRC helped place her on that path. CRC fills an important role in the Charlotte community by giving kids like my daughter these experiences in STEM education. Exploring nature and soaking up the wonder of all creation feeds my soul, so working in an organization that advocates and educates for nature in a fun way for kids and adults makes this the most satisfying job I've ever had.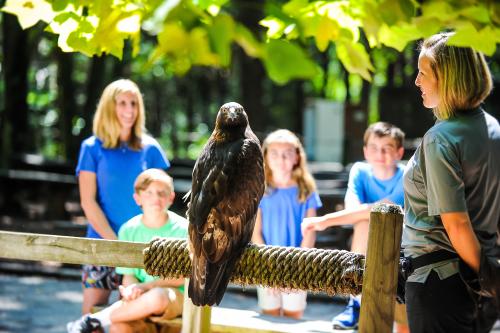 Q: Is there an educational program that you would like to highlight, and could you describe it?
A: There are so few programs available for teens in the Charlotte Metro area and CRC's summer SOAR program gives teen volunteers an engaging experience on the Raptor Trail. Not only does it get teens out of the house, and away from the screens for a few hours, but they learn a lot about STEM and leadership.
Q: Could you tell me about one/some of your volunteers?
A: Audrey Blackburn, who leads our Volunteer program, has created a fantastic program for corporate volunteers that we're particularly proud of. We found that there was a big demand for corporate group volunteer experiences. We have had several companies, like the rock stars at Bank of America, who will spend a day with us landscaping, raking the trails, helping to fix enclosures, and several other tasks around the grounds. We only have one over-worked Facility Manager to care for our 57 acre campus, so the group volunteers have been a godsend, and the volunteers who come out have a great time working outside the office and bonding through this team-building experience.
Q: What do you like best about CRC? And what is your favorite thing to do there?
A: Hands down my favorite part about CRC is our staff. They are the most passionate, caring, and kind people and working here is like being in a big family. Our Executive Director, Jim Warren, does an amazing job of fostering our three core values of integrity, collaboration, and innovation. I've worked at a lot of places over the years, but this is the first place I've worked where we actively talk about our core values and honestly try to follow them as a team. It's a great place to work! My favorite thing to do here is watching our Bird Care Team work with the birds. They have developed such a trusting relationship with each bird in their care and it shows when you see the way the birds react and respond to their trainer. It's really breathtaking.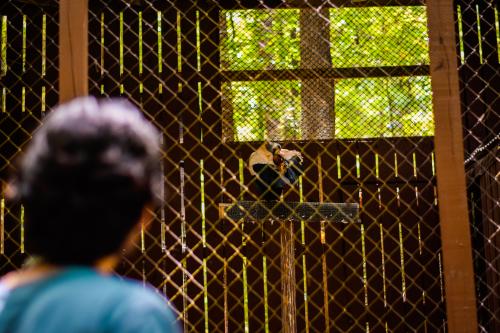 Q: Could you tell me about any of your favorite birds at the center? 
A: Well, that's kind of like asking me who my favorite kid is…and it changes every day. Today I will say Llalla. (pronounced Ya ya) Llalla is a Red Legged Seriema, native to the grasslands of South America, and is a staff favorite at CRC. He is loud and can be heard all over the Raptor Center campus when he gets going.  He is just so funny, and spazzy, and beautiful. He has the coolest behavior- since Seriema's love snakes and lizards, they kill their prey by picking it up and slamming it on a rock with their beaks. He is part of our Wings of Wonder show and demonstrates that behavior in the show. I know our Trainers and Bird Ambassadors are looking forward to performing in the new Duke Energy Amphitheater at the Raptor Trail at Quest when it opens in 2021. You can learn more about Llalla here.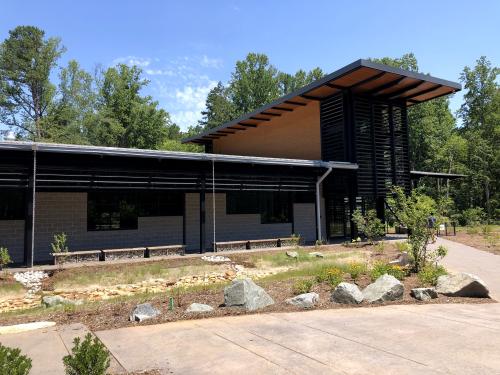 Quest Center opening in 2021
Q: What impact do you expect the new Quest Center will have?
A: I think Quest will be a vibrant community center for Mecklenburg County when it opens in 2021. We are planning so many different programs and events to cater to families, adults with no children, educators, and seniors. There could be movies, poetry readings, and small concerts at the Duke Energy Amphitheater, Food Truck festivals at Quest, Nature walks for kids and adults alike, workshops on urban conservation, and much more. It is hard to express how incredibly cool the new Quest Center at Latta Nature Preserve is, but we're excited to get it open and start hosting events for the community.
Q: How can people who are interested engage with CRC?
A: You can come visit us! We're open Wednesday through Sunday from 10am-12:30pm, and 1:30pm-4:00pm. We close mid-day to clean and disinfect the facility. We also have an electronic newsletter that comes out in the middle of the month, and we're quite active on Facebook and Instagram. You can connect with us through our website (scroll to the bottom to sign up to our newsletter, or connect on social media). You can also purchase admission tickets on our website, which we recommend for contactless entry to the Center. We'd love to see you- come take a walk in the woods!
--
We encourage to give them a follow on social media as well as tag us on your raptor center adventures @VisitLakeNorman! Let us know what some of your favorite raptor center events are in the comments below.