Welcome to Quest, a brand new nature experience in Latta Nature Preserve. Latta Nature Center and The Carolina Raptor Center at Quest took its over 30-year partnership to the next level and created a new home in Huntersville for environmental education and outdoor recreation. Roughly 13,000 sq ft, the Quest Center is home to multiple interactive exhibits, hiking trails, an aquarium and so much more. There is still more to come, with the Raptor Center at Quest expected to be completed in 2022 and a new Biergarten development currently in the works. We've visited the Quest Center multiple times since its opening, and we've put together the top four reasons for why the Quest Center is the perfect choice for your next outdoor adventure.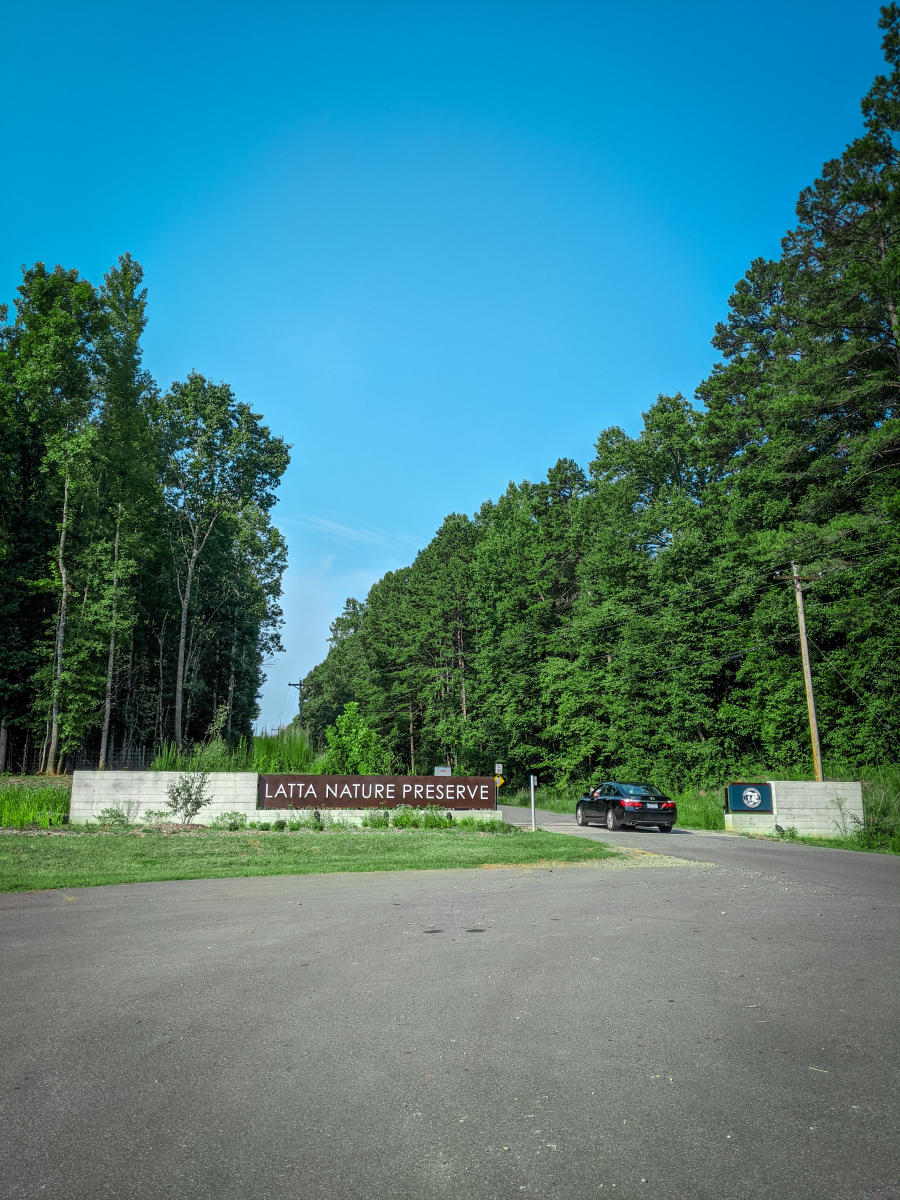 Latta Nature Preserve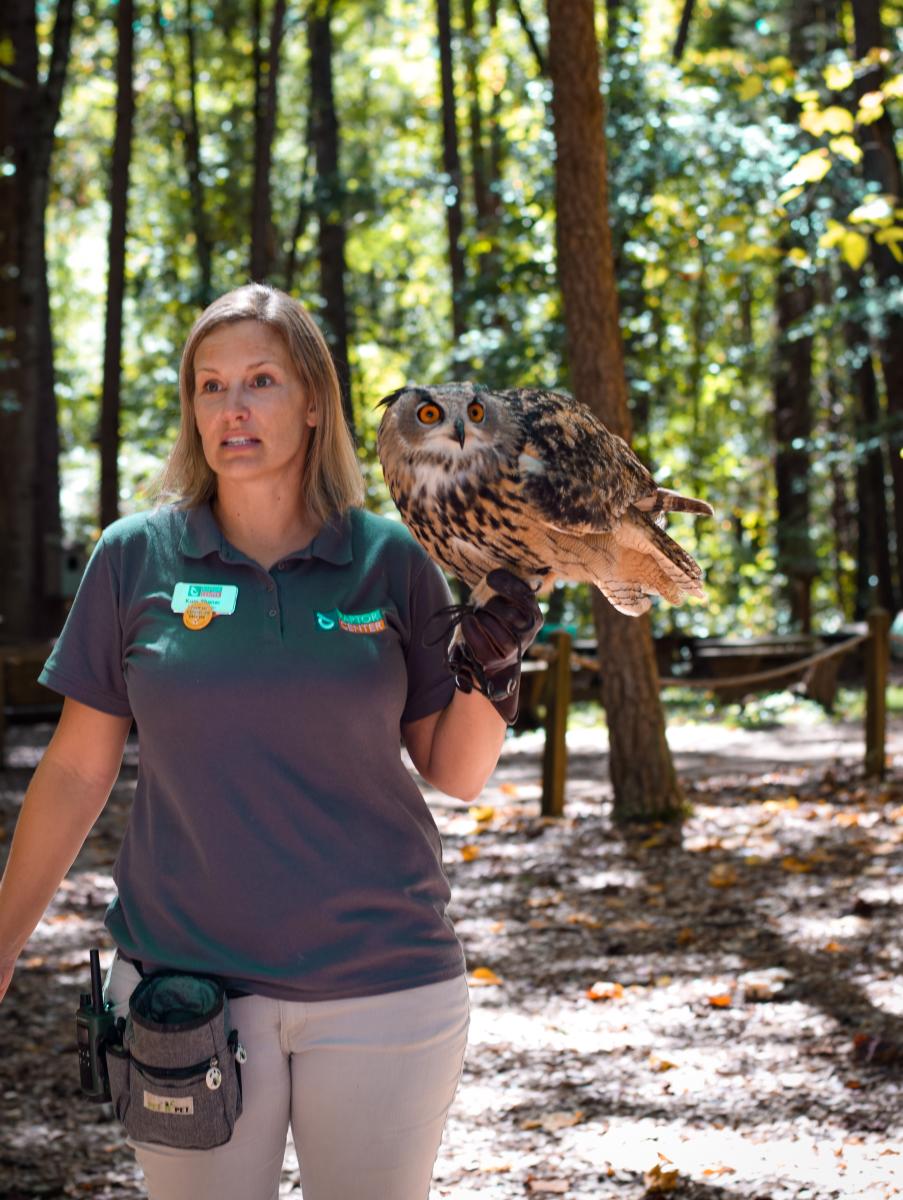 Carolina Raptor Center

1. The Interactive Exhibit Hall
The Quest Center is the intersection of education and nature, and the host of exhibits they have will leave you exploring their facility for hours on end! Upon walking through the front door, you will be greeted by one of the friendly & knowledgeable Quest team members who can help guide you through your day at the nature preserve. Here you can receive maps of all the trails, information on the exhibits and you can even rent a fishing rod for the day (with a valid NC fishing license)!
After you leave the front desk, the central exhibit titled "Nothing Survives without Water" will certainly catch your attention. This exhibit features a physical depiction of a city surrounded by water and demonstrates how the water cycle works, even featuring a cloud that "rains" water on a timer! This exhibit will help teach visitors the intricacies of the water cycle and how water can be permanently impacted through manmade pollution. Like this piece, many of the exhibits are geared towards informing and educating the visitors on how you can be an active member in environmental conservation in your community.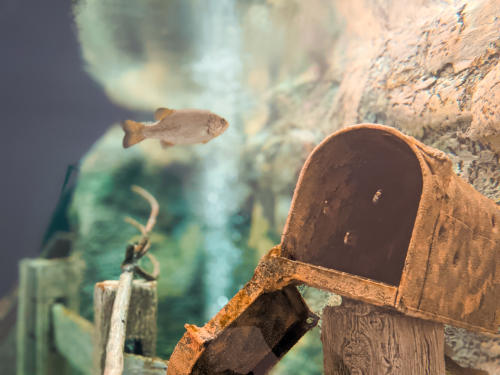 Smallmouth bass exploring the aquarium
Before you head out onto the trails, you can stop by their fully-stocked nature gift shop where you can pick up all of those last-minute hiking necessities. For all of the anglers, the gift shop also carries live bait which will help you reel in that award-winning catfish or largemouth bass. Be sure to head back before you leave to pick up some adorable stuffed animals for the kids or some beautiful nature-themed artwork for the house.

After you finish at the central exhibit, you can continue to explore in the 3,000 sq ft exhibit hall and find some of the plants and animal species native to the Lake Norman region. Here you can learn about the natural habitat of animals such as the Mud Turtle or explore the roots of prairie grass in our piedmont region.  You won't want to miss the over 6,000 gallon freshwater aquarium at the end of the mall, with several types of fish including smallmouth bass and long-nose gars!
 

2. The Trails
Once you embark on your journey, there are multiple trails that you can venture out to. With 16 miles of trails available to hikers and nature enthusiasts, there will always be an opportunity to explore something new at the Latta Nature Preserve. Different trails will provide different scenic views of the lake, forests and streams, so be sure to choose the trail that is right for you. 
There is a great selection of beginner trails that span under a mile, and can be a perfect fit for those who are looking for a short hike or are looking to get into hiking. Use the map provided at the welcome desk inside the Quest Center or use a copy of the digital map here.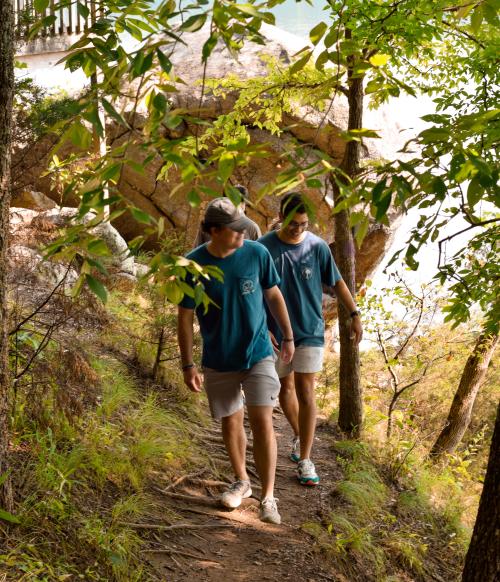 Buzzard Rock Trail at the Latta Nature Preserve 
You can explore the tulip poplar trees at the preserve on Laura's Trail, a 0.3 mile trail which passes through an upland hardwood forest and ends at the Wash Rock overlook where you can get a great view of Mountain Island Lake. The Nature Walk Trail is a great choice for the whole family, as it is a shady walk along an informative trail that helps visitors learn about some of the local plants and animals, and you can find a natural play area for kids within the walk.
If you're looking for an easy access fishing spot, Buzzard Rock Trail takes you on a 0.3 mile walk through mixed pine-hardwood forest and ends at a large wooden deck hanging above Mountain Island Lake. There are paths which can take you to lower elevation where you can fish, and there is even a small "hidden" beach where you can cast your line with waterfront views.
For the avid hikers, there are plenty of longer trails for you to explore. The longest trail on the preserve is the Cove Trail, which can be accessed from the Hill or Split Rock Trails. You will head north through the Piedmont Prairie restoration site and traverse the southern border of the Beatties Ford Basic Forest natural heritage site. This looped action contains very rocky terrain that may not be suitable for all hikers, but it does offer extraordinary views of Mountain Island Lake.
3. Fishing & Boating
Built on a peninsula in Mountain Island Lake, there are plenty of opportunities for you to get out on the water at the Latta Nature Preserve. Mountain Island Lake is a 3,200-acre reservoir and offers plenty of channels and bays which are perfect for fishing or for canoeing/kayaking. With two launch spots, those who enjoy paddling can get direct access into Gar Creek and Mountain Island Lake. Those who enjoy fishing can try their luck with the respectable bass, catfish, crappie and perch fishing spread around the reservoir. 
All anglers must purchase a valid North Carolina fishing license. North Carolina fishing licenses can be purchased at www.ncwildlife.gov or through area retailers.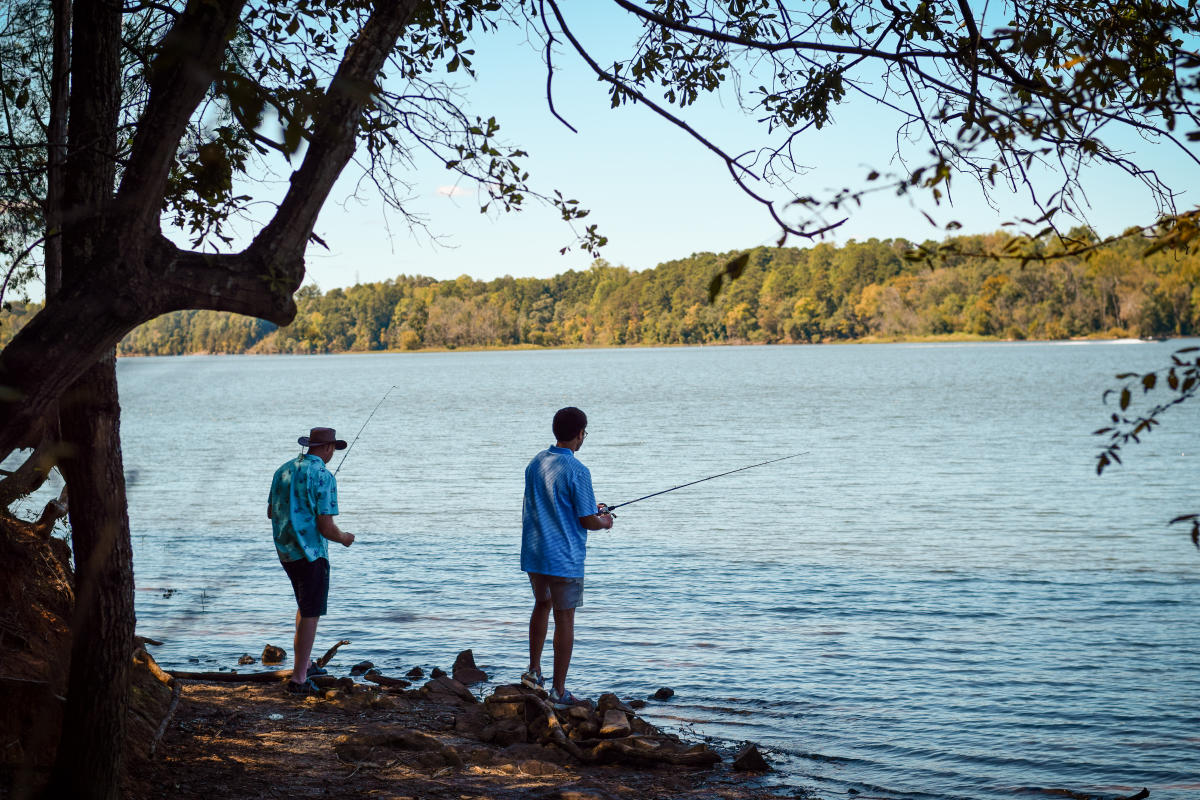 Two fisherman on Mountain Island Lake
4. Rental Services
Plan your next event at the Quest Center! Quest has two indoor spaces available for your next gathering, including a large multipurpose room and a small conference room. These rooms are perfect for smaller company gatherings or meetings. 
Latta Nature Preserve also offers a variety of outdoor gathering spaces, which could serve as a great venue for family reunions or outdoor birthday parties. Picnic areas can be used on a first-come-first-served basis, while the large shelters are available by reservation. Restrooms are available as well as a sand volleyball court. You can call the Quest Center or go to the Mecklenburg County Parks & Rec website to book your spot today!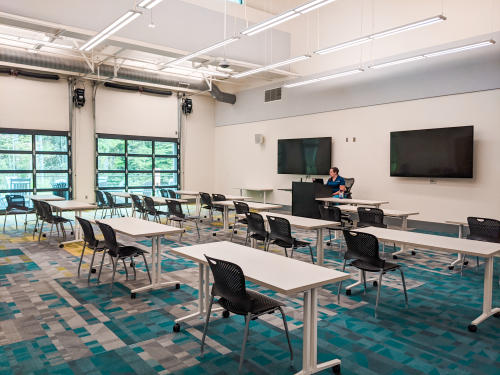 Classroom meeting space at Quest Center
The Quest Center was built to create opportunities for young people to connect with the environment all around us. Quest helps provide experiences to the public which reminds us of our interconnectedness and how important it is to protect our natural resources. We are thrilled that the Quest Center has opened and we are excited to see what the future holds for Lake Norman's newest attraction. Be sure to tag us @visitlakenorman during your next trip to the Quest Center!