If you're in the middle of planning a pet-friendly trip, might we suggest Lake Norman? With so many pet-friendly restaurants and things to do, your furry best friend will be wagging his or her tail all around the area. We've "hired" Vega, our own dog travel agent, to tell you and your pet firsthand what the lakeside of Charlotte has to offer. 
Tell us a little bit about yourself and your family
My name is Vega and I was born on March 11, 2011. I'll be turning the ripe age of 9 years old in a few weeks! My dad was a bloodhound and my mother was a boxer. The manager of the pet hospital said a bloodhound hunting dog broke into the female boxers pen and they had puppies available for adoption. When my father saw me at the pet hospital it was love at first lick! We moved down from Bloomington, right outside of Chicago, to Cornelius because my parents got new jobs in the area. I was excited to move down here because we have made trips before to visit friends and family.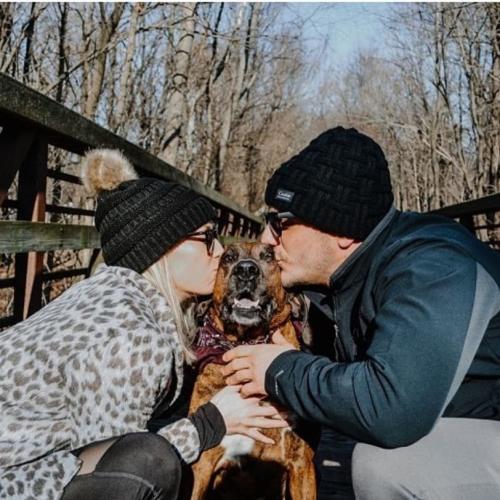 What is your favorite spot around Lake Norman?
My absolutely favorite spot to go to is Jetton park. I get to walk around the trail and meet a bunch of new dog friends...even if there are "hoomans" walking around they sometimes will stop to give me a pet. But my most favorite thing at Jetton Park is all the sticks I get to collect and take into the lake with me. My parents love to go there and get exercise too! 
What are some restaurants you've visited so far?
I love being able to grab dinner with my parents and not be left at home with a sitter. The other day we went to Mac's Speed Shop and they treated me with a large bowl of water, which I really appreciated. My parents were wanting to try out the Harp & Crown and when they knew the restaurant was able to accommodate the 3 of us, they were thrilled! While they enjoyed their lunch on the patio, I was playing with a small toy their friendly staff provided me. 
Have you gone out on the lake yet?
Yes! I love when my hoomans take me out to Lake Norman to go swimming for sticks! I could swim for hours getting all wet and dirty! I am so excited for the summer so I can go on the boat and let my ears flap in the wind!  I want to go to Ramsey Creek Park's dog park because I've heard they got a great space for me to play around in. I overheard my parents planning a visit to the Latta Nature Preserve as well since it's got trails leading out to the lake.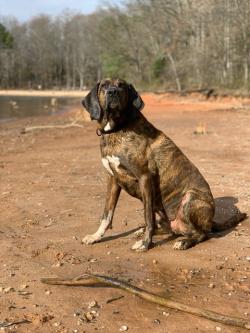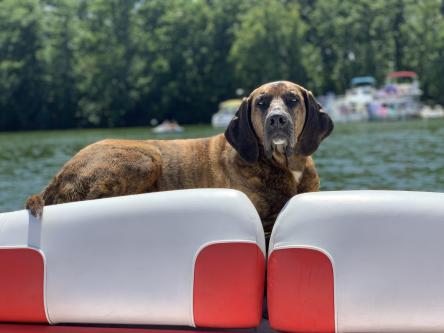 Taking in the lake
At what moment did you know that Lake Norman was meant to be your new home?
When I found out I could go to a brewery with my parents! We've gone to Ass Clown, D9, and Cornelius Drafthouse. On special occasions my parents will take me out to the breweries. I'm not old enough to drink, but they always serve me fresh water. I never thought I'd be able to "grab a drink" with my parents, but Lake Norman has definitely surprised me. When I'm a good boy my mom will take me for a car ride to Three Dogs Bakery to have a few treats. The ladies who work there love to spoil me and even know me by name now! My parents bought me the "Peanut Mutter Cookies" which I devoured because of their delicious crunchy peanut topping. These were the two instances I knew that Lake Norman was meant to be my new home.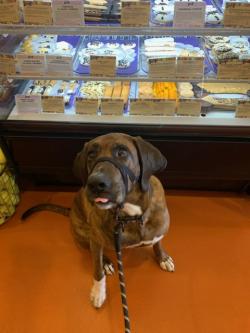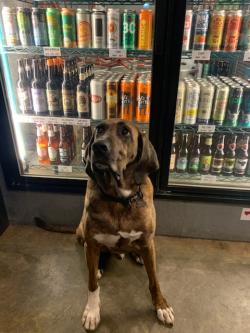 Three Dog Bakery                                          Cornelius Drafthouse
Have you gotten a chance to go out and meet other dogs?
Of course! One of the first things we did was check out Lucky Dog Bark & Brew. I felt like I was in paradise because I got to make some new friends really quick. The place has an entire indoor space for me to play around with other dogs while my parents took advantage of the food trucks that were on site. I've also been to Old Town Public House and I really like that place because they always have food trucks and I get to have a snack when they do. Carbonation has such a good selection of beer for my parents and my friend Louie sometimes is there that I hang out with!
Do you ever tell your parents about possibly turning you into a bigger brother?
I won't let my hoomans get another dog. I love to be the center of attention at all times... besides I don't think there's enough room in my parents bed for another sibling or enough treats to share.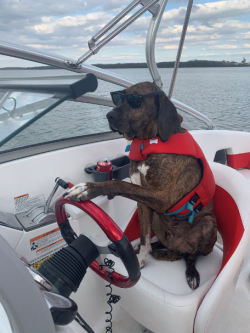 "Driving" the boat
Would you recommend Lake Norman to other families with pets?
Yes! I'd tell other fellow dogs that Lake Norman will make you feel part of their family without even knowing you. The way they've welcomed me and my parents has been a really nice experience. I'm really excited to be part of the lake community and to those who are planning a trip to Lake Norman, I'd plan to stay as long as possible because there's just so much to do. Who knows, you may even see me around!
Don't forget to tag us on social media in your pet-friendly outings around the lake @VisitLakeNorman! Follow Visit NC's official dog travel agent Mo for across the state doggo love.