While Lake Norman is home to beautiful landscapes and scenery, there are also plenty of back streets and country roads with picturesque views that can take you where you need to go. We've compiled a guide to help you navigate the backroads of Lake Norman and explore the area like a local.

U.S. Route 21
Interstate 77 is the main highway that travels up from Charlotte through Lake Norman, however there's no need to wait in rush hour driving times. There are two roads that run parallel to I-77 that are great alternatives for those looking for a more scenic and quaint drive. U.S. Route 21, also known as Statesville Road, is a highway that comes up from North Charlotte until W. Catawba Avenue. This road is a great path to travel through the eastern side of Huntersville to Cornelius and there are plenty of places to stop to see the area.
When traveling north from Charlotte, you will first pass the Huntersville Athletic Park on the right which is home to multiple fields, a covered picnic shelter and playground equipment and could serve as a great pit stop to stretch your legs after a long drive. Further north, you'll come across some of the best restaurants and entertainment in Huntersville like 131 MAIN and Spare Time Huntersville. Right before you reach W. Catawba Avenue, you'll pass Lucky Dog Bark & Brew LKN which is a perfect spot to give your furry friend a break from the car or drop them off for boarding during your vacation.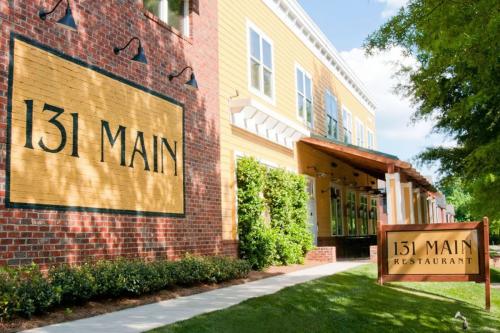 Outside view of 131 MAIN off of Route 21 (via VisitNC.com)
Highway 115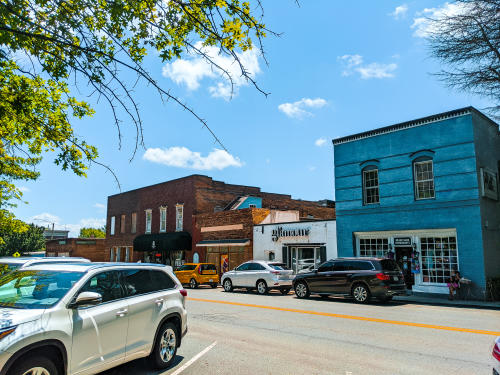 Downtown Cornelius on Catawba Avenue
When heading north from Cornelius, you will first pass the Cornelius Veterans Monument on your left which is an important local landmark commemorating over 1,100 veterans from Cornelius. As you continue north, you can stop for a bite to eat at local favorites like Barrel & Fork, a new American restaurant, and Daniel San, an asian fusion restaurant. Afterwards, you can stretch your legs over in Legion Park on their walking trail or let the kids play on the playground. Continue 5 more minutes north on Highway 115 and you will reach Downtown Davidson, a small historical town with a modern twist.
After you get off U.S. Route 21, you can either take a left on W. Catawba Ave to explore Cornelius or take a right to pass by local landmarks like Smithville Park, Old Town Public House, Oak Street Mill Antiques and many more. Once you reach the end of Catawba Avenue, you will reach Highway 115. Highway 115, also called Old Statesville Rd and Main St in certain areas, is a passageway that spans over 70 miles from North Charlotte all the way to Mooresville. Built nearly 100 years ago, this highway can take you anywhere in the Eastern Lake Norman region and offers great scenery to accompany your drive.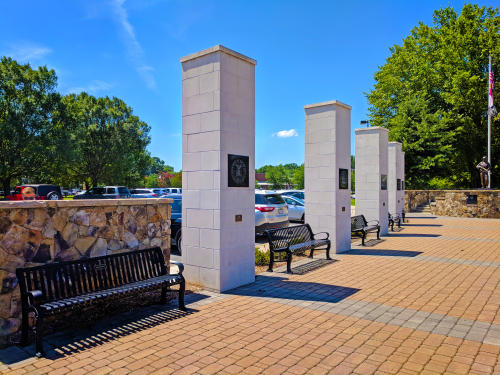 Cornelius Veterans Monument off of Highway 115
Here you will find some of the best dining in Lake Norman from renowned restaurants like Kindred, The Soda Shop, The Pickled Peach, Masala Mastee and many more great options. This area of Highway 115 is also a stone's throw away from Davidson College, a beautiful campus open for visitors to stroll through their tree-covered quads. Downtown Davidson is also a great area for shopping at one of their many locally-owned, boutique stores like the Village Store. For all of the art lovers, you won't want to miss the rotating exhibits at the Belk Visual Arts Center and the Van/Every Smith Galleries.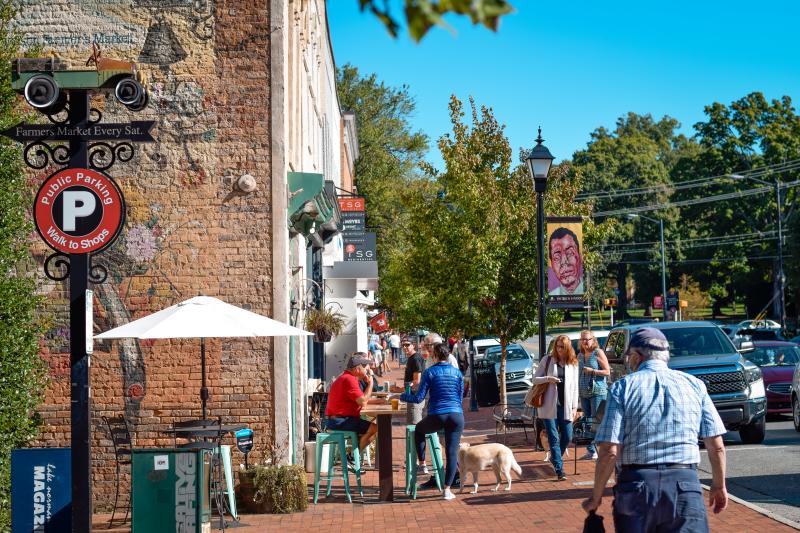 Main Street in Downtown Davidson
If you head south from Cornelius on Highway 115, you will travel through some of the main public attractions in Huntersville. Once you cross over Bailey Road, you can find some of Lake Norman's best breweries to your right including D9 Brewing, Ass Clown Brewing Co and Eleven Lakes Brewing, along with Primal Brewery a few minutes down the road. Continue south for 10 more minutes and you'll find Discovery Place Kids, a unique children's museum which provides opportunities for kids to be creative and explore the world around them. If you need a quick pick-me-up, head directly across the street to Main Street Coffee & Coworking for a nice cup of joe. Finally, as you approach the Huntersville-Charlotte border, you can find Frankie's of Charlotte on your left and this is a great way to have fun for the whole family after a long day of driving.
Navigating Cornelius
When traveling through Cornelius, there are a few important roads that you'll need to know to make the most out of your trip to the area. Catawba Avenue is a central road that passes through the heart of the town and can lead you to some of the most popular attractions in Cornelius.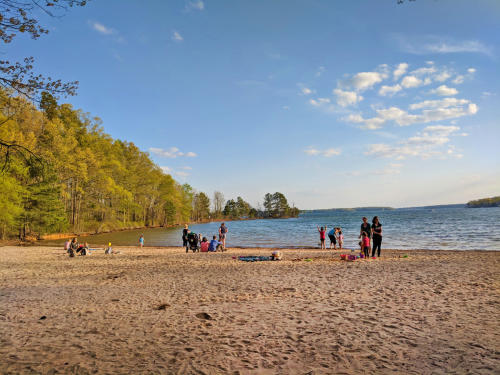 Waterfront views at Jetton Park
When heading west on Catawba Ave, you'll pass by two of our waterfront parks, Ramsey Creek and Jetton Park, and we certainly recommend making a stop to enjoy the breathtaking lakeside views of both parks. If you're looking for a place to eat close by, you can stop at Port City Club right off of W. Catawba Avenue to enjoy some mouth-watering seafood options in front of their charming waterfront patio. As you continue south on West Catawba Avenue, you'll have the option of taking a left on Westmoreland Road to stay in Cornelius, and this road will take you to local parks like Robbins Park where you can walk on some of their trails or play a quick round of disc golf!
Navigating Huntersville
If you stay south on West Catawba, you'll eventually reach Sam Furr Road in Huntersville, and you can either take a left to head to Birkdale Village or continue south around the edge of the lake. Driving south on Sam Furr Road will lead you to Hicks Crossroads, and here you can take a left onto Beatties Ford Road to visit two of Lake Norman's most popular attractions. About 5 miles south, you will take a right onto Neck Road to visit the Historic Rural Hill, a historic farm & nature preserve spanning over 265 acres. Five minutes down the road, you'll find the Quest Center at Latta Nature Preserve. The Quest Center is a brand-new facility that will help guide you in your visit to the nature preserve or to the Carolina Raptor Center, located within the preserve.
Navigating Davidson
After visiting the Latta Nature Preserve, you can get to Davidson by turning around and traveling back through Sam Furr Road to Catawba Ave or you can stay south on Beatties Ford Road and make a left onto Alexandria Road to reach Highway 115 which will bring you back up through the heart of Davidson. Once in Downtown Davidson, you can head west on Griffith Street to North Harbor Club to enjoy premier dining with a waterfront view! To head back to Huntersville, Davidson-Concord Road is a great alternative to the I-77 traffic which will take you past different attractions where you can explore the Beaver Dam Historic House or stop for a round of golf at the River Run Country Club.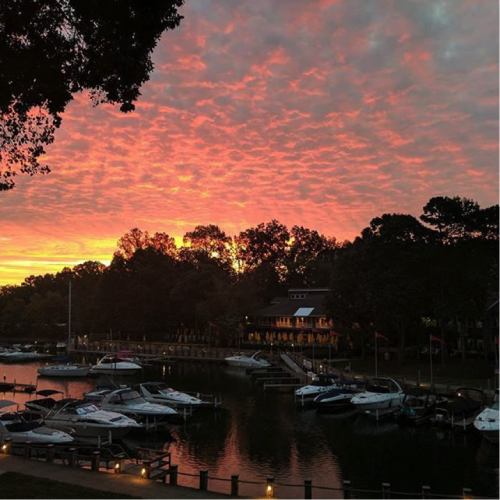 Waterfront views at North Harbor Club
Lake Norman is the perfect place for a quick trip or small getaway, and there's no better way to experience the lake than by exploring each of our three towns. From the waterfront views in Cornelius to the bending country roads in Huntersville to the bustling activity of Main Street in Davidson, there are endless opportunities to experience something new at the lake. Be sure to tag us in all of your road trip pictures @VisitLakeNorman and remember to always drive safely!