Sunny days and picnics go hand-in-hand! The weather has warmed up and the days are getting longer. There's no better way to enjoy a meal than while bonding with family, friends and vitamin D. With plenty of scenic parks and waterfront views, here are some of the best picnic spots around town to sit out in nature while enjoying delicious food and good company.
Jetton Park
This 104-acre lakefront park is a peninsula surrounded by water, and its waterfront beach views make for a picture-perfect backdrop to a picnic. There are multiple reservable and non-reservable picnic sites located on both sides of the peninsula and more picnic sites on the edge of the gravel walking trail. The two gazebos in Jetton Park would make for a charming picnic spot, with restrooms located right by the white one. While there aren't any dedicated sites on the stunning beach, feel free to roll out a blanket on the sand and enjoy your meal there.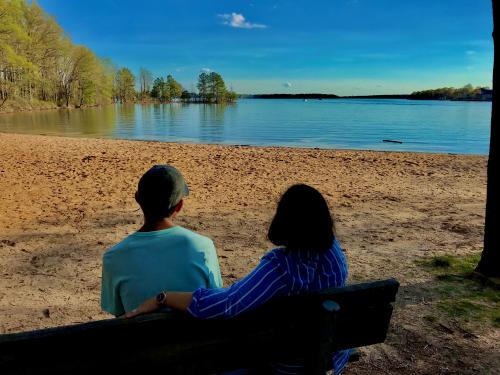 Jetton Park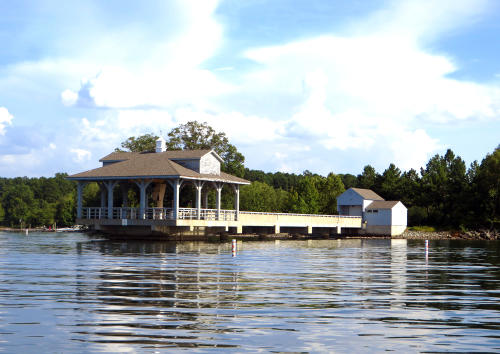 Floating pier at Blythe Landing
Blythe Landing
This waterfront 26-acre park is the perfect spot for enjoying a picnic during a day out on the lake. With floating piers, beautiful views and picnic tables located by the sand volleyball courts and the boat launch, Blythe Landing is a great place to stop and enjoy a pleasant spot by the water. Pick up lunch at Crafty Burg'r on the way or stop by the Dockside Cafe for something convenient.
Veteran's Park
Veterans Park is located in the heart of downtown Huntersville and its outstretched lawn in front of the Icehouse Stage would make for a pleasant picnic spot. There are also picnic tables available in the park, and a large red caboose which makes for the perfect photo opp. During the summer, this park is the site for the Huntersville Growers' Market, live music performances, and more.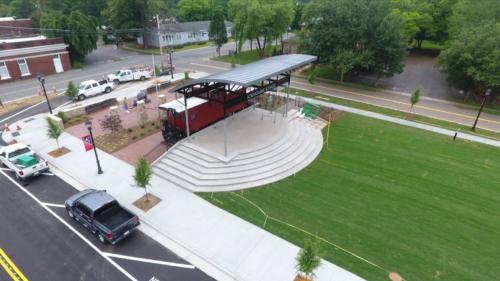 Icehouse Stage at Veteran's Park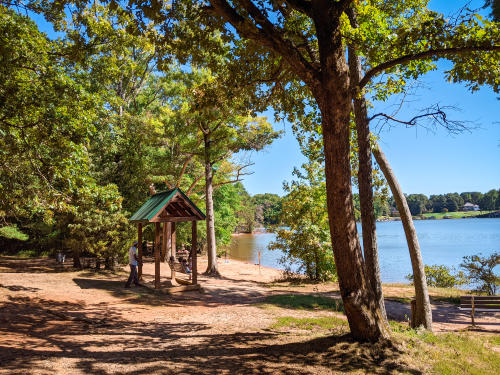 Latta Nature Preserve
Latta Nature Preserve
If you're looking for a full day outdoors, the Latta Nature Preserve in Huntersville is your go-to destination. Start the day off with a hike around the preserve and take in scenic views of the forest, streams, and Mountain Island Lake on 16 miles of beautiful trails. Afterwards, stop for a picnic at a variety of the picnic areas that can be used on a first-come-first-served basis, while the larger shelters are available by reservation.
Ramsey Creek Park
One of Cornelius' waterfront parks, this 43.7-acre waterfront park includes a beautiful swimming beach and scenic nature trails which make for a perfect setting to enjoy a beautiful day. There are 10 picnic sites scattered around the trails and outdoor shelters available for rent which provides an instant picnic shelter along the shores of Lake Norman. 
Patriot Pier is a widely popular place to enjoy the scenery of Lake Norman and a memorable place to have a sunset picnic. Order takeout from Port City Club or another great Cornelius restaurant to enjoy a great meal with a great view. You can even bring the dogs with you, as Ramsey Creek is home to the Swaney Pointe K-9 Park! There are also boat launching areas, docks, fishing piers, playgrounds and volleyball courts.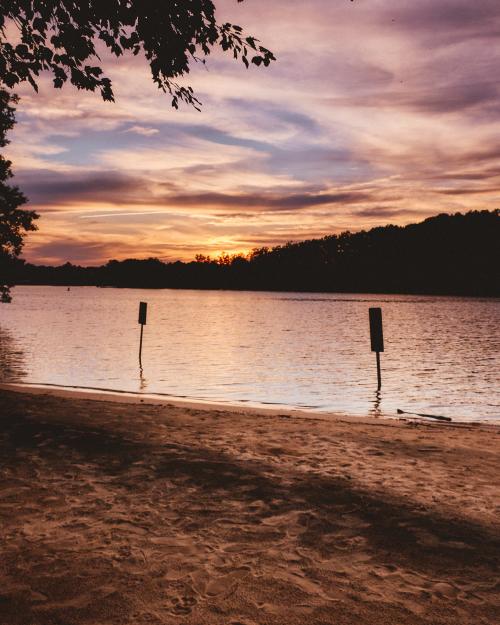 Sunset Views at Ramsey Creek Park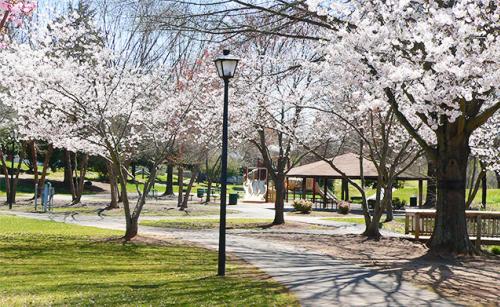 Roosevelt Wilson Park
Roosevelt Wilson Park
Bring the kids to play at the playground and stroll around the pond. With its large pond and bubbling fountain, Roosevelt Wilson Park is a great spot for picnics, walks and casual fishing. Along with a picnic area, this park also features boardwalks, paved walking trails, public restrooms and a water fountain.
Robbins Park
Located in Cornelius, Robbins Park is a great place to plan your next picnic. The covered picnic shelter is a perfect place to get out of the heat or you can set up on the field to soak in the sun. The park also has a nature themed playground, gaga pit, tennis courts, sand volleyball courts, and a grill. All of these great amenities make it the perfect park to bring the family and enjoy a day in the outdoors.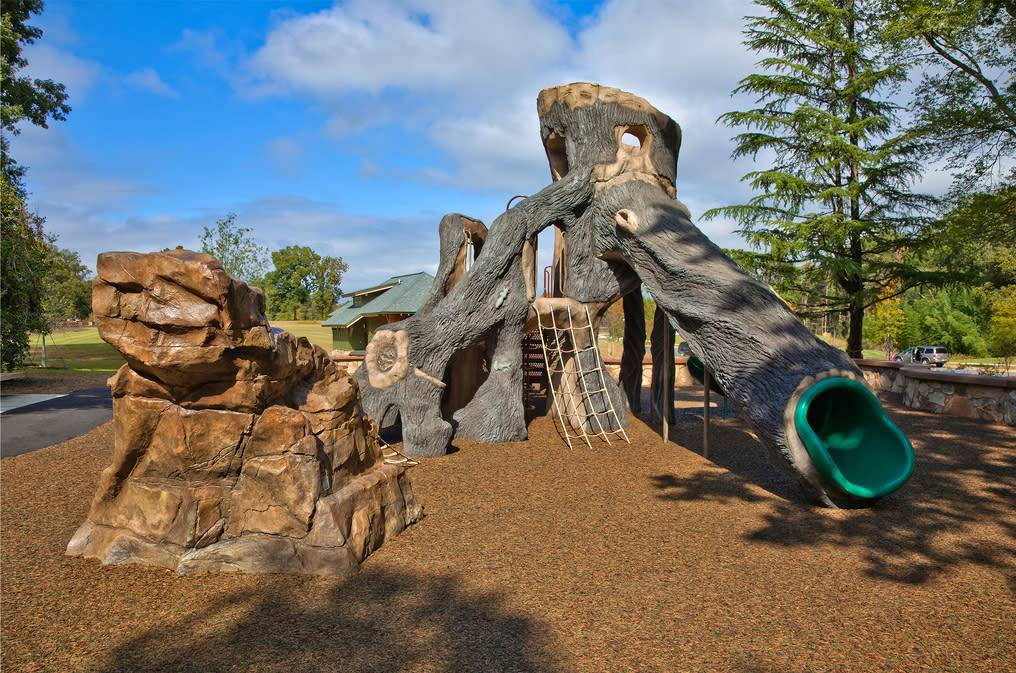 Robbins Park Playground
From waterfront beaches to scenic nature preserves, the natural beauty of Lake Norman serves as the perfect backdrop for a picnic. Don't forget to bring a frisbee, football, or soccer ball for some outdoor fun. Start planning your next picnic and don't forget to tag us in any photos @VisitLakeNorman!