As warmer weather approaches, spring marks the return of some of our favorite events & festivals that you don't want to miss. Lake Norman hosts a variety of events & festivals that are fun for the whole family. From watching athletes throw battle axes to exploring some of the best local artwork, there is sure to be something for you to enjoy this spring. This season brings some of the best signature events to the area so mark your calendars to be in Lake Norman for the next couple of months!
---
'Tawba Walk Arts & Music Festival 
April 8th @ 2-8pm | Oak Street Mill
The 'Tawba Walk Arts & Music Festival will be held in the heart of Old Town Cornelius and it features brilliant local artists, live music, food trucks, local craft breweries, and an epic kid zone! There won't be just one, but two stages for live bands and performances.
Walk down the street and see over 100 local artists showcasing their work, so be sure to bring some money as you may find some pretty unique craftsmanship. Walking creates an appetite, so there will be two different food truck courts ready to satisfy those munchies. The kids will have bounce houses, face painting, and various arts and crafts to participate in. Round up your crew and mark your calendars for the return of the Lake's most action-packed community festival!
Loch Norman Highland Games 
April 15-16th | Rural Hill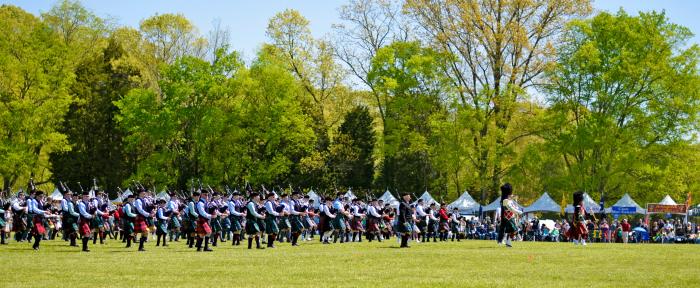 Loch Norman Highland Games is an annual two-day celebration full of fun and Scottish culture for the whole family. Come watch world-ranked professional heavy athletes perform in seven traditional Scottish events that include throwing a battle axe, shooting long bows, and throwing weights for distance and height. You can experience all the festivities of Scottish culture like bagpipe bands, highland dancing and even try some haggis!
For the kids, make sure to pick up a passport that allows them to learn about Scottish heritage and traditions by going to tents representing different parts of Scotland. Music and dance performances will also be happening throughout the two-day event. Tickets are now available, and you can even get tickets to camp out overnight across from the main festival site! Find tickets here.
Join the Town of Cornelius in celebrating Earth Jam 2023, their annual Earth Day Celebration! Participants of all ages will enjoy free "green" activities including arts & crafts, tree planting demonstrations, nature walks, live bands, wildlife habitat improvements, and more!
Stroll around the booths to explore sustainable products on display, and learn more about how our community members are working to preserve our local ecosystem. Local businesses will be showcasing their environmentally friendly products and services. We encourage everyone to stop by the event and learn about areas in your life where you can make changes that will be better for you and your community.
April is for Arts 
April 28-30 | Main Street, Davidson

Town of Davidson
• Gallery Crawl: Friday, April 28, 6-9 pm
• Art on the Green Festival: Saturday, April 29, 10 am-5 pm and Sunday, April 30, noon until 4 pm
• Concert on the Green: Sunday, April 30 at 6 pm featuring the Davidson College Jazz Ensemble
April is for the Arts is a month-long celebration of the art and culture in North Mecklenburg, and Davidson hosts an annual 3-day event dedicated to their town. Kicking off the weekend, the Gallery Crawl will transform Main Street and South Main Street into lively art galleries for visitors to peruse through. 
Attracting thousands of people each year, Art on the Green is Davidson's largest annual arts festival. This popular event showcases pieces from over 50 artists along the East Coast in many different mediums, ranging from watercolor to ceramics to sculptures! Visitors can also enjoy local cuisine and live music performances during the festival.
Hello Huntersville Music & Arts Festival
May 12th @ 2-6pm | Veterans Park

Kick off the month of May by coming out to the annual Hello Huntersville Music & Arts Festival! Centered around celebrating local artistry, there will be artwork on display from regional area artists.
You can take part in the fun by making your own crafts! Try your hand at weaving or bring out your creative side through making mosaic art and painting murals. There will also be live music performances from local artists taking place at the amphitheater for you to jam out all night long, and the streets will be filled with unique entertainment for people of all ages to enjoy. This event is free to the public and open to all!
NC Brewers & Music Festival 
May 12-13th @ 3-11pm | Rural Hill
The NC Brewers & Music Festival is a two-day event celebrating great music, North Carolina and its brewing traditions. Grab a group of friends and come enjoy the free tastings of the best brews that the state has to offer, all while enjoying live music from renowned musicians!
Friday night will feature individual sets from Kiely Connell, Kaitlin Butts, and Steep Canyon Rangers, while Saturday night will feature jams from 49 Winchester, Molly Tuttle & Golden Highway, Susto and more artists! There will also be a tasting session on Saturday only, but there will still be plenty of delicious NC brews for you to enjoy over the weekend. Be sure to get your tickets.
Charlotte Dragon Boat and Asian Festival 
May 13th @ 7:30am-5pm | Ramsey Creek
Celebrate the culture, traditions, and history of Asian Americans and Pacific Islanders! Come together to celebrate their heritage through many activities such as dancing, sharing traditional meals, observing and appreciating their rich history.
Cornelius Jazz Festival
May 20th @ 5-9pm | Smithville Park
The Cornelius Jazz Festival is a family-friendly community event with music and fun for everyone. Come listen to the many jazz bands that will be performing, while drinking the area's local craft beer and munching on the foodie favorites. There will also be activities for the children so there's something to do for all ages!
Lake Norman is a great place for family and friends to come together. As always, don't forget to share your experience and tag us in your posts on Facebook or Instagram @VisitLakeNorman!