Your prize catch awaits you in Lake Norman. Anglers come to Lake Norman from around the world for their chance at a record-winning catfish, crappie, largemouth bass, striped bass, and yellow and white perch. The fish bite all year round, if you are willing to brave the Southern winter chill or a mild spring day to drop your line, you might catch a whopper! Early summer brings peak fishing with warmer temperatures and the possibility to catch the lake's other resident fish. You never know, you might find Normie, the Lake Norman monster on the end of your line!
Lake Norman has a variety of fish you can catch during your trip including Black Crappie, Striped Bass, White Bass, Channel Catfish, Largemouth Bass, Smallmouth Bass, Bluegill, and Yellow Perch. Make sure you are following all size and creel regulations for Lake Norman. If they do not meet the size or creel regulations, you will need to release the fish back into the lake.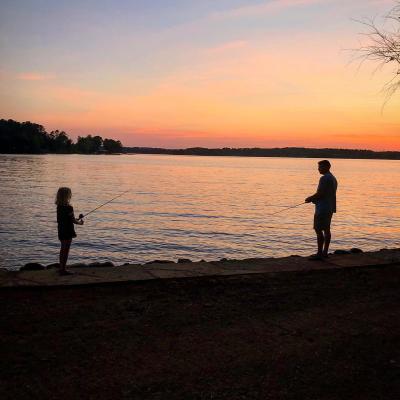 Photo Credit: @mchasnis via Instagram
Fishing Licenses
You will be required to have a basic NC fishing license or sportsman license when fishing on Lake Norman. A license can be purchased online, by calling 888-248-6834 or by visiting a Wildlife Service Agent. If you're planning to fish for less than 10 days, the short term license is built for you. Annual and lifetime licenses are available for avid fishermen and come with noticeable discounts.
Live Bait
Make a pit stop at Wher-Rena Boatland or Dick's Sporting Goods and secure live bait to draw your future catches near. Both locations are near high-quality fishing spots in Huntersville and Cornelius.

Fishing Piers
There are three piers where you can spend a relaxing day fishing on Lake Norman: Patriot Peer at Ramsey Creek Park (ADA compliant), Lake Norman State Park located in Troutman, and Stump Creek on Perth Road in Mooresville.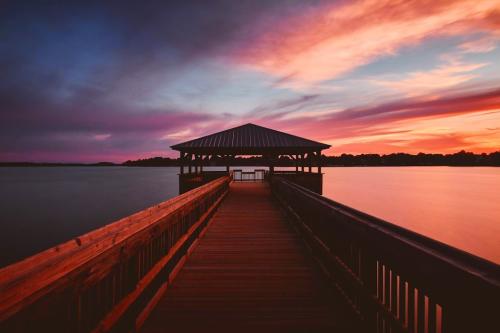 Photo Credit: @elijahknorpp via Instagram
Fishing From The Shore & Boat Access Areas
With 520 miles of shoreline, Lake Norman is seen best by boat. Several marinas grace the shores of the lake, providing boat launches, boat slips, storage, rentals, and repairs. Jetton Park and Ramsey Creek Access Area are just a couple of the various locations you can fish from the shore, with both being located in Cornelius. 
Plan a visit to our Visitors Center and pick up a copy of "Fish Tales" by Captain Gus Gustafson. Captain Gus has fished the lake since it's inception in the early 1960s, and his knowledge and boating experience are as long as the lake! While you're here, grab a waterproof GPS/Fishing map of Lake Norman, or download the Wake App for GPS Navigation.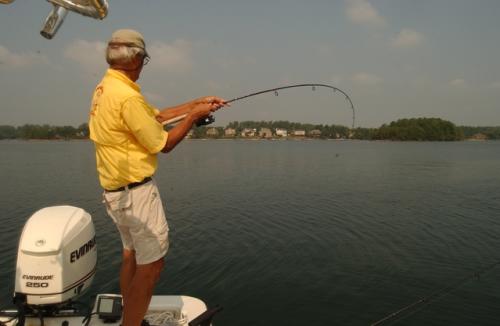 Photo Credit: Lake Norman Ventures, Inc. – Fishing with Gus!
Guided Fishing Tours
New to fishing? Gus' got you covered. Check out Fishing with Gus for a guided fishing trip on Lake Norman. Fish on! is another outstanding guided tour option, as Craig Price is a fully insured captain with over 40 years of experience fishing the Piedmont lakes in North and South Carolina. For more fishing guide services visit our Fishing & Guides page. Lake Norman's dazzling clean water combined with thousands of magnificent homes makes the time spend fishing both interesting and enjoyable. The lakeside of Charlotte is the home of many NASCAR drivers and crew members as well as a host of professional basketball and football stars.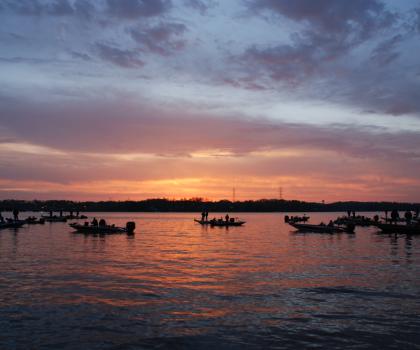 Fun Facts
With a surface area of 32,510 acres, Lake Norman is the largest manmade lake in North Carolina

Lake Norman is 34 miles long with over 520 miles of shoreline

The deepest area in the lake Is over 100 feet, while the average depth is 33 feet

The largest blue catfish in NC was caught on Lake Norman, weighing a whopping 85 pounds
Experience fishing of your own on the lake, or join us as Visit Lake Norman hosts several national fishing tournaments annually, a testament to the fishing opportunities available here. Enjoy a day on the water, and remember, good things come to those who bait!