Lake Norman is a great visit for you and your family year-round. Throughout the year there are four distinct seasons to expect when visiting Lake Norman. With plenty of water activities, shopping, golfing, and seasonal events in the area, this is the place to be. Whether you are planning a vacation or a permanent residency, here's what to expect during your stay at the lake.
Spring (March-May):
With the weather beginning to warm back up and the flowers starting to bloom, spring is a great time to visit museums and sight-see around Lake Norman. If you're feeling artsy, there are plenty of experiences to enjoy: You can't go wrong with the Cornelius Arts Center, the Town of Davidson's Art District, or the Davidson College Sculpture Garden. Temperatures range between the mid-'50s and upper-70's. Make sure to pack light rain jackets, cardigans, shorts, skirts, and sandals.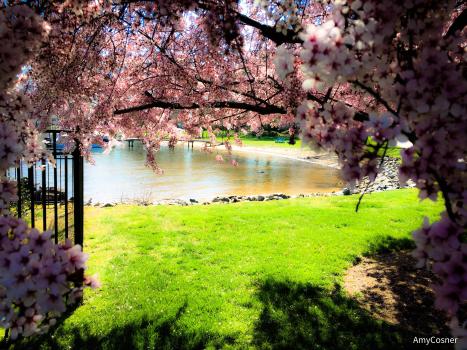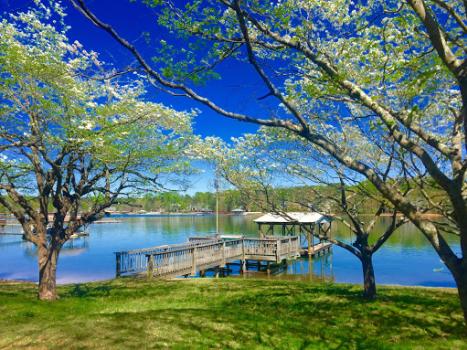 Photo Credit: (Left) Amy Cosner, (Right) Doug Kirkman
Summer (June-September):
Primetime to get out on the water and enjoy the lake to the fullest. With various waterfront restaurants, beautiful scenery, and temperatures reaching the mid-90's, on the water is where you want to be. There will be your occasional rain shower, but during the summer they tend to be quick, giving you time to rest before retaking the lake. Packing is easy – bathing suits, tank tops, flip flops, sunscreen, and sunglasses are the essentials for a day of relaxation.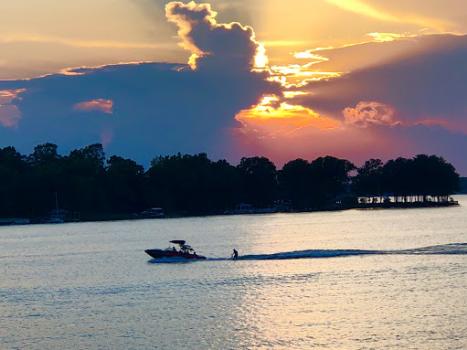 Photo Credit: (Left) Amy Cosner, (Right) Kathleen Curatolo Hannah
Fall (October-November):
The most elegant time to be in Lake Norman. Temperatures are cooling off, falling to the mid-50's and 60's, and it's almost holiday season. With football season ramping up and the spookiness of Halloween on the way, get out and about during your stay. Check the Fall Foliage Prediction Map to better prepare for your trip and try to catch the peak color each year. Pack light jackets, hoodies, leggings, and the occasional pair of shorts, because you never know what season you may get daily in North Carolina.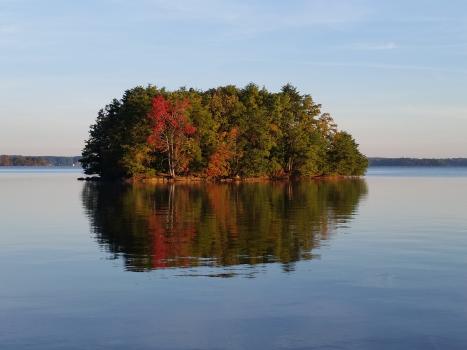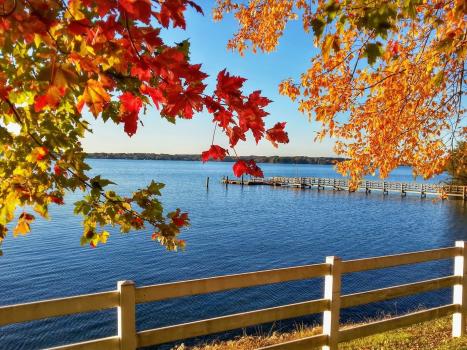 Photo Crediit: (Left) Bill Pedigo, (Right) Amy Cosner
Winter (December-February):
The cold isn't too harsh living in the central area of North Carolina, with temperatures ranging between the mid-30's and 50's. You can't count on snow, but you can count on school being canceled if light snow is in the forecast. Winter is the holiday season, and there's no better place to shop for your loved ones than Lake Norman. There are local venues, a plethora of boutiques, and farmers markets, along with your brand name major merchandisers with multiple malls to choose from. Pack heavy with winter coats, gloves, scarves, sweaters, hats, and long pants.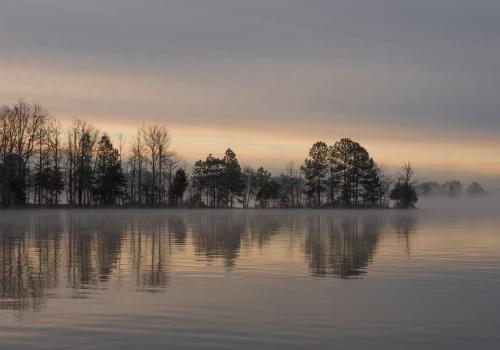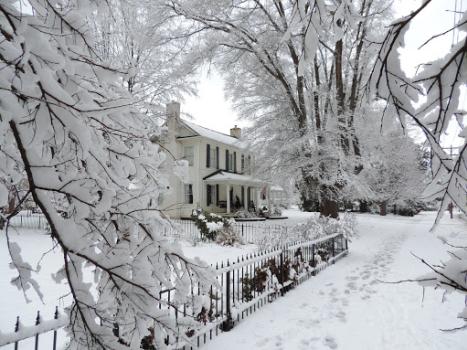 Photo Credit: (Left) Brant Waldeck, (Right) Bryan Hall
The best time to be on the lake is in the summertime, but the window of time on the water typically ranges from Memorial Day (May 25th) to Labor Day (September 2nd).
Bring yourself, the family, and your doggo or family pet to the lake and enjoy an unforgettable atmosphere in Lake Norman.