There is nothing better than a beautiful day out on the lake surrounded by friends and family on the boat. Boats are great and we are lucky to have access to boats as easily as we do here in Lake Norman, whether that's by owning a boat or renting one with many of our great boat rental companies. The number of options is limitless here in Lake Norman now all we need is safe practices out on the lake. Whether that's yourself or from the boat rental company we want everyone to enjoy the lake without the fear of accidents or injury.
Lake Norman Marine Coalition
 The waters of Lake Norman are regulated by the statutes of several different organizations including the Lake Norman Marine Coalition. They have the mission of spreading safe practices across the Lake and to be used as a resource of information on the Lake of different laws, rules, and regulations that need to be followed on the lake. The North Carolina 1969 State Statute made the LKNMC responsible for the lake, shoreline, and anything revolving around water recreation. In keeping these duties assigned to them the LKNMC promotes boater education, maintains the Navigational Marker System, works with Duke Power on Lake Development, manages a long-range Aquatic Plant Management Plan, and works with local governments and other organizations to address important lake issues. 
We are fortunate to have several great and responsible boat rental companies in the area who want to ensure your safety. Several companies on the Lake take a big step by following the policies put forward by the Lake Norman Marine Coalition and the Mecklenburg County Parks and Recreation Department. Some companies that hold themselves to the standard of maintaining safe procedures approved by the LKNMC include but are not limited to Carolina Cruising Charters, Cornelius Pontoon Rentals, and Party Pontoon.
Laws and Regulations    
Following rules and regulations out on the lake is key to maintaining a safe environment for yourself and others. The Lake Norman Marine Coalition as well as the Mecklenburg County Parks and Recreation are key in regulating the lake for our safety. Some of these laws that you can hold yourself and others accountable for include anyone under 13 must wear a Personal Floatation Device in a boat, no boating while impaired, and no littering. Also be aware that all of Lake Norman has a no-wake zone within 150 feet of any dock, bridge, marina, or boat ramp, and within 100 feet of a law enforcement vessel.
 There are some more laws that need more attention and are more detail-oriented that boaters must still pay attention to. These include the illegality of the possession of Sterile Grass Carp or how one or two boats may be anchored within 100 yards of the shoreline but must be at least 50 yards from any other vessel or group of vessels tied together. Be sure if you are operating your vessel at night, you are displaying your bow and stern lights. 
Personal Watercraft
North Carolina law defines a Personal Watercraft (PWC) as "A small vessel which uses an outboard motor or propeller-driven motor, or an inboard motor powering a water jet pump, as its primary source of motive power and which is designed to be operated by a person sitting, standing, or kneeling on, or being towed behind the vessel, rather than in the conventional manner of sitting or standing inside the vessel". When operating a Personal Watercraft, it is law that the operator is not under the age of 14 and that if the operator is under the age of 16, they must have certification. After sunset, a PWC cannot be operated until sunrise. Any driver, passenger, or person being towed by a PWC must wear a personal flotation device.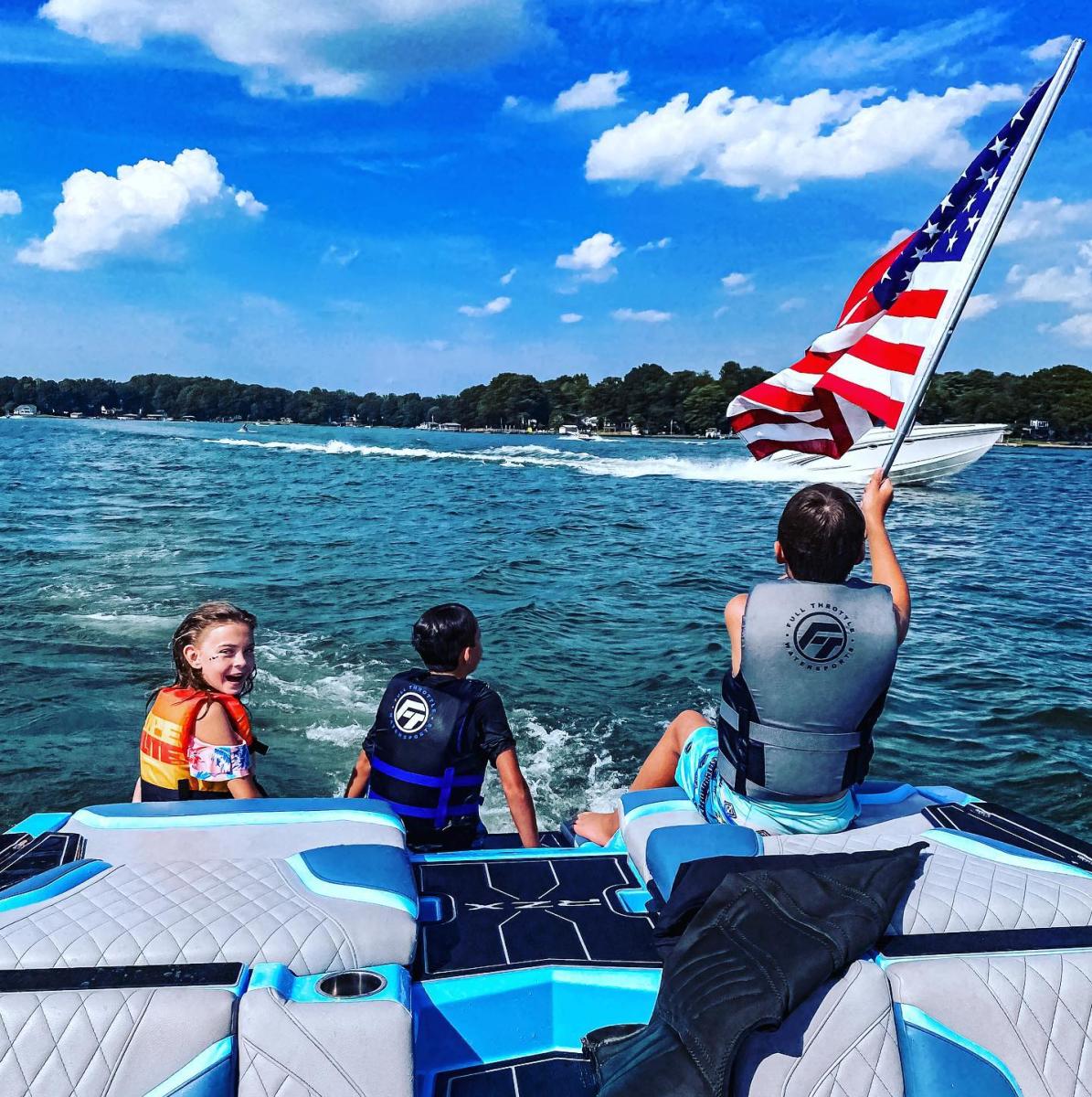 @mandi.onmainstreet on Instagram
Required Equipment
When it comes to taking your boat out on the lake or getting a rental from a company, it is important to double-check and make sure all proper equipment is there to stay safe as well as obey the law. You never know what will happen on board, so it is important to have a wearable personal flotation device for everyone on board. It is also important as well as the law to have an appropriate-sized fire extinguisher on board the boat. Another simple yet effective device that is important to have on your boat is a whistle or some sort of noise-making device. 
Lake Norman is a special place. There is a reason that the population is rapidly increasing, and everyone wants to come to see what it's all about and spend time out on the lake. It is important that everyone enjoys their time on the lake safely and conducts safe practices out on the lake and obey local and state law. Be sure to check out our "Boat and Jet Ski Rentals" page for information on our local rental companies and ask them if they are following LKNMC and MCPRD guidelines for their rentals to ensure a safe and fun day out on the lake.