Welcome to the "crown jewel" of Huntersville. Located on what used to be a dairy farm, Birkdale Village has become a popular retail destination that people near and far go to shop. Birkdale opened twenty years ago offering 250,000 square feet of retail, 320 apartments, and 50,000 square feet of office space. It has become a gathering place for special events including popular 4th of July celebrations, live concerts, and group yoga sessions on the public greenspaces. This large open-air shopping destination was recently purchased by North American Properties who have plans to upgrade the property with new paint, new tenants and more than 100 events and programs each year. 
Now that you know a little bit about the background of Birkdale, we've put together a guide for you to learn all you can do at Lake Norman's largest shopping mall!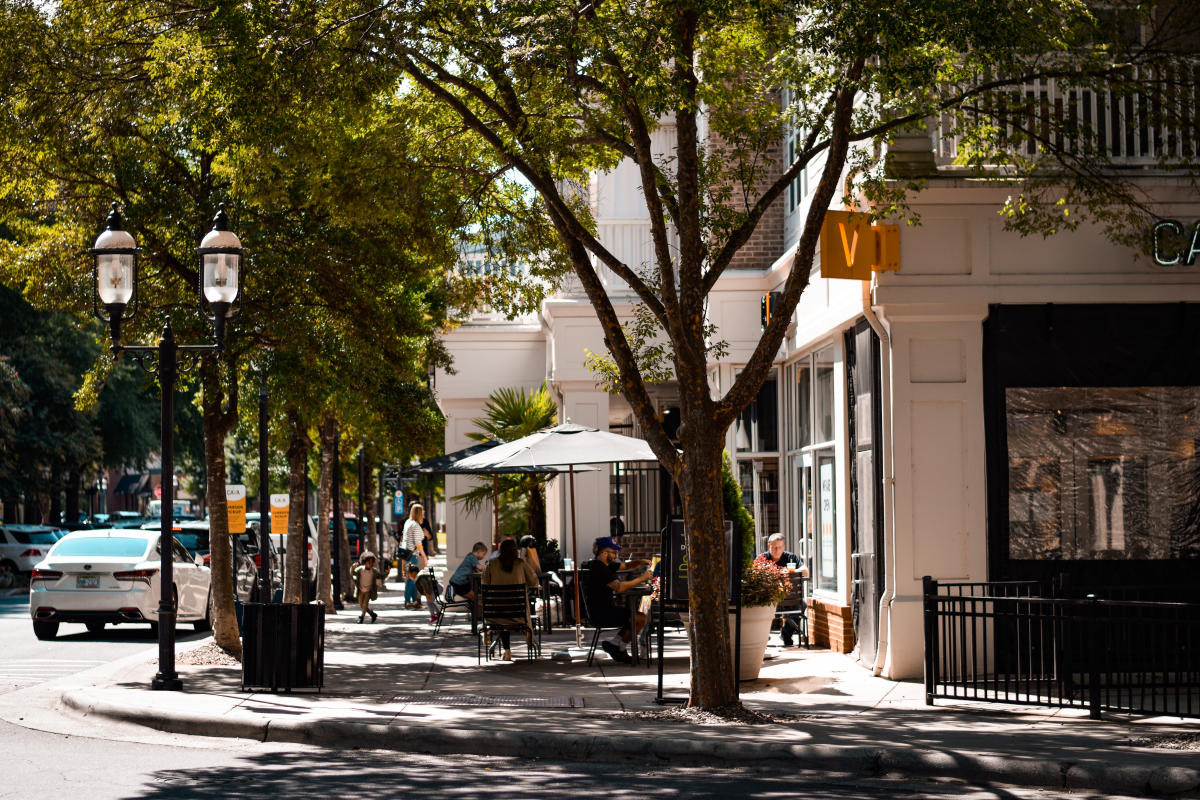 But first, coffee
If you like to start your day with a nice cup of joe, swing by Starbucks for a quick run. If your body requires a bit more essential nutrients, get a table at Red Rocks Cafe for their Sunday brunch and order their Breakfast Plate or Eggs Benedict. Poached eggs and Canadian bacon served on a toasted English muffin is a sure way to replenish your body and boost your energy. You'll need it for all the steps you'll be putting in!
Shop to your heart's content
With a mix of small local boutiques and large brand names, you'll find yourself walking from store to store and ending up with more bags than you can carry. But, there's always a solution to that - bring a friend or two, of course! Some of the large brand names you'll find here include American Eagle, Banana Republic, Bath & Body Works, and Dick's Sporting Goods.
If you love to support local businesses, we suggest you stop by Julie's Boutique which offers a variety of apparel for women including dresses and accessories that are trendy yet affordable. Another small shop to check out is Nina's Boutique where you can browse their inventory and keep an eye on any special deals on their Facebook page. Uniquities is another must-go-to shop. A locally owned shop that has grown to 5 locations across North Carolina, including one in Birkdale. With hand-picked selections of apparel and accessories and personal shopping, gift wrapping, and home delivery services.
Whether you're shopping for yourself, your kids, or a loved one, you'll find what you're looking for here.

If you're on the hunt for a special anniversary gift or maybe even an engagement ring, stop by Fink's Jewelers which carry some of the industry's leading designer brands such as David Yurman, Mikimoto pearls, and Ritani. 
Another charming jewelry store is Kendra Scott, a women's jewelry and accessories brand known for it's unique designs and giving back to local charities. They even host "Kendra Give Back" parties where a percentage of proceeds are donated to a particular cause. 
For something more customized, have a look around Poppies, a preppy paradise complete with jewelry, bags, houseware, stationary and more that can be monogrammed and personalized. Kate started this business 15 years ago out of her own home and has made her mark in the Charlotte area.
Enjoy some "me time"
If you haven't already, treat yo' self. Whether it's getting a haircut or nails done or going to a spa, Birkdale has got you covered. PAINT Nail Bar is a fume-free and luxurious experience. From custom built furniture to unparalleled customer service, this will soon be your go to salon. And to top it all off, they even offer complimentary mimosas!
Now what started out as a venture for healing Lyme Disease for her daughter, Cynthia was led to discover the health and healing properties of infrared saunas and had a desire to give others this opportunity. This is how Beem, the first exclusive Infrared Sauna Studio in the Charlotte area, came to fruition. You can expect a clean, simple, and relaxing environment while you partaking in the incredible health benefits.
If you're wanting a place to work off some steam before going on a dessert hunt throughout Birkdale Village, Pure Barre is the place to go. A barre workout studio striving to improve the body and mind and inspiring lifestyle goals as well. The classes are designed for participants of all strengths, ages, and experience as their workouts are focused on small movements that produce big results. Located near the Cinemas and next to Green Brothers Juice Co., it is definitely a workout studio worth checking out.
Remember, self-care is giving the world the best of you, instead of what's left of you. So take time to do what makes your soul happy.
Satisfy your cravings
As you stroll through Birkdale, you'll pass several of the area's favorite restaurants including Dressler's and eeZ Fusion. For those who love BBQ, Midwood Smokehouse uses North Carolina hickory hard wood to make some of the best 'Q around the area. 
If you're looking for something sweet, you'll have several choices to choose from. Buttermilk Sky Pie Shop is a locally-owned homemade pie shop that sells 9 or 4-inch pies of Coconut Cream, Key Lime, Granny's Apple Pie and more. They also offer Thumbprint cookies and Cloud 9s, their unique twist on pie a la mode.
For all the chocolate lovers, walk into Kilwins and you'll be lured by the warm sweet aroma of chocolate, fudge and fresh homemade waffle cones. Browse through a wide variety of candies and confections as they handcraft all the sweet treats right before your eyes. From hand-dipped fresh apples and chocolate-covered strawberries to delicious truffles and ice cream, Kilwins is a must-visit when in the area.
Green Brothers Juice Company is locally owned and run and strives give the community nutritious options for more healthy lifestyles. They sell a wide variety of options with many different flavor combinations including acai bowls, smoothies, energy bites, juice cleanses, and other tasty options. Reward your body and your taste buds with this healthy option.
Special Events & Activities
In addition to being an open-air shopping mall, Birkdale hosts a variety of events each year including live music during the summer months, holiday celebrations and the annual Christmas tree lighting and photos with Santa. You might even see a yoga session or a fun kids craft event taking place on one of the greenspaces. We encourage you to visit our calendar of events to stay in the know of all the happenings going on around the area.
If your feet need a break, catch a film at the Regal Cinema. They have showings of the newest movies as well as some of the older classics, so be sure to check the screenings online.
Wine Down
After spending all day exploring Birkdale Village, wind down and sip the night away at Corkscrew Wine Shoppe & Bar. A great wine destination with a corky casual atmosphere serving the Lake Norman area for more than a decade. They also serve small plates, beer and cocktails. They want you to feel at home, so pets are welcome to join in on the fun and enjoy the covered outdoor patio.
---
Coming Soon
Originally opened in 2003, North American Properties have recently become the new owners of this popular shopping center and are excited to bring new experiences and amenities to Huntersville's backyard. New retail and dining options, a full-service concierge, and a central plaza are just a few additions that will elevate Birkdale Village.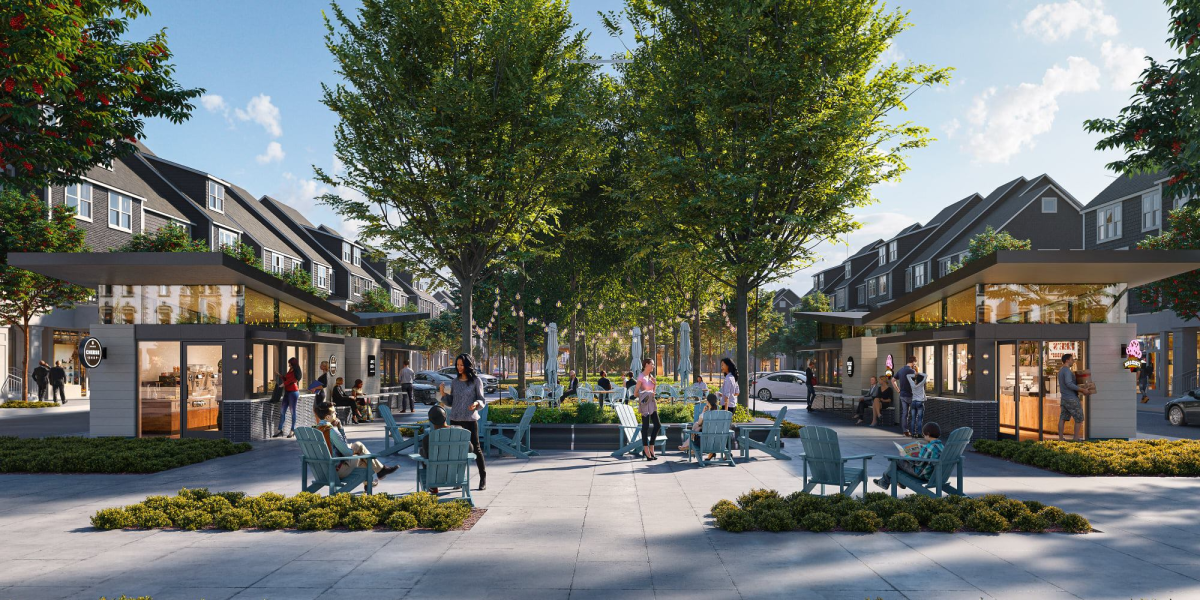 Four tiny retail pods will be added and house offerings from merchandisers and food vendors on shorter term leases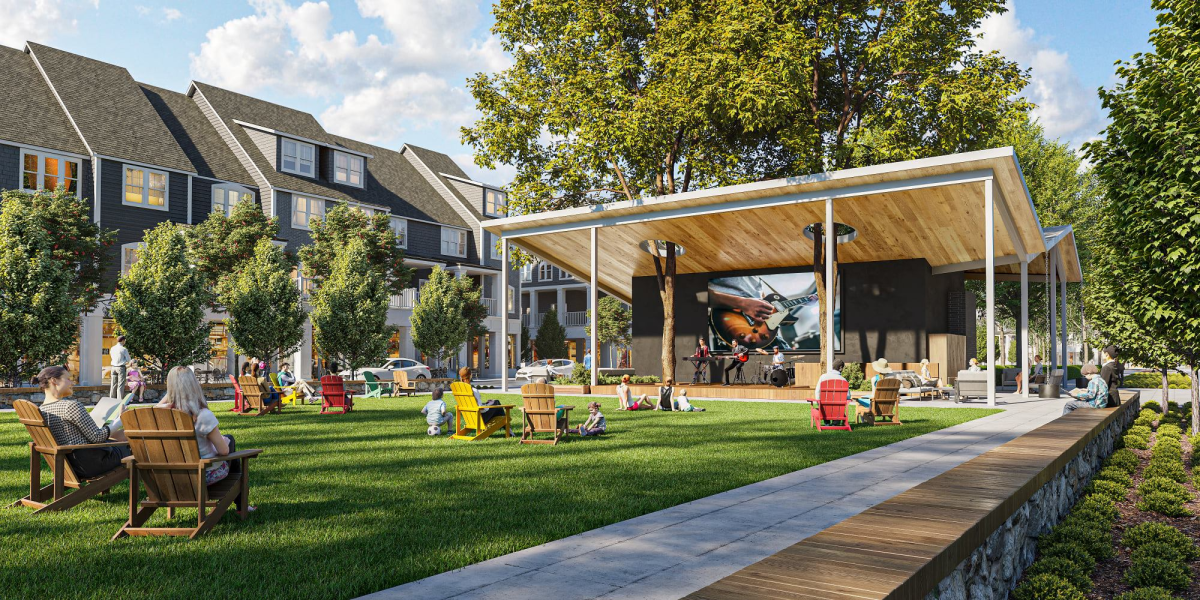 A 6,000 sq. ft. shaded greenspace with soft seating, a massive LED screen, and a covered stage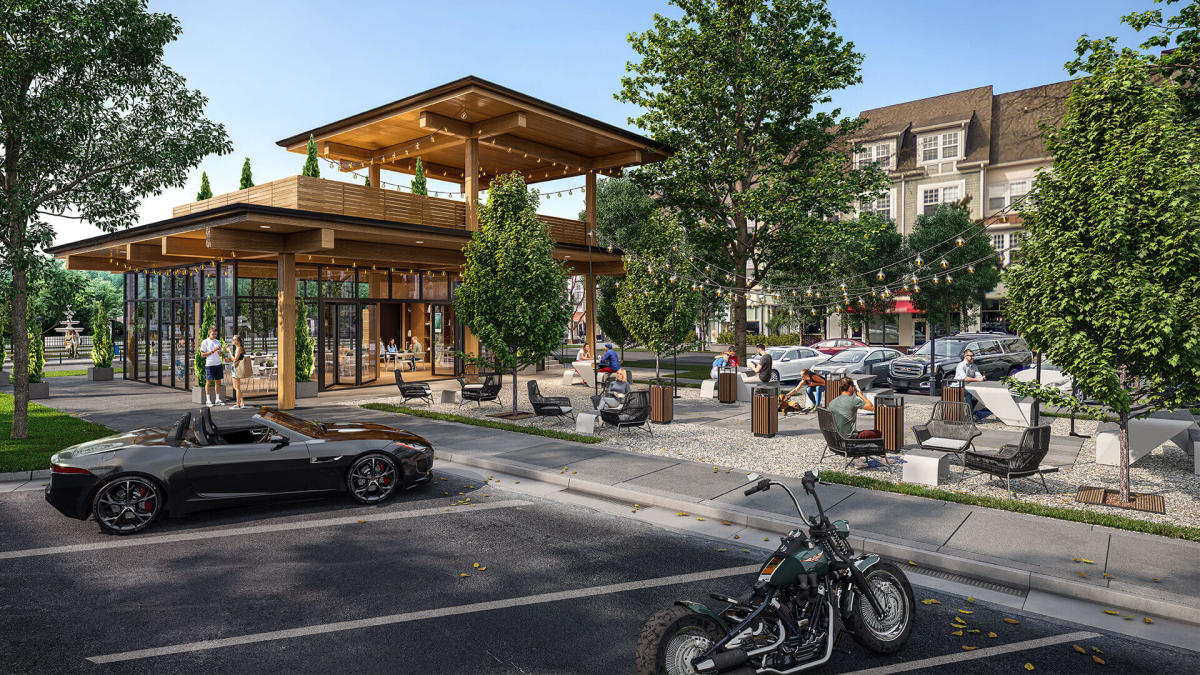 Three stand-alone retail jewel boxes will be added
Whether you're shopping, dining around or just passing some time, we hope to see you at Birkdale! Tag us in your day trips on social media @VisitLakeNorman for a chance to be featured.