The COVID-19 pandemic has brought out the best of people and local businesses in the Lake Norman area. The love and positivity that people have shown has resonated with local restaurants, attractions, and shops. The pandemic has forced some businesses to shut down temporarily and others have been able to adjust their operations, however we've compiled some ways you can support all local businesses during these trying times.
Order Takeout or Delivery
Many Lake Norman restaurants are still open for takeout and delivery and even offering special deals! Mac's Speed Shop has put together a family meal in which you can select your meat preference that comes with a variety of sides. The Pickled Peach has been offering "meal kits" to help you avoid going to the grocery store. If you're out on the boat and want to grab a bite, stop by Port City Club or Hello, Sailor. They're offering dockside service so you don't even have to get off your boat. We suggest you call in your order ahead of time and take advantage of 20% off your first order at Port City Club.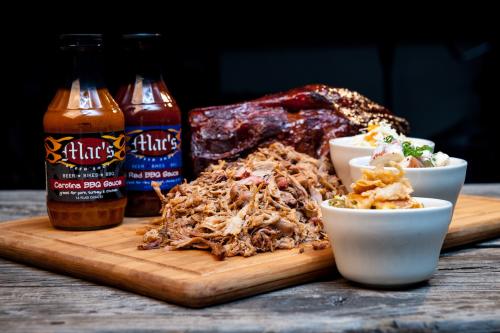 Mac's Speed Shop's family meals
Grab a Drink To Go
We all miss going out to the breweries with our friends, but you can still grab yourself a pack of your favorite brews to go and enjoy it right at home. You could even set up a video call with your friends and do a virtual happy hour! In case you haven't heard, Lost Worlds Brewing just recently opened their doors for to-go orders. Harvey's in Cornelius is letting you bring in your own growlers to fill up for only $10! They're also making raw goods like ground beef and seafood available for people to purchase and avoid the grocery stores. If you're more of a wine person, Hop & Vine in Davidson have been offering half-priced bottles of wine every Wednesday and Davidson Wine Company is delivering to local residents.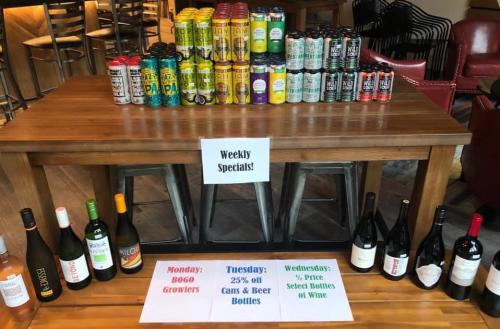 Weekly deals at Hop & Vine
Gift a Gift Card
Whether you want to purchase a gift card to enjoy at a later time when things get back to normal or you want to gift it to someone special, you'll be supporting local businesses in a huge way! Mandolino's Artisan Pizza and Alton's have been announcing gift card deals on their social media pages including receiving a $25 credit with the purchase of a $100 gift card. For those paddleboard fans, Aloha Paddle Sports is offering gift cards that can be redeemed this year or in 2021! Although your kids might be getting tired of being stuck at home now, why not take advantage of W8less LKN's groupon deal to use at a later time? They're offering passes up to 35% off! It also makes for a nice gift for any upcoming birthdays for a niece or nephew.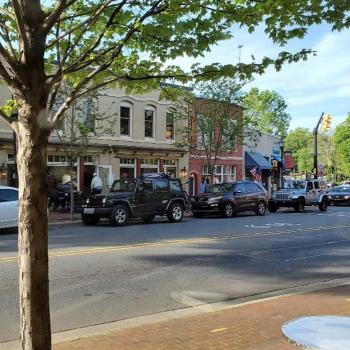 Cars in line for Mandolino's Artisan Pizza curbside service
Give A Little More
There are a variety of local businesses that are asking for your support to continue operating after the pandemic is over. The Historic Latta Plantation is taking donations to help feed and care for their new lambs. A small donation of $10 helps feed one lamb for a week. Located just a short drive from the historical home is the Carolina Raptor Center which is also taking donations to provide medical care for their raptor patients. The Ada Jenkins Center has been providing local families in need with bagged groceries, but they're kindly asking for donations to continue helping local residents.
Visit Lake Norman has put together a Lake Norman Virtual Tip Jar! Anytime you have a drink or meal at home, consider tipping a local service industry worker through our Virtual Tip Jar. You will see Venmo or CashApp information displayed for a random Lake Norman hospitality worker, who's been laid off or furloughed, where you can tip them directly! We encourage you to tip the first worker, so everyone gets a turn. Every time you refresh the page, you're able to help a new person.

Historic Latta Plantation's newest lamb, Luella
Spread Some Love
We all know the power and influence the internet has on local businesses, so lets use it to leave a positive mark! If you've recently had a positive experience, be sure to leave a great review on their social media pages and on Google! Not only will you help increase their ratings but you'll remind the business owner there are people who care for their success. You'll help lift their spirits during these challenging times. Share photos of you and your family enjoying a takeout order at home or unveiling an order you placed from a local boutique or artisan shop. Doing this will help encourage your followers to do the same and help spread the great things businesses are doing. We've seen a couple of popular spots like Kindred and Summit Coffee team up to sell coffee and milk bread donuts every morning. If you've had the pleasure of enjoying this partnership, leave a positive review and share your photos! You might even encourage other businesses to get creative and create similar alliances. Remember, we're all in this together!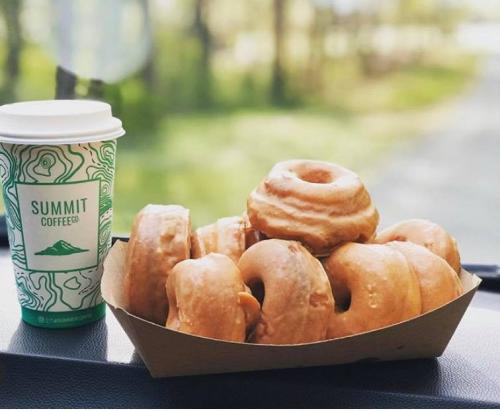 Summit Coffee and Kindred's milk bread donuts
These are just some ways you can show your support for local businesses in the Lake Norman area. If you have any other ideas or would love to share your way you've been helping out, let us know! You can always tag us on social media @VisitLakeNorman!