Looking for a place to celebrate your bachelorette party? Lake Norman offers plenty of activities and restaurants that you and your girlfriends are sure to enjoy. Whether you would like a day on the lake or want more of a night out on the town, the Lake Norman area has something for everyone!
For the Bachelorette Who Loves the Outdoors
Aloha Paddle Sports 
Aloha Paddle Sports offers the perfect way for you and your party to get out on the Lake! At the Cornelius location, they offer hourly rentals of paddle boards and kayak. Don't know how to paddle board? Do not worry, because they have an excellent staff that will take you through the in and outs of paddle boarding. At the Davidson location, not only do they have paddle boards and kayaks to rent but allow you to cruise around with your friends on their Duffy boat. Comfortable to fit up to 10 of your friends! Pick up your favorite wine and snacks right next door at the Lake Norman Wine Cottage. 

Aloha Paddle Sports
Charlotte Cycleboats
Charlotte Cycleboats is the best way to bring a party right onto the water. The first and only pedal-powered party boat in the area! You and your party can book the whole boat for a private party, fitting comfortably 15 people (10 pedal stations and 5 additional seats). All cruises are chartered by an experienced cycleboat operator, and the duration is 2 hours. You are welcomed to bring your choice of beverages and snacks along for the ride.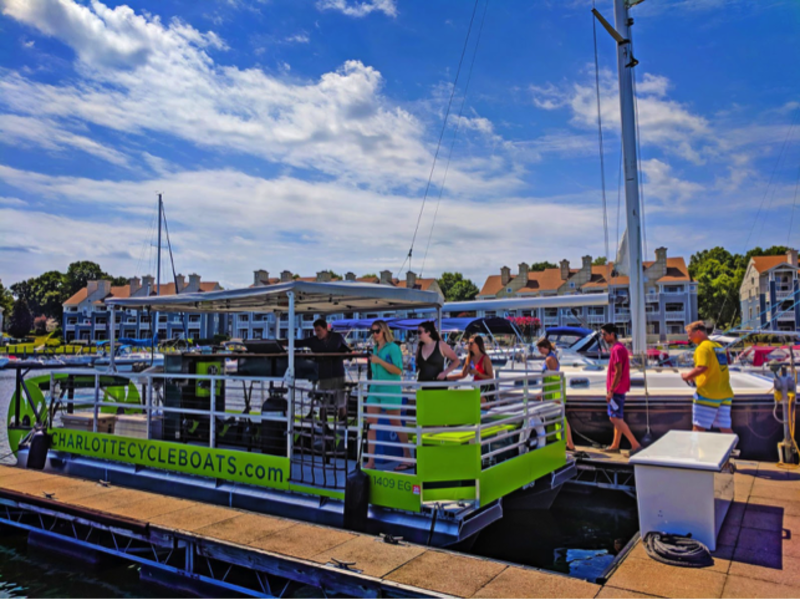 Charlotte Cycleboat
Lakefront Restaurant
What is better than enjoying flavorful food and cocktails with your girlfriends while gazing out at the lake? Nothing! Lake Norman offers three wonderful restaurants right on the water. North Harbor Club, located in Davidson, has a full menu of drinks and food that is sure not to disappoint! Their famous "docktails" include a jalapeno peach margarita, a lavender lake tea and many more. Port City Club and Hello, Sailor are both located in Cornelius. Port City Club allows friends to hang out, enjoy their food, and get their toes in the sand with the "beach" located on the property. Hello, Sailor is a fun spot, right on the water, with a collective drink and food menu. The tiki bar and waterfront patio are open for your party to enjoy cocktails like Cherry Lemon Sundrop Negroni Slushies and no-frills 40-ounce Miller High Life bottles.

Port City Club
For the Bachelorette Who Loves to Discover New Food and Drinks
Tour de Food
Take the Tour de Food of Davidson and find out about all the delicious food they have to offer! The tour will start out at the Old Cotton Mill now known as The Brick House Tavern, where you and your friends will wind our way through historical Davidson down Main St, stopping at 5-6 different restaurants from upscale dining to the soda shop along the way. You will sample some of the finest culinary delights these establishments have to offer. At one of the stops enjoy a local beer or wine tasting. You will get to meet the owners and chefs for a very personal experience unlike any other. Come to see how innovative these independently owned restaurants can turn farm fresh food into the most delectable dishes.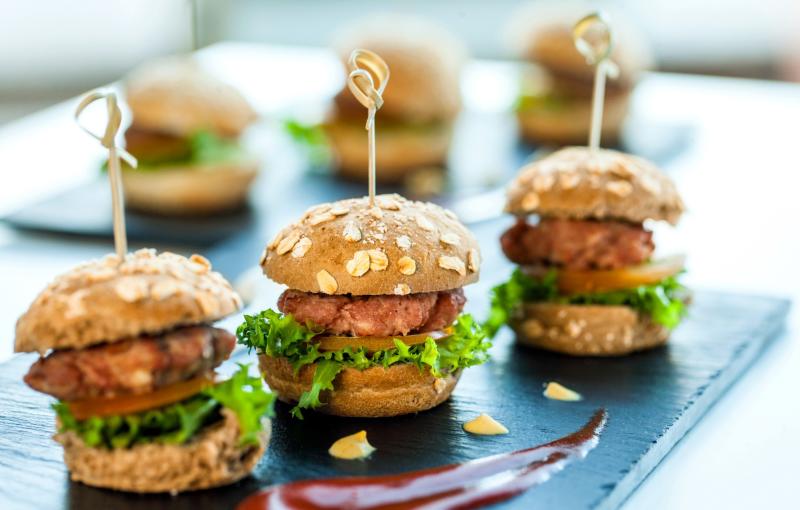 Tour De Food
Breweries/Wine Shop
Discover the number of beers and wines Lake Norman has to offer with our Beer and Wine Trail map. Become immersed in North Carolina's wine and craft beer scene by stopping in many of the surrounding wineries and craft breweries such as D9 Brewing Co. and Ass Clown Brewing Company. Your girls and you are sure to find a new favorite beer out of it!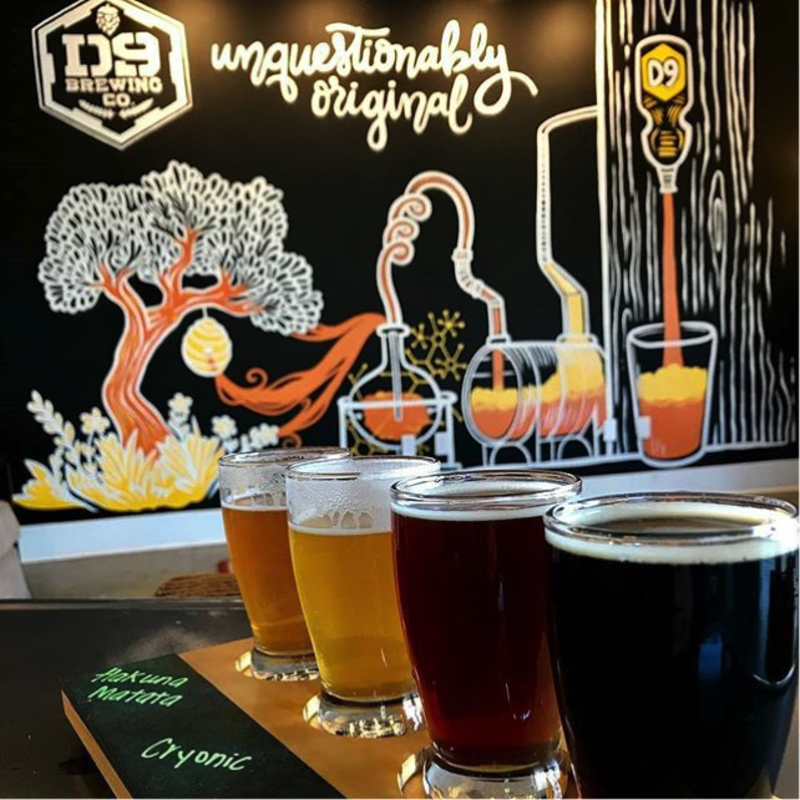 D9 Brewing Company
Birkdale Village
Birkdale Village is the perfect place to walk around and enjoy what it has to offer. From many different restaurants like Bad Daddy's Burgers, Midwood Smokehouse, Dressler's and many more. After eating until you are stuffed, take the time to walk around and enjoy the shops and boutiques Birkdale has to offer or even go see a movie! Want a drink? Corkscrew Wine Shoppe & Bar gives you the opportunity to sit back, relax, and enjoy a glass wine with your friends. There are more than 30 different wines by the glass that you are sure to enjoy.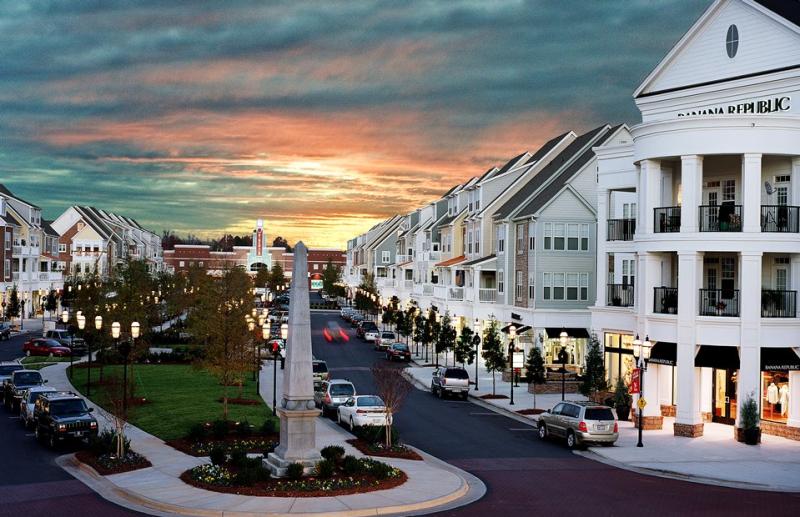 Birkdale Village
For the Bachelorette Who Wants to Have a Good Time
LKN Comedy Club
The LKN Comedy Zone is the perfect way to get a good laugh and enjoy a drink with friends. Located right above Galway Hooker in Cornelius, the LKN Comedy Zone loves to host groups and parties; they accommodate groups from 2 to 150! Whether you are looking for a single table reservation or a complete buyout, the Comedy Zone will work with you to create the ideal evening. The Galway Hooker services the food and beverages at the LKN Comedy Zone, so there is no doubt that it won't be good. Chef Steve Jordan has crafted a menu that offers a combination of feel-good favorites and trendy seasonal components. The fusion between traditional Irish dishes and contemporary items made with locally grown ingredients has created an energized following of patrons. Check their calendar to see the upcoming performances!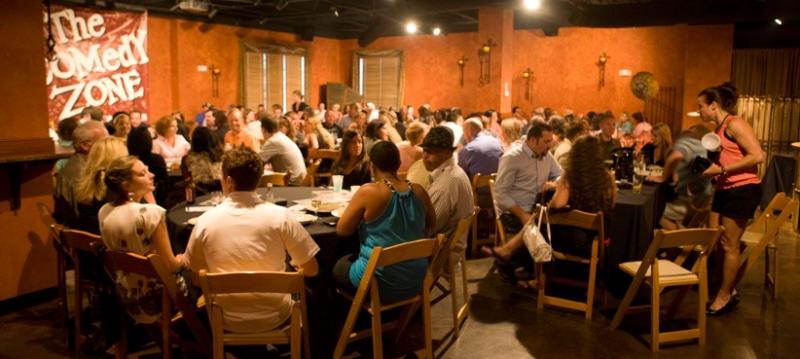 LKN Comedy Club at Galway Hooker
Spare Time Huntersville
Take your bachelorette party to the next level with Spare Time! Host your private, exclusive event in an upscale environment in the VIP Suite while enjoying their mouth-watering menu, full bar menu, and chic decor. The VIP Suite features luxury bowling lanes, private bar, and banquet seating, you won't find a better place to host your bachelorette party!
Be sure to share your festivities with us by tagging us @VisitLakeNorman on Instagram or Facebook!
Planning to stay a couple of days? Take a look at our hotel listings.