Lake Norman is a beautiful area with a multitude of ways to spend quality time with your loved ones, or just get away from reality for a while. While Charlotte is a big city providing the glitz and glamour at times, the lakeside of Charlotte, Lake Norman, is home to many celebrities and household names. 
You never know who you might run into during your time in the area, whether you call Lake Norman home or you are just stopping in. From sports stars to familiar Hollywood faces, you might run into a celebrity at the post office or just eating lunch.
By far the biggest celebrity name in the Lake Norman area is one of the greatest basketball players of all time, Michael Jordan. MJ returned back to his roots, buying a lake-front home in Cornelius back in 2012. One of Jordan's best friends and a top-notch NASCAR driver, Denny Hamlin, also resides in Cornelius. 
NASCAR
Denny Hamlin launched Little Big Burger in Cornelius in 2018, and the "fast-casual" restaurant could be where you meet your favorite NASCAR driver - while enjoying a delicious burger of course. Brad Keselowski is no stranger to the area as he's even held an autograph session at the Galway Hooker Irish Pub earlier this year.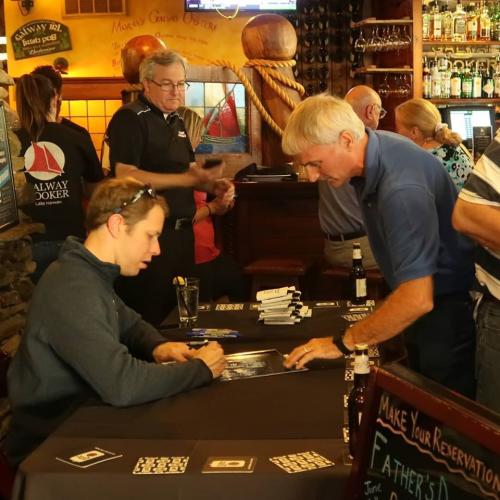 Credit: Galway Hooker Irish Pub via Facebook
The Lake Norman area is home to an abundance of NASCAR drivers as it's close to Charlotte, the home of racing. There are many drivers that currently live or have lived on or around the lake, and with such a luxurious location, you never know who you may run into.
Dale Earnhart Jr. owns a 200-acre home right outside of Mooresville, and that puts NASCAR's most popular driver (15 years in a row) close to the heart of Lake Norman. Other popular names in the racing world like Tony Stewart and reigning Cup Series champion Kyle Busch have lived on Lake Norman.
You might have seen Michael Waltrip on Season 19 of Dancing with the Stars, but you can catch him around the lake as well. The Joe Gibbs Racing Fan Fest happens the Friday before the Fall races where you can get autographs from the JGR team! Other notable drivers that have been seen around the area include Kasey Kahne, Danica Patrick, Rusty Wallace, Joey Logano, and Chris Buescher. You never know, you might happen to pull up beside them at a stoplight!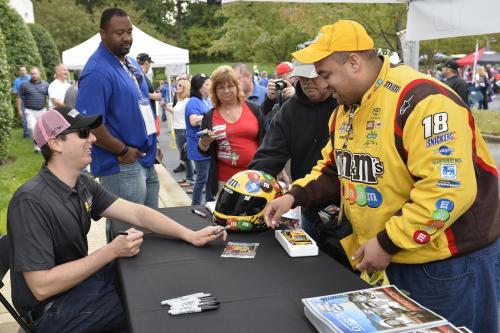 Movies & TV shows filmed Around Lake Norman
Airing on CMT, Racing Wives provides a spotlight into the personal lives of some of the most popular NASCAR drivers including Kyle and Kurt Busch and their spouses. You're able see how their wives balance their lives between supporting their husbands and family with achieving their own personal dreams. Whitney Ward Dillon and aspiring race car driver, Amber Balcaen, are also featured in the show.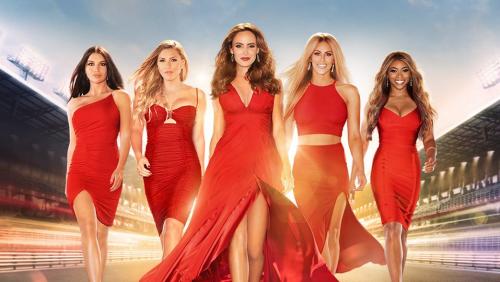 Credit: CMT-Racing Wives
Will Ferrell and John C. Reiley starred in Talladega Nights, a comedy film featuring the ballad of Ricky Bobby. Scenes were filmed on the track at Charlotte Motor Speedway, as well as in the Speedway Club restaurant that overlooks the 1.5-mile oval. The infamous dream house Ricky Bobby wants can be found by the waters of Lake Norman.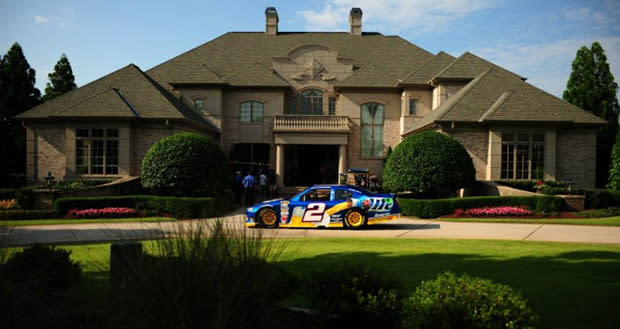 Credit: Charlotte Stories
Other notable movies and shows include American Animals, Shots Fired, Homeland, Paper Towns, and Careful What You Wish For featuring Nick Jonas. Fans spotted him in several different restaurants around Birkdale VIllage. He frequented Bad Daddy's Burger Bar so often, they even offered a Slick Nick Burger for a limited time! In case you were wondering, the delicious turkey burger came on a whole wheat bun with Monterey Jack Cheese, Jalapeno Bacon, Fried Egg, lettuce, and pickles. 
The Lakefront Bargain Hunt airs on HGTV and features episodes on Lake Norman during Season 3 Ep. 2 and Season 10 Ep. 12.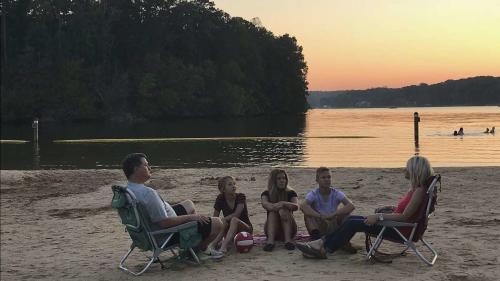 Credit: Lakefront Bargain Hunt
Basketball
The Curry family grew up in the area with the father, Dell Curry, playing for the Charlotte Hornets in the 1990s. His sons, Steph, and Seth Curry have become local heroes, with the latter being a 2-time MVP and Davidson Wildcat Legend. Steph Curry returns to Davidson at least once a year and still lives by the mantra set by Davidson basketball head coach Bob McKillop to this day.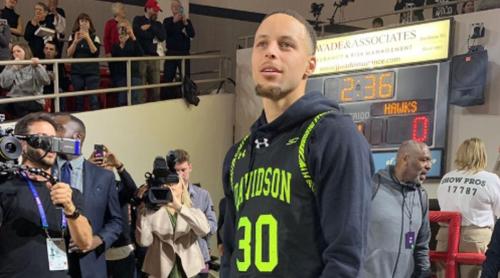 Credit: Davidson Men's Basketball via Twitter
Stopping by the post office? You might even see Hornets player, Nic Batum! Former Boston Celtics star and NBA Hall of Famer Robert Parish owns a home in Cornelius, fitting right in at the Peninsula along with Michael Jordan and Joe Gibbs.
Football
Current Carolina Panthers backup quarterback Will Grier resides in the Lake Norman area, and he and his brothers, Nash and Hayes, all grew up in the town of Davidson. Nash and Hayes Grier were one of the most popular "Viners" just a few years ago! Other notable names includes the legendary NFL coach, Marty Schottenheimer who's a homeowner on Lake Norman and the late Reggie White who passed away in his home in the Peninsula in Cornelius.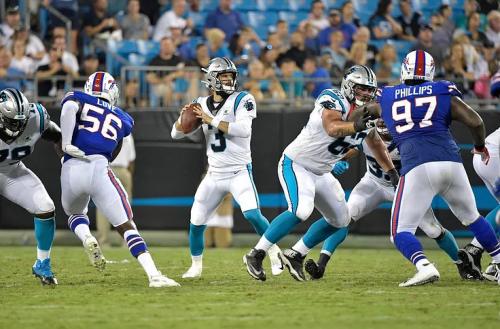 Credit: Grant Halverson/Getty Images
Notable Appearances
Reese Witherspoon and Emma Roberts have both ate at the nationally renowned, Kindred Restaurant. Witherspoon happened to be in Charlotte for a book tour and had to try Kindred! You might say she's getting pretty familiar with Davidson as she even posted a photo of her reading local Davidson author Megan Miranda's book, The Last Guest House. Miranda's book was selected as the book of the month for Witherspoon's Book Club!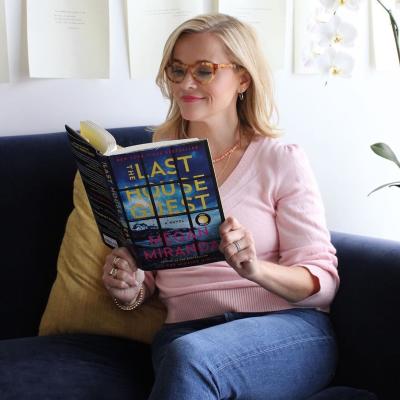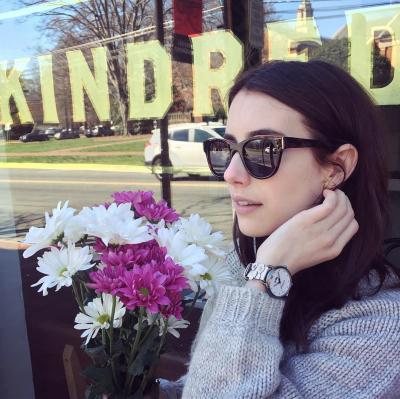 Credit: @ReeceWitherspoon via Instagram                                                      Credit: @EmmaRoberts via Instagram
As you can see, many famous celebrities and sports stars have visited the lakeside of Charlotte or even call Lake Norman their home. You really never what household name you might see dining around the lake or NASCAR drivers holding autograph sessions. A trip to Lake Norman might end up giving you a once-in-a-lifetime opportunity to see your favorite celebrity up close and personal! If you do, don't forget to tag us @VisitLakeNorman on social media! 
Header Image credit: Racing News Co.