It's hard to believe but the holiday season is almost upon us! It goes without saying that 2021 has been a very unique and challenging year for many, but that shouldn't stop us from making these last two months great. With the ever-changing COVID-19 guidelines, our local event organizers are keeping a close eye on new developments while doing their best to re-create our favorite annual events that we all look forward to! We've compiled a list of some of our favorite holiday events that will be returning to in-person. Please continue to check back to this blog for event updates
---
Santa's Mailbox
November 29th - December 10th
Cain Center for the Arts | More Details
Drop your letter to Santa at the new Cain Center for the Arts and they will send it to the North Pole! Must include a self-addressed, stamped envelope in order to receive a response from Santa. You can even drop off your letter outside of regular business hours at their outdoor mail intake!
Lighting at Birkdale Village
November 20th
Birkdale Village | More Details
Kick off the holiday season with a magical tree lighting at Birkdale Village! Bring out the whole family for holiday activities, performances and the classic Christmas music that everyone loves! Starting at 1pm, you and your family can stroll throughout Birkdale and experience holiday crafts, face painting and more, or you can hang out by the main stage to enjoy some live holiday performances. Be sure to find a cozy spot on the Parkway by 5:30pm for the Festive Parade around the village, followed by the lighting of the tree at 6pm! You'll want to stay after for the live performances of holiday hits and party jams from 6:15-7:30pm, where you can dance into the holiday season!
Santa at Birkdale Village
November 20th - December 24th
Birkdale Village | More Details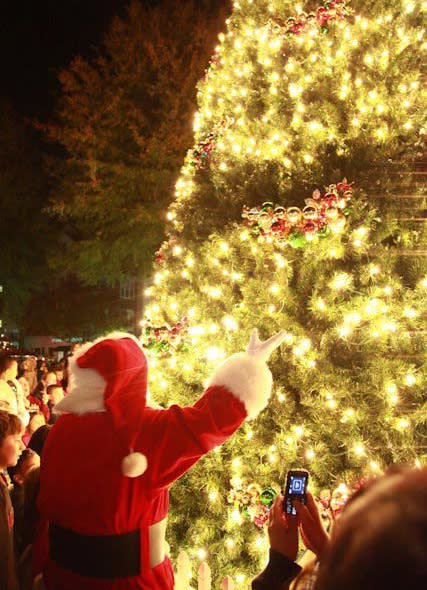 Santa Claus lighting the tree at Birkdale (via DDR Corp., Pinterest)
Jolly ol' Saint Nick is making his way to Birkdale! Come out to visit Santa Claus throughout the holiday season, where he will be spreading his holiday magic and taking pictures at his North Pole-inspired cottage by the Fountain. Santa will be in town every Friday through Sunday from 12-6pm up until Christmas Eve. Santa will be very busy this year, so be sure to reserve your spot to meet Santa here! This is a great chance to get into the holiday spirit, or to make sure you're not on the naughty list!
Cocoa with Santa
December 3rd
Cain Center for the Arts | More Details
Bring the kids out to the new Cain Center for a festive morning of holiday fun! Children will enjoy an exciting Friday morning filled with holiday arts & crafts, cookies, hot cocoa and even an opportunity to get a picture with Santa! This is a great way to get the kids into the holiday spirit while enjoying the beautiful, new Cain Center for the Arts.
39th Annual North Mecklenburg Holiday Parade
December 4th
Town of Davidson | More Details
Be apart of a proud Lake Norman holiday tradition! The 39th Annual North Meck Holiday Parade will be returning to an in-person format this year! Starting at 1pm, the parade will begin in Davidson at the intersection of Highway 115 and Griffith Street in Davidson, and will end in Cornelius at the intersection of Highway 115 and Catawba Avenue. Watch a variety of high school bands, school groups and organizations march on throughout our towns and express their holiday pride! Be sure to stay until the end to see Santa's float!
Christmas in Davidson
December 2nd-4th
Town of Davidson | More Details
An annual tradition since 1988, Christmas in Davidson has become the most popular holiday event in the area! From 6-9pm each night, you can stroll through the beautiful town of Davidson while supporting local business and get into the holiday spirit! There will be different activities each day so be sure to check out their schedule here! Event organizers are still providing updates and details while monitoring the COVID-19 situation, so please check back for more information.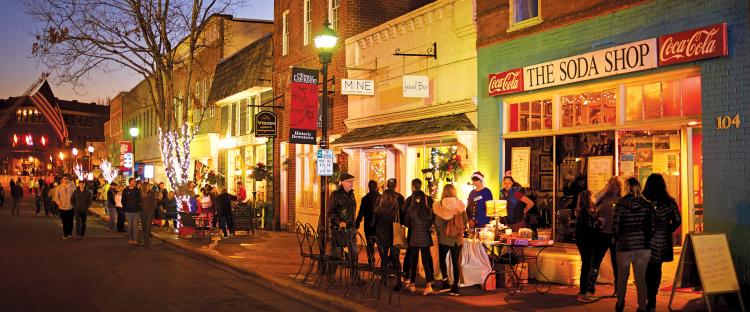 Christmas in Davidson (via Our State Magazine)
Christmas in Huntersville and Tree Lighting
December 3-4th
Veteran's Park | More Details
Downtown Tree Lighting - Friday, December 3rd 6pm-9pm
Christmas in Huntersville - Saturday, December 4th 2pm-8pm
Veteran's Park will host all of our Christmas in Huntersville festivities. We will have a variety of artisan vendors, food, and beverages. Santa will be onsite each night too! Our traditional children's rides and activities will be open on December 3rd and 4th during the event hours. Each night offers a chance to shop different vendors, so be sure to stroll, sip and shop!!
Christmas in Cornelius
December 5th
Cornelius Town Hall | More Details
Enjoy a fun-filled afternoon of live bands Christmas carols and choirs food trucks craft breweries holiday kids activities and even a visit from Santa himself!  Don't forget about your Christmas Shopping List! Christmas in Cornelius will feature over 80 local artists and craftsmen, making this the PERFECT opportunity to get those one-of-a-kind gifts for your loved ones! 
Huntersville Half Marathon & Holiday 5k
December 10-11th
Cranlyn Road, Huntersville | More Details
This is your chance to work off those Thanksgiving calories! The Huntersville Holiday 5k will start Friday night at 7pm while the Huntersville Half Marathon & 10k will begin on Saturday morning at 8am. All runners will receive a medal upon finishing, and there will be cash prizes presented by Fleet Feet Sports to the 1st, 2nd and 3rd place winners in both races. However, all participants who register by December 1st will receive a free shirt or hoodie and all runners will receive a medal upon finishing! The Huntersville Half Marathon & 5k is also working in partnership with Speed for Need, a non-profit focused on empowering members of the community affected by disability or disease through participation in fitness events. A portion of the proceeds from the event will go towards supporting Speed for Need in their efforts.
3rd Annual LKN Lighted Christmas Boat Parade
December 18th
Lake Norman | More Details
The Lighted Christmas Boat Parade is making it's return this holiday season! One of Lake Norman's favorite traditions, the parade will be held on the Saturday before Christmas. This is a great way to appreciate the beauty of Lake Norman while still spreading the holiday cheer!
Get bundled up, sit back and be amazed as you watch boat after boat pass by decked out in the brightest and most show-stopping parade on the lake. This parade will run from Blythe Landing to Ramsey Creek Park and end with an appearance by Santa at the Duke Energy Explorium. Don't forget to bring any toys for TOYS for Little Smiles! This is a non-profit group that annually takes donations at the parade and brings these toys to the children at the Levine Children's Hospital. Every single toy will go to a child in need, so be sure to bring a toy and help spread the holiday cheer! The event is planned to start around sunset and finish at approximately 7pm. There will be more information released as the date approaches, so be sure to check back for more updates!
---

After this past year, it is extremely important to remember to appreciate the time we have with family and friends over this holiday season. As we approach the holidays, be sure to appreciate all of the traditions and celebrations that makes this time of year so special. What's your favorite holiday event or tradition? Comment below and don't forget to tag @visitlakenorman in all of your festivities!