The COVID-19 pandemic has certainly affected the way we live our regular lives. With most people working from home, out of work, or even homeschooling the kids, not everyone has the time or funds to take a trip to a tropical island or somewhere across the country. A staycation is always a great option for taking some time off to have fun or relax without having to worry about travel expenses, stressful planning, or packing enough.
Whether you have a significant other to tag along with, have kids, or are flying solo and just want to treat yo' self – take a break from everyday life and enjoy a day or weekend trip to Lake Norman. Just 20 miles north of Charlotte! Here are some ideas to get you started on living your best life on a budget.
Start with some coffee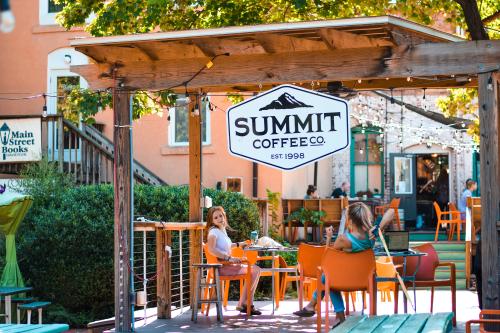 Get your day going with good energy and good coffee. Summit Coffee, a staple in Davidson, offers coffee, beers, seasonal drink menu, pastries, and live music three nights a week. Grab a latte and start walking down Main Street to check out all the local shops or find a seat in the back of Summit Coffee where they have an inviting outdoor patio. Furry friends allowed!
If you like to get comfy and enjoy your coffee indoors, find a Waterbean Coffee in Cornelius or Huntersville. With their bright and cheerful atmosphere, you'll want to stay a while. They serve high quality USDA-Certified Organic coffee along with teas, macarons, pastries, sandwiches, and more.
We understand staying away from work on a staycation can be hard, so if you feel like you'll want to check your email and make a couple of early morning calls, head over to Main Street Coffee in Huntersville. They have dedicated workspaces that allow you to be productive and delicious pastries to fuel up. But don't stay for too long, remember you are on a staycation after all! 
Take a hike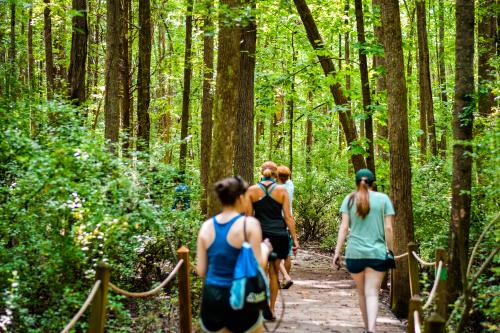 Want to get some steps in to balance out your well-deserved couch time at home? Venture out to Latta Nature Preserve, Mecklenburg county's largest nature preserve offering endless opportunities for outdoor recreation. You can find two launch areas for paddling enthusiasts, a fishing dock, picnic areas, a volleyball court, and 16 miles of trails for hikers and horseback riders. Other facilities you can visit within the nature preserve include the Carolina Raptor Center and Historic Latta Plantation.
The Raptor Trail at the Carolina Raptor Center provides a space for people to connect with the natural world by featuring over 30 species of birds. On select days of the week, you'll have the opportunity to witness one of their special events where you could get up close and personal with their birds. Pretty fly right?
Retail therapy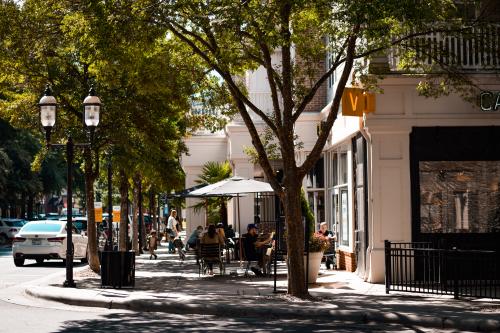 Birkdale Village is the one-stop-shop for shopping, restaurants, and entertainment. Get some more exercise in while treating yourself with a new book, outfit, or kitchen gadget. If you need to refuel, there are a variety of eateries to choose from. Midwood Smokehouse, Red Rocks Café, eeZ Fusion & Sushi, and Brixx Wood Fired Pizza to name a few.
It's all fun & games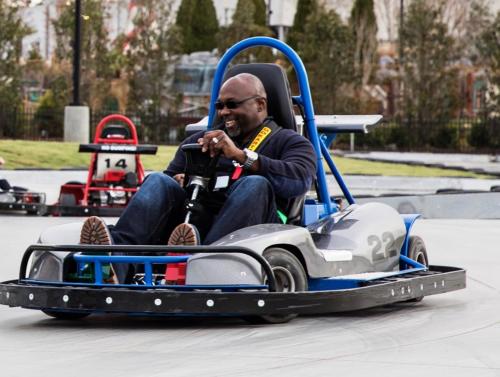 Whether you're 8, 24, or 99, everyone has a young side to them that enjoys the playful and competitive games. Frankie's of Charlotte has 3 go-kart tracks, 3 mini-golf courses, and bowling that are currently open to the public. If you're a parent reading this, show your kids you still got it! If you're a kid reading this, show your parent who the real boss is! This is the place to get your competitive juices flowing.
If you'd like to try your hand at one of the area's newest activities, head over to Lake Norman Miniature Golf. Not only do they offer an 18-hole mini golf course, laser maze, and rock wall climbing, but they also feature axe-throwing! They will provide a tutorial on how to properly throw an axe and you will need closed-toe shoes for this activity.
Do you consider yourself a great problem-solver? Put your skill to the test at Escape109 in Davidson or Out of Time Escape in Huntersville where you can choose from a variety of different themed escape rooms. You'll have 60 minutes to try to successfully escape. If you get stumped during your escape attempt, they will offer clues, but don't use too many if you'd like to place your mark on their all-time leaderboard.
Get out on the water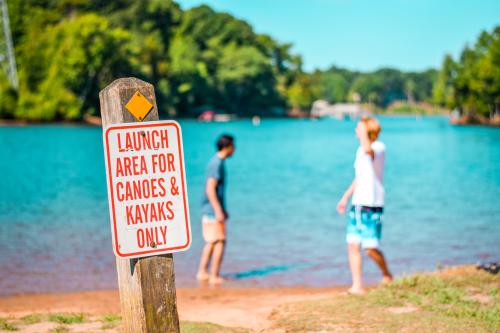 Looking to experience the serenity of the lake firsthand? Aloha Paddle Sports has single kayaks and paddleboards or tandem kayaks to rent. If you're new to paddle boarding, don't worry! They will provide lessons before you take off. They also offer sunset paddle tours on Saturday evenings and paddleboard yoga during the warmer months. Reserve your spot online here!
If you've never had the opportunity to get on a boat, there is an abundance of rental companies on Lake Norman that offer pontoon, jet ski, and ski boat rentals to change that. No boaters license, no problem! Cornelius Pontoon Rentals and Carolina Boat Rentals both offer captains that will drive the boat while you sit back, relax and take in the sun. Tell the captain to anchor down so you can take a dip into the water!
Take a stroll on Main Street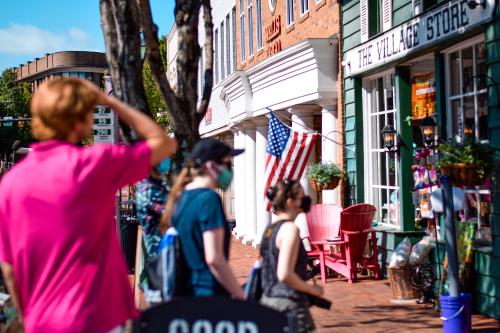 Historic Downtown Davidson is a small town with big charm, college spirit, and locally-owned businesses. Kindred Restaurant, Mestizo, Main Street Books, The Rumor Mill Market, Moxie Mercantile, Village Store and so much more to explore. Davidson is also rich in history with noteworthy, Davidson College. You don't want to go back home without taking a walk down Main Street!
Food and a View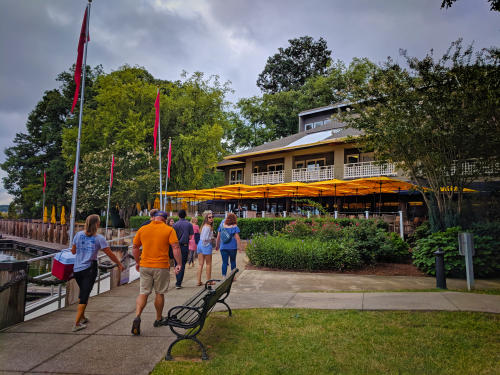 We know all this exploring will have you hungry. Continue to enjoy the lake scenery at a waterfront restaurant. Choose between North Harbor Club, Port City Club, or Hello Sailor. There's nothing quite like sitting lakeside while enjoying a meal prepared by area chefs who take pride in serving fresh cuisine. With nautical influences and ambiance for any occasion, dining on Lake Norman is an unforgettable experience.
End on a good note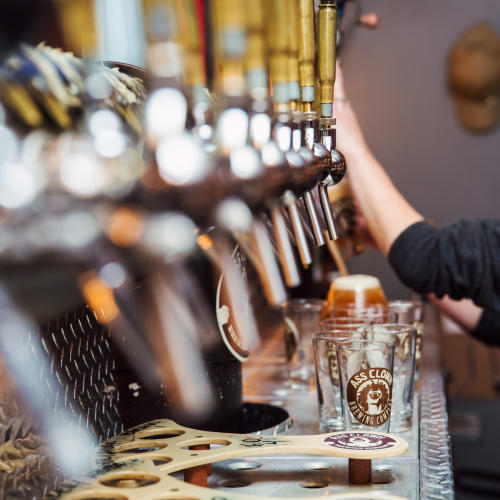 Not quite ready to end the night? Head over to a brewery for a pint of local flavor. Cornelius features D9 Brewing, Eleven Lakes Brewing, Ass Clown Brewing, and Lost Worlds Brewing. If you're passing through Huntersville on your way back home, swing by Primal Brewery.  Or if you brought your dog along for the staycation, you'll both enjoy Lucky Dog Bark & Brew.
For the wine drinkers, scoot on over to Davidson Wine Company to please your taste buds and late-night munchies. The town's first urban winery has a cozy feel and modern look with boardgames and an outdoor patio for the kids to enjoy too. The winery sells more than 35 varieties of wine along with a few local brews, and customers can order bistro-style appetizers like crab and lobster dip, salads, paninis, and charcuterie. And best of all, they partner with local bakeries for a rotation of desserts!
Many of us spend our days going to work and running errands at the same old places. Play tourist in nearby destinations and try new places for a little change of pace. So, get your playlist ready and hop in the car for a short drive to Lake Norman!
And don't forget to share your experience and tag us in your Lake Norman staycation adventures on Facebook or Instagram @VisitLakeNorman!