Want to add a new dish to your recipe book? We've got a fun recipe courtesy of eeZ Fusion & Sushi that you should give a try! Whether you're starting to learn how to cook on your own or consider yourself the chef of your household, we think this dish will sure please your guests.
eeZ Mu Shu Chicken Lettuce Wraps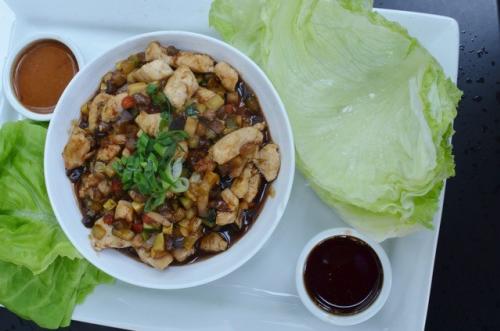 Photo credit: Pop Rock Photography
Ingredients
1 Pound of Chicken (diced or sliced into small raw pieces)
2 ounces of oil
1/3 cup of Hoisin Sauce
2 Tablespoons of Oyster Sauce
1 Tablespoons of Green Soy Sauce
1 Tablespoon of Minced Garlic
1 Head of Iceberg or Bibb lettuce 
Directions
Prepare the vegetables by finely dicing and mixing. Any vegetables of preference can be used to yield 2 cups. Put aside. 
(eeZ uses zucchini, squash and asian eggplant.- about 2 zucchini, 1 squash and 1 Asian eggplant)
Place 1 Tablespoon of oil into wok or saute pan and heat until shimmering.
Place chicken into hot oil and cook until all pieces are cooked through.
Add second Tablespoon of oil into wok or saute pan.
Add the two cups of fine diced vegetables and minced garlic in with the chicken and stir to cook evenly.
Once vegetables start to soften add the hoisin, oyster and soy sauce and mix until evenly coated.
Place in a bowl and garnish with chives. 
Serve with iceberg lettuce wedges or separated bibb leaves.
Recipe credits: eeZ Fusion and Sushi
Let us know how yours turned out and tag us on social media @VisitLakeNorman! If you missed our last recipe from Mestizo's in Davidson, click here to view it.