For some people, Labor Day is an indication of summer's end and signals the beginning of fall. For others, it's a weekend full of picnics and cook-outs or the start of football season. Labor Day Weekend is a time-honored tradition that celebrates the workforce that has helped grow our Lake Norman area to be the great place that it is and this year, our workers deserve this more than ever. Read more to find out how you can enjoy your long weekend here at Lake Norman!
---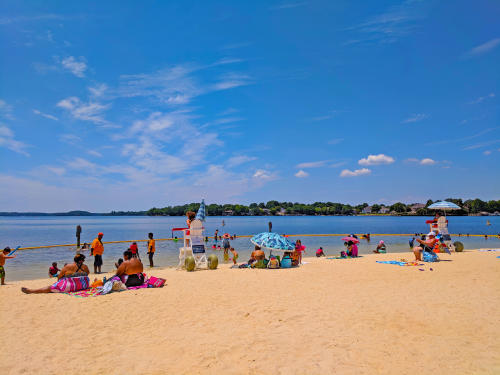 Swimming Beach at Ramsey Creek Park
End the summer with a splash! Ramsey Creek Beach will be open for one last weekend this Labor Day, including Monday! There will be a free shuttle from the CATS Park & Ride Lot available at 19752-19758 One Norman Drive. With summer coming to a close and autumn quickly approaching, this is a great last chance to lounge on the sandy beach and go for a swim. Not only is there a 40 acre swimming area, but Ramsey Creek also offers boat launching and docks, a playground, picnic shelters, nature trails, and a fishing pier that's ADA-compliant. Shelters are available for rental and provide an instant picnic shelter along the shores of Lake Norman. No matter what you plan for your Labor Day weekend, Ramsey Creek Park would be a great option for the entire family.
 
The Quest Center at the Latta Nature Preserve is a brand new nature experience in Huntersville and will be open daily starting Labor Day weekend! This 13,000 sq ft. facility is the starting point for your outdoor adventure at the Latta Nature Preserve, and helps you make the most of your day at the park. The Quest Center is in partnership with the Carolina Raptor Center, and is conveniently located just minutes away from each other.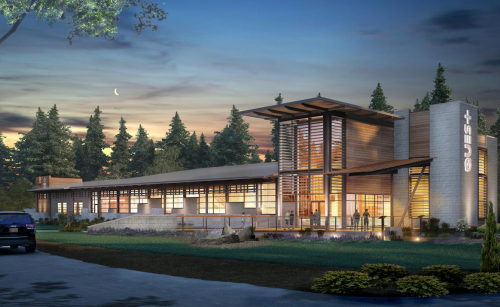 Quest Center at Latta Nature Preserve
There are over 16 miles of trails available for hiking where you can enjoy the beautiful scenery within the forest. With two launch spots, those who enjoy paddling can get direct access into Gar Creek and Mountain Island Lake. There are also a variety of picnic areas that are first-come-first-serve while the larger shelters are available by reservation with restrooms available nearby along with a sand volleyball court.
 
Fishing is a great way to spend time with friends and family while relaxing in the beautiful natural scenery of Lake Norman. There is an abundance of great fishing spots here at the lake along with a number of experienced guides who can help anyone catch a fish, regardless of experience.
For the solo fishermen, you can head out to Patriot Pier at Ramsey Creek Park or the shorelines of Jetton Park for a chance at a largemouth bass. No rod? No problem! You can borrow a rod from the Quest Center at Latta Nature Preserve and cast out your line for some blue catfish or crappies.  All anglers aged 16 and older will need a North Carolina fishing license. Guided tours are a great way to experience deep-water fishing, and this will be your chance to catch record-setting bass or perch. Check out our list of the best fishing guides in Lake Norman.
Enjoying the great outdoors is easy at Lake Norman with a number of beautiful, local parks. Jetton Park is known for its waterfront views and trails, and you can even have a lakeside cookout with their public grill pits. Bradford Park is home to an award-winning disc golf course, and is open to the public for 9-hole and 18-hole games. For those with little ones, Smithville Park has a playground and a splash pad where kids can expend their energy while also staying cool.
---
Would it really be Labor Day Weekend without a heaping plate of BBQ? If you don't have the chance to have a cookout this weekend, The Crazy Pig has you covered! The Crazy Pig specializes in traditional smoked pulled pork butt and slow smoked beef brisket, and with their delicious mac & cheese & homemade coleslaw, you'll certainly find the authentic flavors you'd expect in a backyard barbecue. Don't miss out on trying one of their locally crafted beers!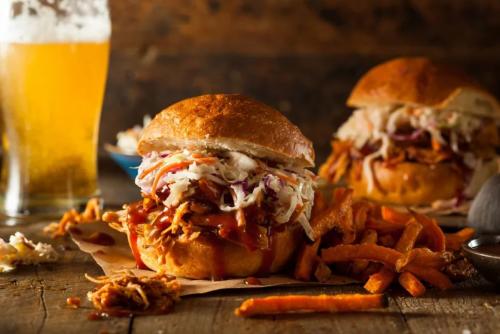 Pulled Pork Sandwich 
After a long day at the lake, you'll be ready to sit back and relax with a cold one. D9 Brewing is a premier brewery in Lake Norman, and offers a wide selection of craft beers including twelve options brewed in house! Enjoy the refreshing flavors of stone fruit in their "Into the White" beer, or sink into the sweet splash of melon flavor in the "Brewer's Day Off" beer. There will also be live music hosted on Friday and Saturday, including a performance from Kyle Murphy.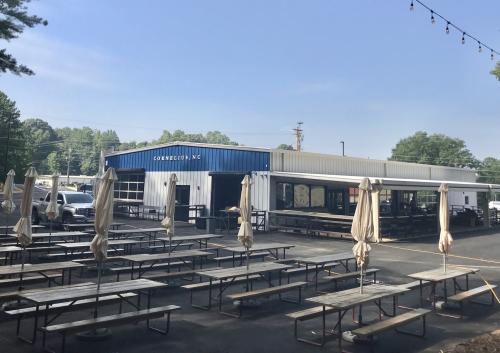 Spacious outdoor patio at Boatyard LKN
Boatyard LKN is the place to gather with family and friends, and is a great dining option for your Labor Day Weekend. Their menu features American dishes with classic options like Beef Brisket and a ¼ lb hot dog, but also has an expansive drink menu featuring beer, wine and spirits. However, their enormous patio is the main attraction with an abundance of outdoor seating and event space. For Labor Day Weekend, Boatyard will also be hosting live music! You can catch the Red Dirt Revival on Friday at 8pm for some good ol' country, or go see Blue Monday for the throwback jams on Saturday at 8:30pm. For more information, go to Boatyard LKN's website here.
Who says that dogs have to miss out on the fun? Lucky Dog Bark & Brew is a sports bar with an off leash indoor & outdoor dog park that also offers daycare, boarding & baths. You can bring the dog in for a beverage or two, or drop off the pup while you spend your day on the lake. Lucky Dog also hosts food trucks on weekends and will be the place to be for all dog-lovers this Labor Day!
Waterfront dining is always a treat, and a long weekend is the perfect time to treat yourself. Hello, Sailor is renowned for their beautiful waterfront patio and is one of three waterfront dining options in the area. You can even come dine straight off of the boat! Their menu will often change based on availability of fresh ingredients, but some staples to try include peel n' eat shrimp, citrus crab louie salad, crispy soft shell crab, and jerk spiced NC catfish.
---
Whats Happening This Weekend?
There are a host of events being held over Labor Day Weekend in the Lake Norman area. Whether you're looking for a concert, family fun, or something in between, there will be plenty of events suited just for you.
Friday, September 3rd:

Decades: 80s and 90s Music
Sept 3rd @ 4-10pm
Primal Brewery | More Details
Feelin' nostalgic? You're in luck! Primal Brewery and DJ Festivus are hosting a jam session dedicated to all of hits from the 1980s and the 1990s. Get ready to do some "vouging"!
Esther and the Exiles 
Sept 3rd @ 5-8pm
Piper's at Galway Hooker | More Details
Jam out with Esther and the Exiles at Piper's and enjoy their live covers on all of your favorite songs! Their music is a blend of jazz and gospel with hints of classical piano and country-infused blues guitar. Don't miss out on seeing one of our favorite local bands!
Live Music from Bradley Cloninger
Sept 3rd @ 9pm - 12am
Bin 110 | More Details
Bradley is back at the Bin, playing a wide variety of cover tunes for everyone! You may have caught Bradley playing in the VIP section during Summer Concerts at PNC. One of the most versatile soloists in our area, and great at playing what the crowd wants to hear!
Live Performance from DJ Klutch
Sept 3rd @ 10pm - 2am
The Kilted Buffalo | More Details
DJ Klutch aka Jeremy is back and spinning! Head out to the Kilted Buffalo to show your support for him back in Birkdale. He is also an amazing karaoke host so go pick a song and sing your heart out.
Saturday, September 4th:

Davidson Farmer's Market
Sept 4th @ 9am - 12pm
120 South Main St, Davidson | More Details
The Davidson Farmer's Market is a producer-only, year-round Market featuring more than 35 farmers and local producers from within a 100 mile radius. The Market is a lively gathering place for meeting friends and for learning about food, agriculture and nutrition.
Battle of Charlotte
Sept 4-5th @ 10am - 4pm
4431 Neck Rd, Huntersville | More Details
Head out to Historic Rural Hill on Labor Day weekend for The Battle of Charlotte! This weekend marks the 241st Anniversary of this pivotal time in not only the history of The American Revolution but also Charlotte Mecklenburg County itself. Through multiple interpretive demonstrations such as kids drill, weapons demonstrations, cooking, music, camp life, and more, you can truly become immersed into what life was like in the 1700s. The Amazing Maize Maze will also be opening early on Labor Day Weekend, exclusively for those who buy tickets to the Battle of Charlotte. Tickets are on sale now, starting at $8 for children and $13 for adults.
Festival of Food Trucks
Sept 4th @ 5 - 8:30pm
Downtown Mooresville | More Details
The Downtown Mooresville Food Truck Festival takes place on North Main Street from 5-8:30pm monthly, April through October. Portions of Main Street will be closed for each event, so bring a chair, hang out in the street and stay a while so you can delight in these awesome Food Trucks from around the area, taste some delicious gourmet fare, listen to some music, stroll the streets & shop.
Concerts at the Circles: Bon Jovi Tribute
Sept 4th @ 6-8pm
605 Jetton St | More Details
Unleash your inner rock n' roll! Shot Thru the Heart, a Bon Jovi tribute band, is coming to Davidson. Re-live all of the classics you love like "Runaway" and "You Give Love a Bad Name" right here in Davidson!
​Sunday, September 5th:
 
Cain Center of the Arts Fundraiser Benefit
Sept 5th @ 3pm - 10pm
BoatYard Lake Norman | More Details
BoatYard Lake Norman is hosting a fundraiser benefitting the upcoming Cain Center of the Arts! Two bands will be performing, the Brooklyn Beats at 5pm and Storming Norman at 7pm. Fundraiser goes from 3pm - 10pm. Doors open at Noon.
Everybody Can Dance!
Sept 5th @ 4:30pm - 6:30pm
Summit Coffee Birkdale | More Details
Join Boom Splat Music on the green of Summit Coffee as we prove that "Everybody Can Dance!". Kids and adults are welcome to sing and dance to youth rock bands like the Chain Breakers and The Bee Stingers. Stay until the end for an open mic where kids can show off their talents!
Concerts on the Green: Gospelfest
Sept 5th @ 6-8pm
Davidson Village Green | More Details
Enjoy some great gospel music this Labor Day Weekend. Conveniently located in Downtown Davidson and next to all of Davidson's great shops and restaurants, you'll be guaranteed to have a fun-filled evening!
Monday, September 6th:

Monday Trivia
Sept 6th @ 7-9pm
Lost Worlds Brewing | More Details
Come hang out at Lost Worlds' beautiful venue for themed rounds of trivia this Monday and win sweet prizes! Indoor and outdoor seating is available for those who wish to play.
Labor Day 2021 will be an action-packed weekend full of events and activities suited for all ages. Let us know how you plan to spend your Labor Day Weekend by tagging us in your pictures @VisitLakeNorman. Have a great weekend and stay safe!