We caught up with Lake Norman's first dog travel agent, Vega, to see what he's been up to since we last talked to him in February. From celebrating his birthday to the impact COVID-19 this past March  has had on his family, here's what he had to tell us!
We heard you recently celebrated your birthday, tell us a little bit about how you spent the special day.
My birthday was the best day ever! My mom and dad spent the entire day with me taking me all around town! We first went to Starbucks to fuel up for the day. I got a pup-a-chino while my parents got something called "coffee". We then went to my favorite spot, Jetton Park, to go for a swim! There were so many sticks everywhere to play with. My mom and dad played fetch with me and let me get as dirty as I wanted to! I got to run up and down the beach and even rolled in the sand a few times. After that we headed over to Three Dogs Bakery for my birthday cake. The ladies let me have a bunch of samples and made me a dog bone-shaped birthday cake. We made one more pit stop to Cornelius Drafthouse. I still don't understand why my parents said I can't drink even though I'm 9 years old now. My parents then took me home to wash me up and I enjoyed my cake on the balcony, in the beautiful weather, which was really delicious!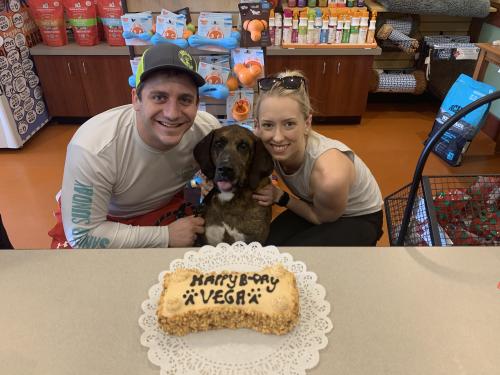 My birthday cake!
Have you gotten a chance to go out on the lake? If so, how was it?
Oh yes, we have been out to the lake! My parents took their boat out and I got to go with them for a ride. My ears got to flap in the wind as they cruised around Lake Norman. We stopped at island in the middle of the lake and got to run around in the sand with other dogs that I met. 
What are some of your favorite games and activities?
Recently, I ran over to Robbins Park. They have a dock that wraps around a pond and I even got to see the geese and turtles sunbath out there! I might have gotten too excited and chased after some geese... but they came back after me in full force.
How would you describe the perfect day at Lake Norman?
The perfect day at Lake Norman would be a sunny, warm day! I would love to be either on a boat or running along the beach. If I am able to go for a boat ride, then that's my favorite thing to do! Everyone is always friendly and waving at me as we cruise along. I get to swim in the lake while my parents throw me the tennis ball. Sometimes there are other dogs out there that will come join me and then my parents also have some hoomans to talk with too! I get to sun bath in the sun all day and have lunch on the boat. My hoomans always have a good time and by the end of a lake day, I am so tired and worn out.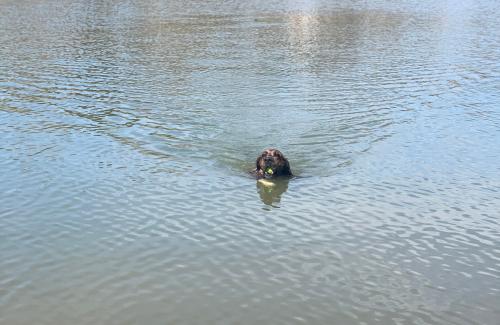 Bringing back the tennis ball to my parents
Do your parents take a lot of photos of you and do you like it?
My hoomans take too many photos of me. They are like my very own paw-parrazzi. Since I am an only child they try to capture every moment, especially since we moved. I don't usually like my picture taken and usually turn my head away. But when I decide I want to have my picture taken, then I must say I am pretty photogenic. 
Have you visited any new places since the last time we talked to you?
Recently I visited Total Wine. It's a place for my parents to get "adult drinks" as they call it. Total wine is dog-friendly and they let me come shopping in there with them! My hoomans love the wide selection of beer and wine that they have and I get a treat at the register from the nice employee. I also went to Big Bite'z for a quick bite with my hoomans. They have a nice outside seating area that I sat at while my parents had lunch. I got slipped a piece of a chicken tender...and mmm mmm it was good! Lastly I went to Cornelius Animal Hospital. My leg was hurting me pretty badly and I started to limp. Even though I don't like going to the vet, my doctor was very nice and made sure my parents knew how to take care of me correctly! The office ladies gave me extra attention and scratches as I left! 
How has COVID-19 affected you or your parents?
My hoomans and I don't get to go to all the fun places anymore since COVID-19 started. They keep telling me everything is shut down and we can't really do too much right now. I'm not sure if I can get sick or not but I don't want to find out! My mom is a nurse and she is gone a lot at night, but I make sure the moment she comes home I give her a big slobbery kiss and cuddle with her when she goes to sleep!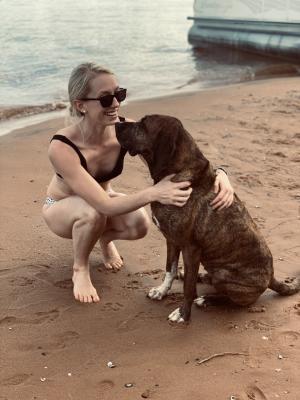 My mom and I enjoying the lake!
Are you concerned with COVID-19?
I am concerned about this COVID-19. My parents keep telling me we can't get to the dog park and need to stand 6 feet away from hoomans! That means I can't go up to people and say hi...so in the mean time I just bark from far away in order to say hello. 
What's something you would like to tell other pets and pet owners to help them deal with these unprecedented times?
My advice to other dogs is to keep wagging their tails and staying active! It's hard to be cooped up in the house all the time! To other pet parents try taking your pet to any parks that might be open such as Robbins Park, Jetton Park, or the dog park at Ramsey Creek Park! Staying active with your pet will pass sometime up but be good for the hoomans to get out of the house also. You might see me running around at one of these parks, come say hi but from 6 feet away though! 
In case you missed it, check out our first interview with Vega and read up on  Visit NC's official dog travel agent Mo for across the state doggo love! Don't forget to tag us in any pet-friendly excursions on social media @VisitLakeNorman! And like Vega said, stay 6 feet apart!