Summer sunsets, in our opinion, are the best sunsets. As the sun meets the horizon, the sky becomes painted with hues of red, orange, pink, and purple. Combine that with the charming surroundings of Lake Norman and it creates a magical end to the day. From our beautiful parks to our amazing restaurants, here is a list of some of the best places to catch the sunset.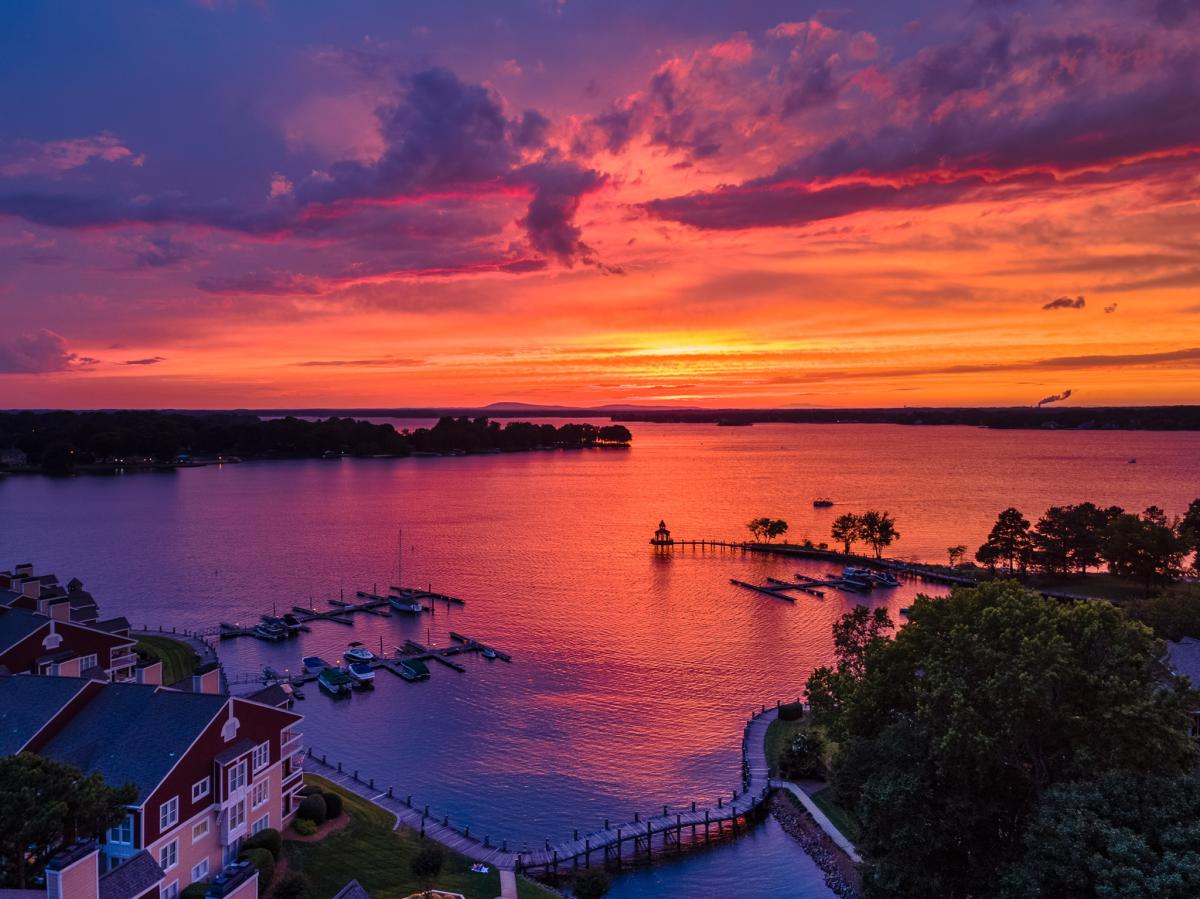 Photo courtesy of Taylor Christian
On the Lake:
Overall, the best way to see the vivid sunset is on Lake Norman itself. The Lakeside of Charlotte has several marinas where people can dock their boats or rent one for the day. It is a perfect way to end your eventful day on the lake. For a list of boat rentals, click here. 
Queen's Landing Dinner Cruise:
One of the most unique places to see the sunset on the lake is by booking a Queens Landing dinner cruise. Enjoy dinner and take in the amazing scenery of Lake Norman as colors of the sunset bounce off the water. They offer cruises on their two unique boats, the Catawba Queen (their replica of a Mississippi River Boat) and The Lady of the Lake luxury yacht. Both boats offer a truly special experience that highlights the beauty of Lake Norman. Please note that bookings fill up fast this time of year, so book your ticket early. Click here to see a full schedule for both dinner cruises. Happy Cruising!
Sunset Paddle Tour on Lake Norman: 
If you want to explore the waters of Lake Norman as the sun sets, Aloha Paddle Sports offers an amazing sunset paddle tour. This 90 minute guided tour is a favorite of local photographers because of the breathtaking, picturesque surroundings. If you don't want to bring your camera on the water, not to worry, pictures of you and your group are included in the price of the tour! So relax and paddle off into the sunset.
At a Park: 
Watching the sunset at a waterfront park is a local favorite. All of the parks open at dusk and close after sunset (times varying thought the year) Here are a couple of our favorite spots: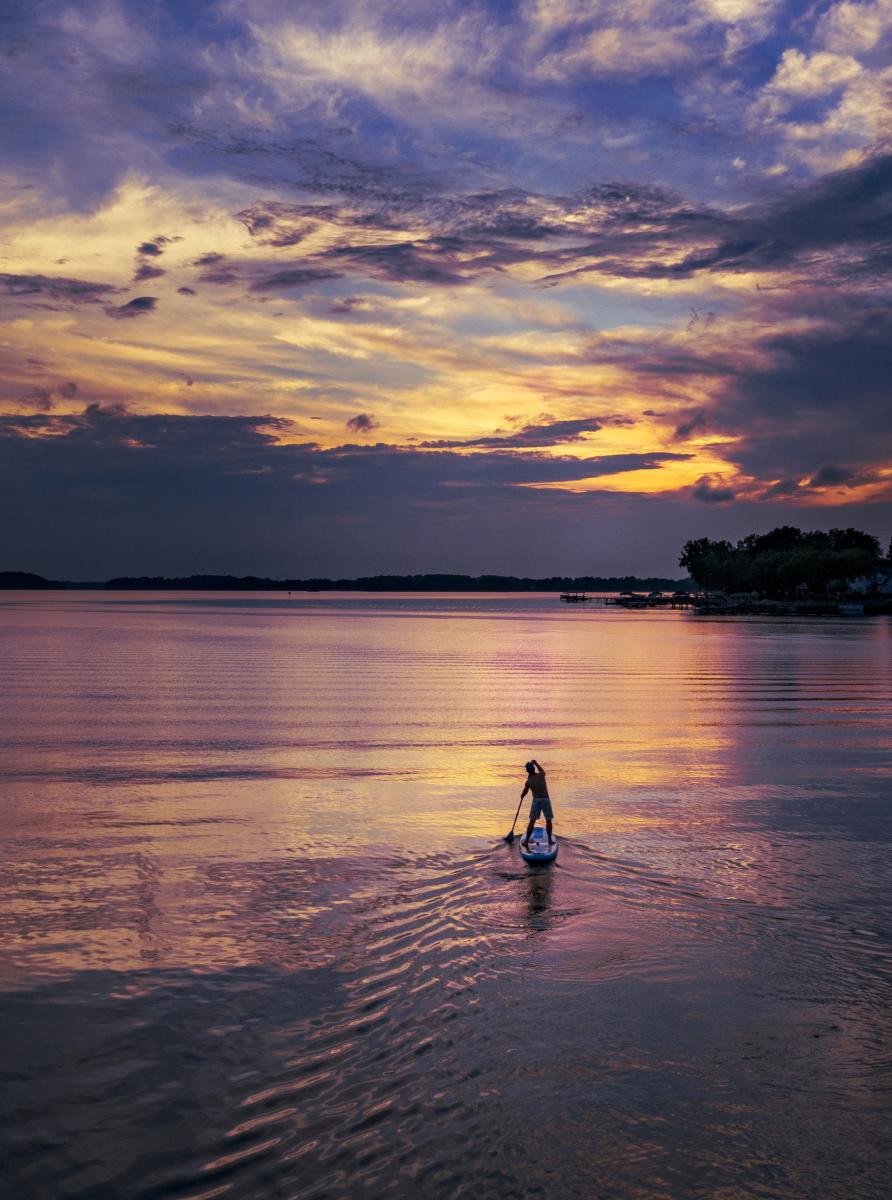 Photo courtesy of Jon Beyerle
This 43.7-acre waterfront park includes a beautiful swimming beach, boat launching areas, docks, fishing piers, and scenic nature trails. A favorite spot to have some fun in the sun and take in the gorgeous lake and its surroundings. The parks 3 picnic shelters make for a soothing place to have a picnic with friends and family before watching the sunset.
If you're looking for a breathtaking sunset with an "island feel" in our very own Lake Norman area, look no further than Jetton Park. Located in Cornelius, this park is known for its stunning beach, bike and walking trails, picnic areas, and garden. It is a popular wedding destination that sets a romantic scene for a truly enchanting sunset. Jetton Park is a wonderful place to spend the end of the day with family, friends, or that special someone. 
The Latta Nature Preserve is a 1,343-acre park that runs along Mountain Island Lake. The preserve has many hiking trails that are perfect for walking along the lake and viewing a sunset. We would recommend Split Rock Trail (1.15 miles) or Buzzard Rock Trail (0.3 miles) for the best views of the lake. If you don't want to hike, the park also has a pier and picnic areas that patrons can go to watch the sunset.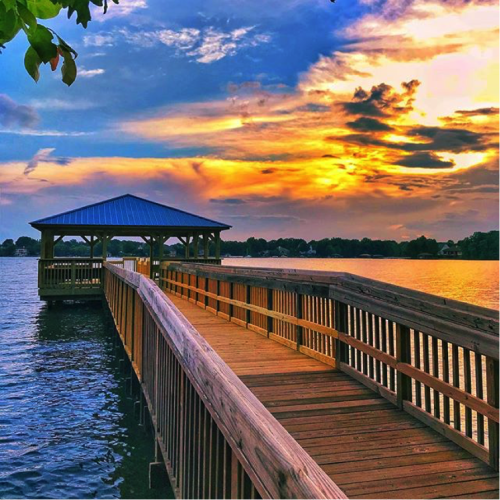 Ramsey Creek Park
Photo courtesy of Kelly Carver from @kellycarverphoto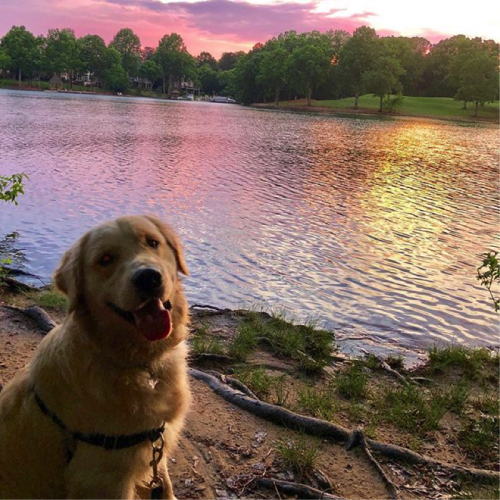 Jetton Park
Photo courtesy of Gary the Golden from @scarygarycharlotte
At a Restaurant:
All of our waterfront restaurants have patios and boat docking services that allow patrons to enjoy their meal at sunset. 
Located in Cornelius, Port City Club is one of our waterfront restaurants that showcases Lake Norman from every dining room. It's fully enclosed patio is perfect for watching the sunset year-round, but during the summer we love their gorgeous outdoor patio. Some of their most popular items on the menu are the Calamari Fritte, severed with roasted garlic aioli and house marinara, and the Seared Atlantic Salmon, served with the choice of one side. It is the ideal spot to sip on a cocktail and have a delicious dinner while enjoying the sunset.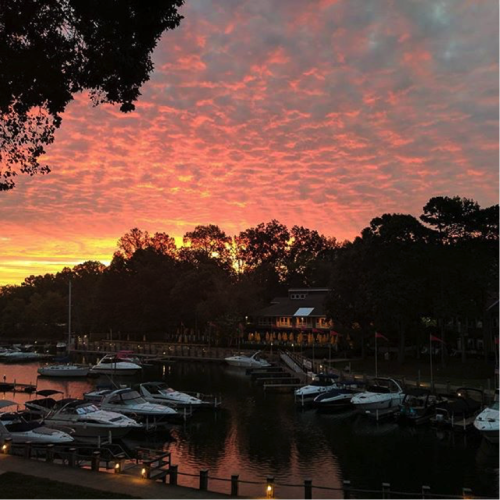 North Harbor Club
Photo courtesy of Greg from @greg_lkn
Hello, Sailor, Cornelius's newest lakeside restaurant, boasts beautiful views of Lake Norman. Sip one of their signature cocktails at their tiki bar or enjoy fantastic food on their multi-level patio. Some of the most popular cocktails include the Subterranean Spritz which features smoked pineapple and lime flavors and the Cherry Lemon Sundrop Negroni Slushie. To accompany your cocktail they have some scrumptious food including Hushpuppies, which have a light and fluffy texture and are served with yuzu kosho-honey butter, and the Citrus Crab Louie Salad, topped with avocado, egg, and saltines. Both patios offer amazing views of the sunset and seem to transport you to a paradise by the lake. Holiday Marina offers boat dock and gas services for those who wish to grab a bite to eat at Hello, Sailor.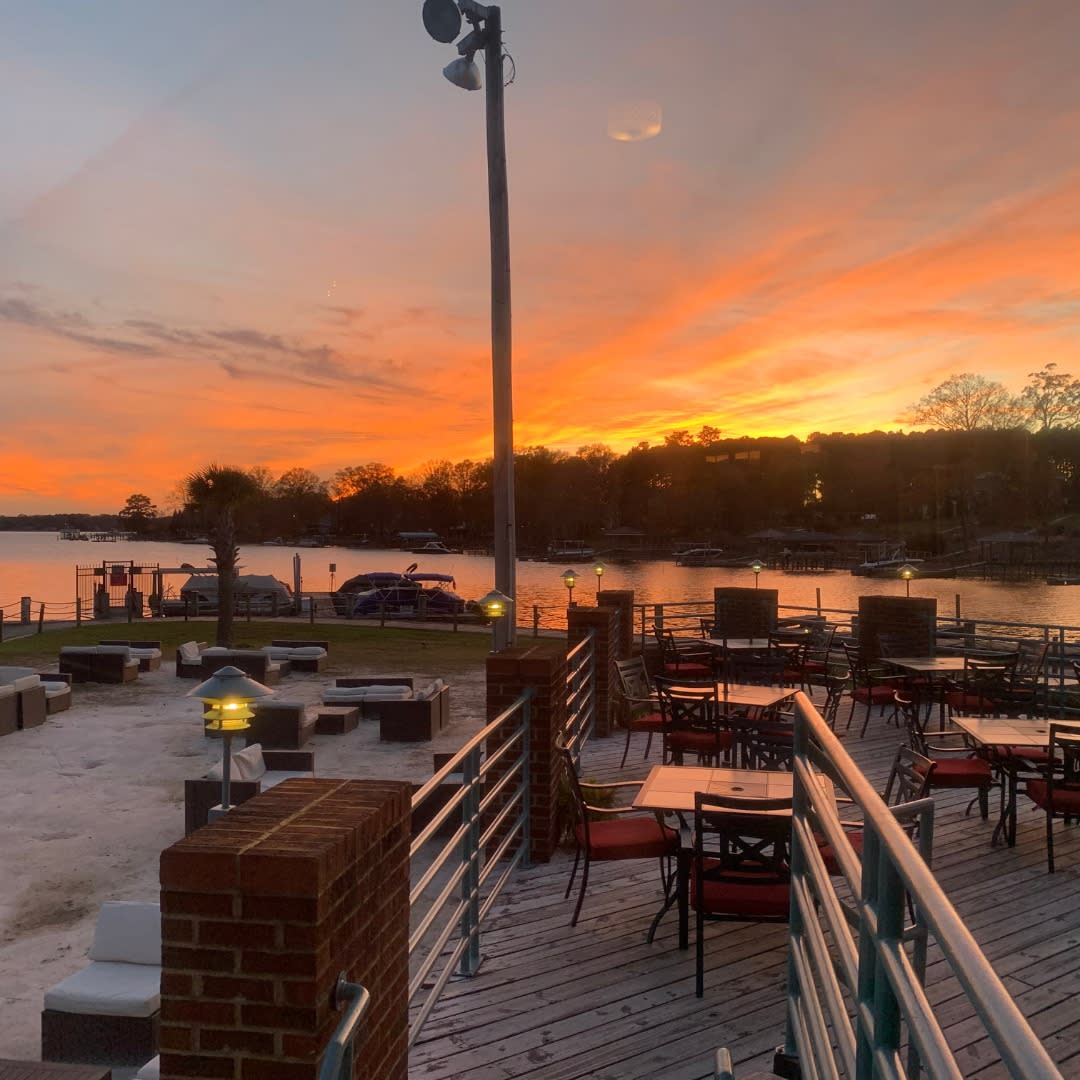 Port City Club
 
Davidson's lakeside restaurant, North Harbor Club, has a unique and beautiful decor that perfectly complements its surroundings. Their patio allows diners to experience breathtaking views of the sunset. Some of their most about starters include Asparagus Fries with Green Tomato, served with a soy vinaigrette and honey mustard aioli, and the Lobster Mac-n-Cheese, made with mascarpone cheese and truffle. Wash it all down with one of their Docktails, North Harbor Club's spin on signature cocktails. They offer a "dock-and-dine" service for those who want to arrive by boat and enjoy a delightful meal while watching the sunset over Lake Norman.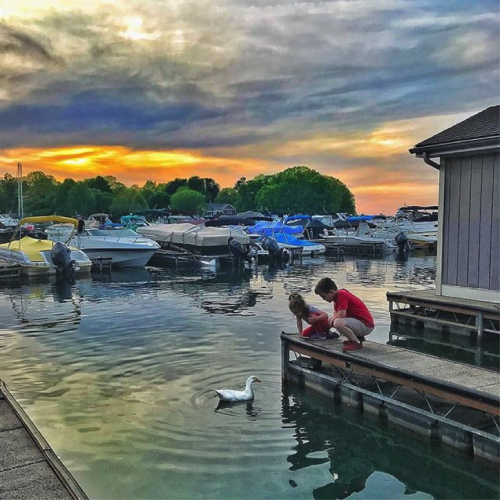 Hello Sailor Marina
Photo courtesy of Abbey Wade from @everydaychampagne​ 
Nothing beats watching a Lake Norman sunset. These were some of our favorites, but if we missed any spots that you love, comment below and tell us where you like to go using the hashtags #LakeNormanSunset & #capturelkn!