With Mother's Day around the corner, planning a special day for your mom this year will be much easier. There are different ways you can show how much your mom means to you at Lake Norman! We've compiled a list of ideas to help make Mother's Day a really special one this year from sending her a care package to treating her to a nice dinner from her favorite restaurant.
Early Morning Treatment
Give mom the rest and relaxation she deserves with an early morning yoga session. There's nothing better than a refreshing yoga class to start the day and Lake Norman has plenty to choose from including iShine Yoga! They offer three classes on Sundays, with one in the morning at 10:15 am. Mom will probably be hungry after the yoga session so head out for brunch at one of our many great restaurants. You can grab a great brunch at Fresh Chef Kitchen or the Fresh Egg in Cornelius, or head up to Davidson to enjoy a nice ambience at the Famous Toastery. It will be busy this weekend, so reservations are highly recommended!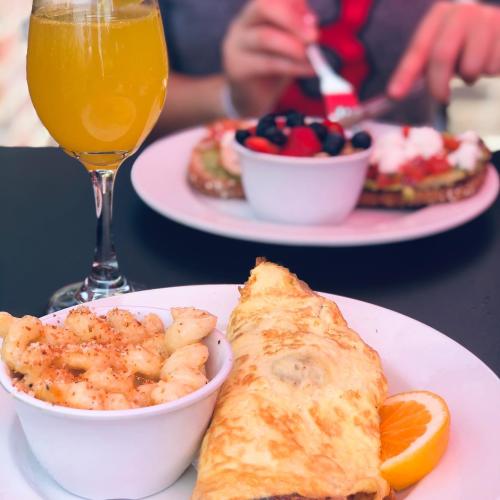 Brunch date at Famous Toastery
Go Shopping

Shopping with mom on Mother's Day is a fail-proof way to get her what she really wants with the added benefit of being able to spend time together, which can make the gift even more memorable. Birkdale Village has tons of stores to do just that. With a mix of small local stores and big-name brands, shopping here can easily become a full-day experience. 

Shopping at Birkdale Village
Some of the large brand names you'll find here include American Eagle, Banana Republic, Bath & Body Works, and Dick's Sporting Goods. Some of the smaller, local businesses include Julie's Boutique and Nina's Boutique that carries some unique items and accessories that mom will enjoy. Be sure to check out Apricot Lane and Girl Supply Co, two stores in Birkdale Village with a women-focused approach. Another great place for shopping is South Main Street in Downtown Davidson, which features locally owned boutiques, gift shops, and a charming local book shop. Need to order a quick gift online? Create your own Mother's Day LKN Care Package from our online store that you can customize and add your own message which we'll ship straight to her home!
Get Outdoors
What better way to take in the day with your mom than by spending it in the great outdoors? Lake Norman has a number of trails and greenways you can embark on! Jetton Park has a 1.5 mile loop that offers beautiful views of the lake and a beach area to soak in the sun. Another great waterfront park to check out is Ramsey Creek Park, as their Patriot Pier offers a peaceful atmosphere to really spend quality time with mom. Fisher Farm Park offers 4 miles of biking trails that suit any level of bikers from beginners to advanced! If mom wants to go out on the water, there are several places that offer boat and jet ski rentals in the area as well!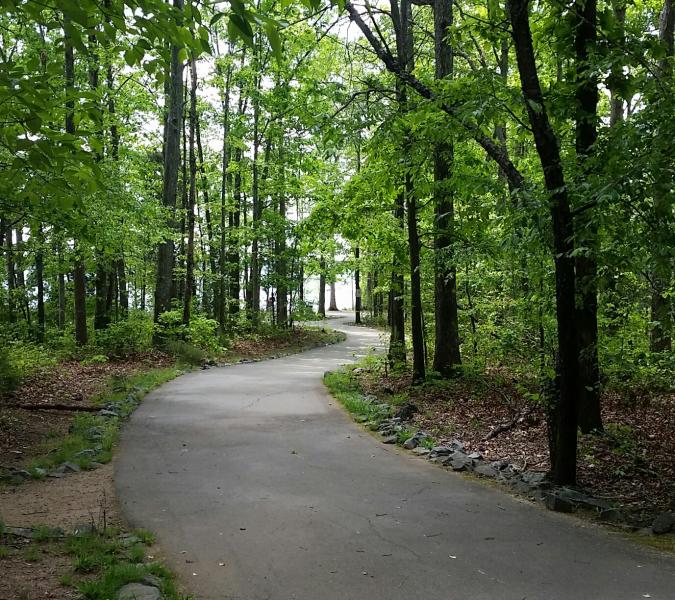 Looping trail at Jetton Park 
What's for Dinner?
You simply cannot go wrong by surprising her with a fine dining experience at any of the hot spots around town. Waterfront dining is a favorite amongst visitors and locals alike, and you can pick one of our three excellent lakefront restaurants to take mom out. Hello, Sailor is hosting a Mother's Day Brunch Buffet on Sunday starting at 10 am and reservations can be made on their website. Dressler's and Red Rocks Cafe are two popular spots in Huntersville for special occasions, and Kindred in Davidson is a classic option to celebrate. The Waterman Fish Bar is a great seafood & cocktail spot in Cornelius and Peninsula Prime is a great option for a more upscale atmosphere. Remember, reservations are highly encouraged!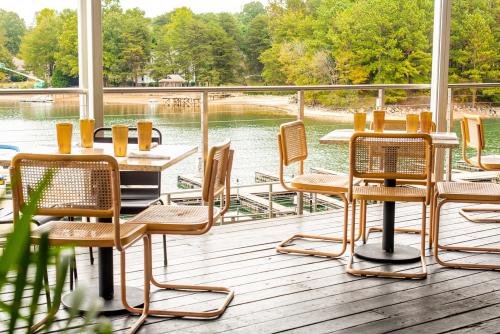 Patio views at Hello, Sailor
Post-Dinner Activities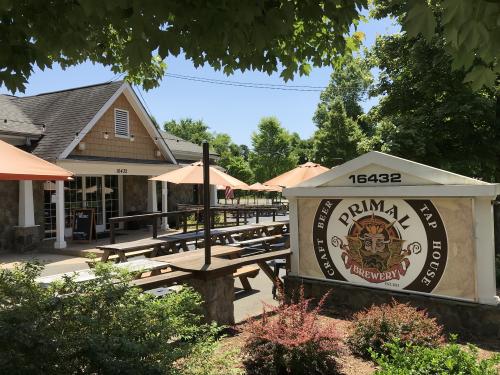 Outdoor Patio at Primal Brewery
Now that you and mom are full, the night is still young. There are tons of activities to do around the Lake Norman area that will be fun for mom or the whole family. For the mom that loves wine, we recommend visiting Davidson Wine Company in Davidson to shop their variety of locally made wine in the area. They also offer wine testing to figure out which taste is just right. Primal Brewery is also hosting a Mother's Day Celebration from 1-6pm on Sunday, featuring live music, food trucks and free brownies for all moms! For the moms with a green thumb, PlantHouse is hosting a special DIY terrarium workshop for Mother's Day from May 12-14! For family fun, Frankie's Fun Park is a great place to go with arcades, go-karts, laser tag, and more. 
Gift Ideas
To wrap up Mother's Day, we have compiled a short list of great gift ideas that are both time and cost-effective to end off the day. These gift ideas include: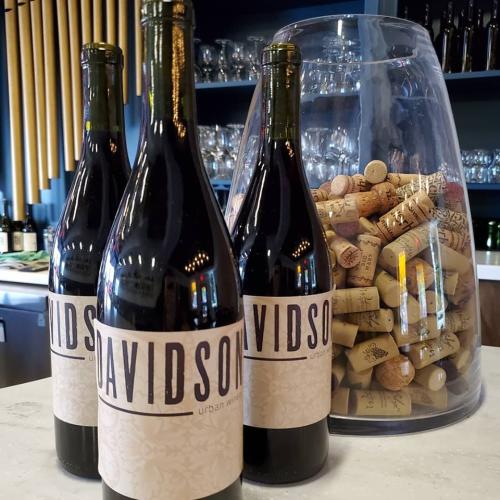 Bottle from the Davidson Wine Company 
This Mother's Day will be better than last year with a number of ways you can show your mom how much she means to you! It's important to remember, it's not about what we do, but it's about the people we spend the day with. Don't forget it's the moms that make the world go 'round! As always, tag us on your Mother's Day photos on social media @VisitLakeNorman.