Can you believe that Lake Norman is now 57 years old? The area around it has grown so much in that time, yet some things are timeless. Whether it's 1964 or 2020, there are activities that can bring us joy - and maybe more than a little bit of nostalgia. Here are some of the most 'tried and true' ways to enjoy Lake Norman!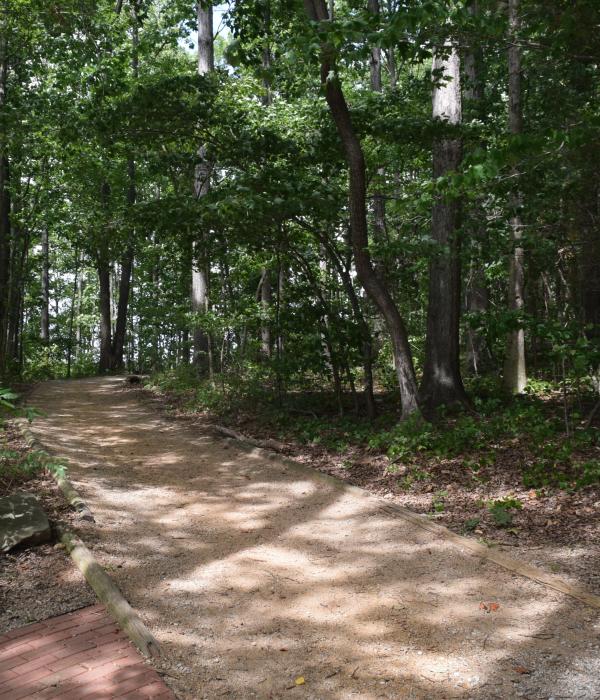 Ramsey Creek Park
Get Lost in a Daydream
"Not all who are wander are lost." ~  J. R. R. Tolkien 
Not physically at least, but feel free to get lost in the moment or in a thought! Latta Nature Preserve and Ramsey Creek Park are ideal places to engage in nature therapy. Stroll through the fresh scenery on your favorite trail. You can also find a cozy spot, like a bench or a patch of grass, to read a Main Street Books purchase, or put your imagination to work by taking photography, writing, sewing, drawing, or brightening the day further with coloring pages! Need a bit of inspiration? Venture through Davidson College Sculpture Garden instead; it will certainly get your mind whirling! If you'd rather 'float along', there's nothing quite as classic as a boat ride, such as those for rent at Cornileus Pontoon Rentals and Carolina Boat Rentals, or paddle board or kayak or canoe launch, like the ones available at Aloha Paddle Sports, out onto the water. Take the chance to gaze out into the timeless horizon, soaking in the sun and views (especially at sunset). Don't forget to point out shapes in any clouds moseying  along with you! 

@old_man_standing vis Instagram
Go On A Classic Adventure
"The purpose of life is to live it, to taste experience to the utmost, to reach out eagerly and without fear for newer and richer experience." ~ Eleanor Roosevelt
Lake Norman created excitement when it was first made, and the excitement hasn't stopped! Take a ride on the wilder side with Lake Norman Jet Ski Rentals or Ride LKN Wake & Surf School, or take a bike, such as those the Spirited Cyclist rents, to hit our miles of bike trails, like those at Fisher Farm Park. If you're not biking, run or hike along any number of other local hiking trails. Just remember, it's a different experience if you traverse the Nature Trail at Carolina Raptor Center, where it will lead you to the aviaries of 30 species of birds of prey, but definitely story-book material! Rather go down the 'road less traveled'? Venture off the beaten path to find hidden treasures through scavenger hunts and geo-caching during the day, and if you're out and about after the sun slips past the horizon, search the skies for constellations!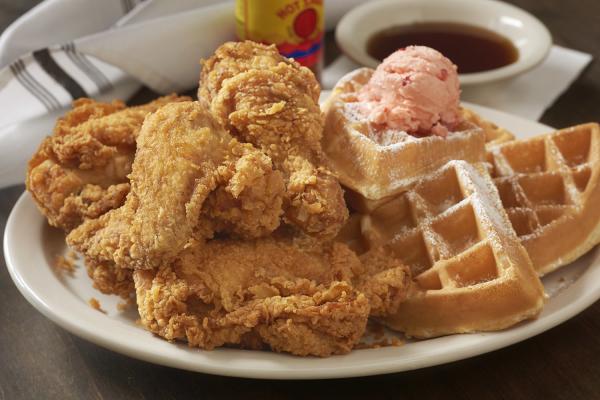 Metro Diner
Fill Yourself With Comfort
"One of the very nicest things about life is the way we must regularly stop whatever it is we are doing and devote our attention to eating. " ~ Luciano Pavarotti
Most people just want to live a good life, and there's no better measure of that then living a life of comfort! What's one of the most comforting memories any of us have? Food! In fact, 'southern comfort food' is quite the legend, but you can enjoy all kinds here at Lake Norman. Appreciate a hearty breakfast (or combo) from Metro Diner, relish some baby back ribs at Lancaster's BBQ, or devour a five cheese pizza at Prosciuttos Pizzeria and Pub. Then top it all of with - you guessed it - dessert! Smallcakes Carolinas, Carolina Cones, and Davidson Chocolate Company offer a variety of sweet treats to indulge in. Don't forget to wash away your worries with a reminiscent hot coco, soothing tea, or a just-what-we-needed coffee from a local sip spot, such as Summit Coffee, too. Better yet, take advantage of 'lakeside curbside' and enjoy your goodies with a view as part of a idyllic lakeside picnic at one of our parks, or reserve a seat on the outdoor patio of one of our three waterfront restaurants, like Hello, Sailor and North Harbor Club!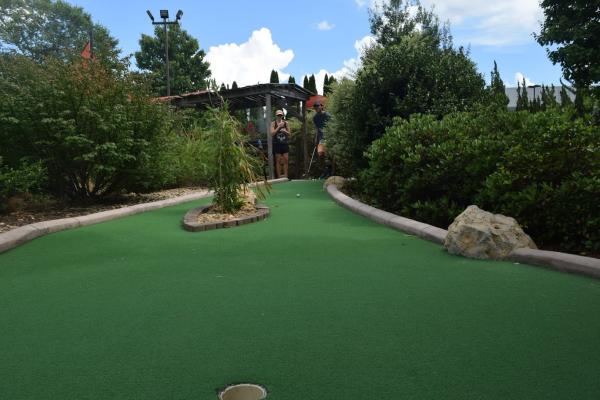 LKN Mini Golf
Find Your Happy Place
"I'm happy to report that my inner child is still ageless." ~ James Broughten
The world may be big and diverse, but some things are universal. Lake Norman is lucky enough to have its fair share of interesting attractions suitable for anyone of any age! You can embrace your inner child with bubble-blowing, board games, and tick-tac-toe in the sand at places like Jetton Park. For the familiar feel of youthful thrills, check out some of the recreation centers and field parks, like Bailey Road Park, that provide spaces suited for baseball, frisbee, catch, soccer, football, and tennis. Rediscover puzzles and your love of strategy games by trying  Out of Time Escape or Escape 109 escape rooms. If you're just looking to lay back, 'throwback' to time honored traditions of golf at LKN Mini Golf (who also offers axe-throwing, if you want to go WAY back, to your ancestral, inner warrior!) and fishing at a spot like the pier at Ramsey Creek Park.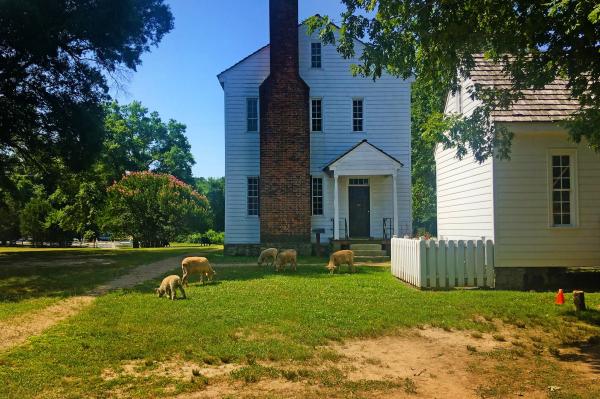 Latta Plantation
Take A  Trip Down Memory Lane
"Memories are like antiques, the older they are the more valuable they became." ~ Marinela Reka
While Lake Norman is certainly unforgettable, the Charlotte area has preserved iconic sites and features for ensure all generations can connect with the past. For example, Rural Hill and Latta Plantation have opportunities to tour the properties (which includes a living farm for the latter) and host regular historical events, like reenactments. The Davidson Historical Walking Tour and Cornelius Historical Walking Tours, demonstrate the transformation of towns and cities into modern and repurposed collections of buildings and dreams! Be sure to stop by the Battle of Cowan's Ford monument, where local namesake and revolutionary war general William Lee Davidson fell in battle, and then Alexandriana, the site where the controversial Mecklenburg Declaration of Independence was said to have signed. There's also the more recently added Veteran's Park memorial, as yet another testament to how the people of Lake Norman have influenced the world! But maybe you want to be a part of the 'flash from the past' and you (or someone you know) have old photos from one of these sites before. Recreate them! Multiple locations in the area have also started offering drive-in movie experiences, too, just like in the "good old days"! Speaking of cars, Joe Gibbs Racing may be shinier and newer, but it affords you the unique chance to see the work and history of a legendary NASCAR team!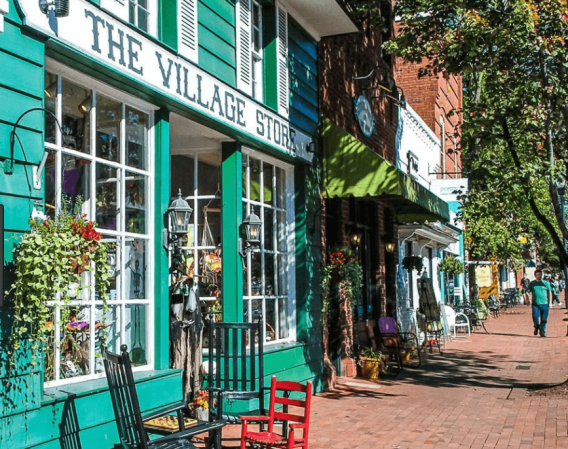 The Village Store
Spend Good Ol' Fashioned Times
"Art enables us to find ourselves and lose ourselves at the same time." ~ Thomas Merton 
Ever spent the day out running errands with your parents? Going into a store with friends? Shopping is one of these most common activities any of us have done, and Lake Norman has you covered with plazas, farmers markets, and main streets. Loving our vibe and spirit? It's no surprise, as this is a place which has often seemed to inspire art, foster culture, and present opportunities for each visitor to share a piece of unique creation! The Village Store feature work from local artisans, and locally sourced food products can be found for sale at McLeod's Organics at the historic Bradford Store. Speaking (again) of history, it's easy to find a piece of it  to be added to your home with antiques from Oak Street Mill! Hoping to make the lake your own in your own style? Say no more! Lakeside Custom Tees and Embroidery allows you to customize your souvenirs, and Meg-Art Pottery Painting Studio has a wide selection of ceramics you can either paint (and fire) on site, or take home with you to enjoy your creative genius later! There's also a collection of apparel, drinkware, photography, books, and keepsakes at the Visit Lake Norman gift shop (bonus: you can now shop online!), and the option to make customizable care packages, which are perfect for any occasion (or just because)!
---
Lake Norman provides an abundance of opportunities to enjoy the 'tried and true' activities! Tag us with your "I have the picture to prove it" photos @VisitLakeNorman! Have another idea for how Lake Norman is nostalgic? Let us know by commenting below!