It's almost Father's Day, and with the continued uncertainty of the COVID-19 pandemic, planning a special day for the father figures and fathers you know will likely be unforgettable. We're here to help! There are a variety of ways to show someone you know you love, admire, and appreciate them while be contentious of the unique time we find ourselves in. Therefore, we have a complied a list of ideas to help ensure a safe and successful Father's Day here at Lake Norman!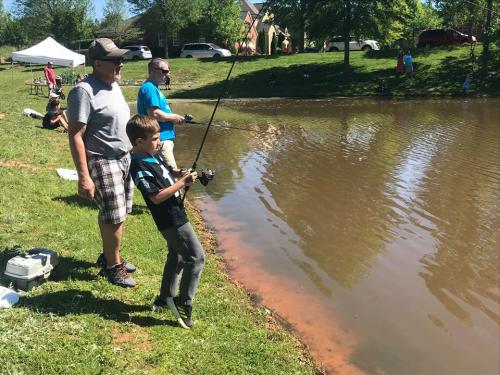 Fishing During Earth Jam
Start the day right
Many of our wonderful restaurants offer hearty breakfasts and delicious coffee to indulge in! No available tables? No problem! Take your treats to go with Lakeside Curbside pick-up services, and make it an early, idyllic picnic at one of our local parks, such as Jetton Park or Roosevelt Wilson Park.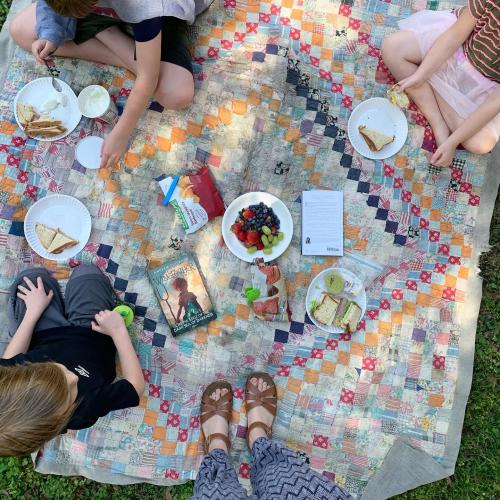 @meredith_mcdaniel via Instagram
Talk about old history
Swing by Alexandriana, site of the signing of the Mecklenburg Declaration of Independence, or honor our local heroes either at Huntersville's Veterans Park or the Cornelius Veterans Monument (or both) for a dose of patriotic reflection! If you're fascinated with historic buildings, venture to Davidson and partake in the self-guided Davidson Historical District Walking Tour, and then make your way to Cornelius, which has two Walking Tours of their own!
Cornelius Veterans Park
Find another reason to say "Good Work!"
If you're looking for a heart-warming experience, Lake Norman has you covered! Our area is home to a number of trails and greenways, like the Latta Nature Preserve and the West Branch Rocky River Greenway (which now connects to Fisher Farm Park!), providing space to hike, bike, and run. Rather be on the water? With NC being in Phase 2, watersport businesses are providing a safe environment for people to enjoy the lake. All rental companies are taking proper precautions by sanitizing and cleaning equipment between uses and socially distancing while waiting on the dock. Rentals are available for paddle-boards, kayaks, and canoes from businesses like Long Island Paddle Sports and Aloha Paddle Sports, to give you an opportunity to embrace the lake. For the truly adventurous, take a jet ski out from Cannon Water Adventures or Carolina Boat Rentals for a breathtaking ride! Can't quite decide between a bike or a boat? Do both with Charlotte Cycleboats!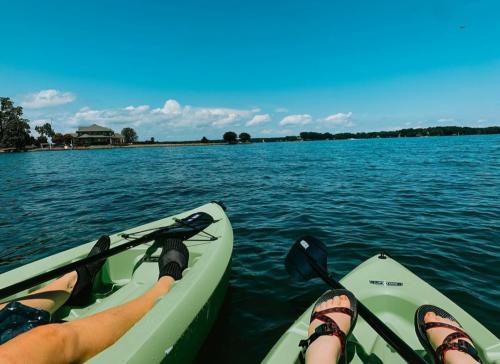 @sammy.ernz via Instagram
You don't need to go all in to go all out
Need a break from the excitement? Grab a bite to eat at another one of our amazing restaurants! Some, like Alton's Kitchen and Cocktails and The Harp and Crown Pub, even have outdoor seating options. North Harbor Club, Port City Club, and Hello, Sailor, additionally provide patio waterfront views, but reservations may be required due to limited seating capacity and high demand.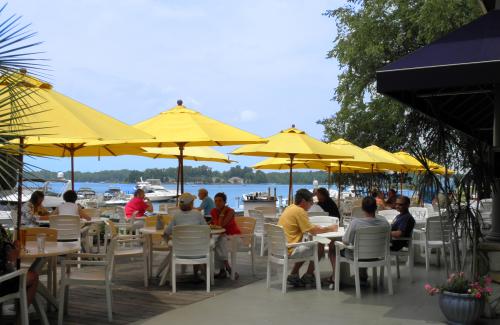 North Harbor Club Patio
Rediscover the thrill in chill
Fishing is one of the most beloved, relaxing past times of Lake Norman visitors and residents alike! Without experience or gear? Fishing tours and boats, like those offered by Fishers of Men Guide Service and Fishing with Gus and the Fishin' Pros, can 'hook' you up with a good time! If you'd rather stay on land, find your flow (or swing!) at Lake Norman Mini Golf or among the 54 holes of mini golf open at Frankie's of Charlotte (bonus, their cafeteria is open too!). If you're looking for something a little quieter, stroll through our number of beautiful parks to engage in forest therapy (and maybe capture amazing photos, which we'd love for you to share on Instagram with us - just tag @visitlakenorman)!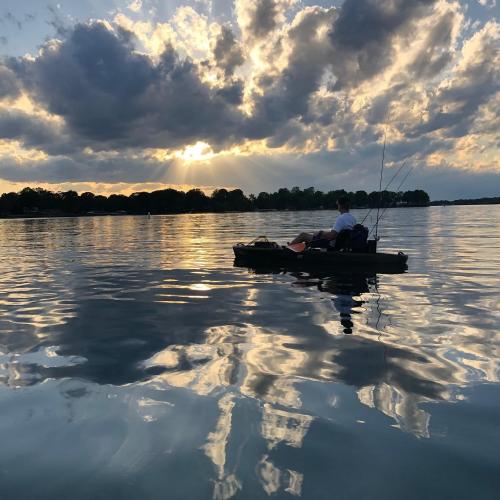 @j_singleton via Instagram
Distance doesn't mean distant
There's no need to miss out of a shared experience because we may be apart. If you're physically unable to meet, take your phone or device of choice and video call from any of a number of our outdoor venues, or record it to show them later. Share the beauty of Lake Norman with the people who make life beautiful for you! If you use the Zoom platform, we have custom Lake Norman Zoom backgrounds you can add to your virtual environment to bring our area to the area any of you happen to be! (And bonus: Zoom now offers card and checkers games to play together!)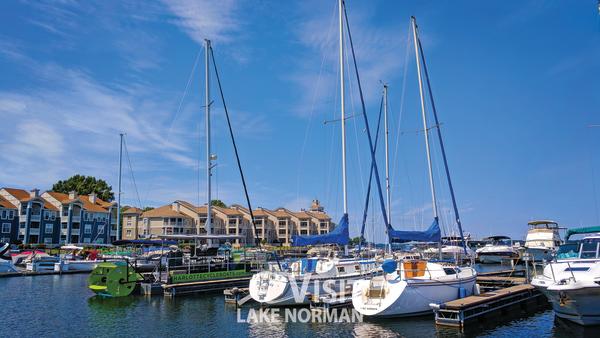 Zoom Background
Send a LKN Care Package
Create your own Father's Day LKN Care Package from our online store that you can customize and add your own message which we'll ship straight to his home.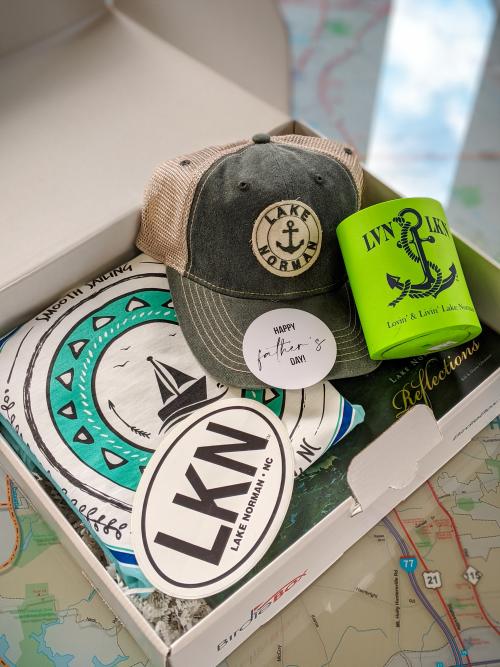 Pay it forward
While the state and country begin to cautiously reopen, there are still a number of limitations and closures. If the father figures and fathers you're celebrating have a restaurant, attraction, or retail spot which is temporarily closed or has reduced capacity or inventory, purchase a gift card that he can have to use when things go back to normal. Or if they would like a chance to help out their community, suggest making a donation in the Lake Norman Virtual Tip Jar or to a local organization on their behalf!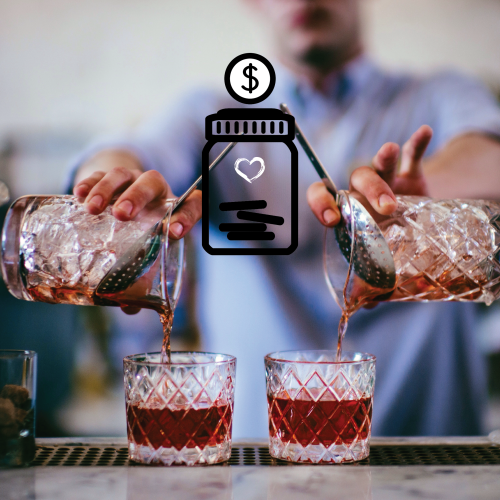 Virtual Tip Jar
We hope you enjoy this special day with the amazing dads out there and tag us in your Father's Day plans on social media @VisitLakeNorman. We'd love to hear how you spent the day!