With the start of summer fast approaching, Memorial Day weekend is a great way to kick off the season. From the opening of public beaches to events honoring those sacrificing for our freedoms, there is no shortage of things to do over the holiday. Read more to find out how you can enjoy the three-day weekend here at Lake Norman!
---
Swimming Beach at Ramsey Creek Park
Start the summer with a splash! Ramsey Creek Beach will open for the season starting on Saturday, May 28th! With the weather warming up and the summer days returning, this is a great chance to lounge on the sandy beach and go for a swim. Not only is there a 40 acre swimming area, but Ramsey Creek also offers boat launching and docks, a playground, picnic shelters, nature trails, and a fishing pier that's ADA-compliant. There will be an admission fee for each car to enter the park over the weekend. Shelters are available for rental and provide an instant picnic shelter along the shores of Lake Norman. No matter what you plan for your Memorial Day weekend, Ramsey Creek Park would be a great option for the entire family.
Fishing is a great way to spend time with friends and family while relaxing in the beautiful natural scenery of Lake Norman. There is an abundance of great fishing spots here at the lake along with a number of experienced guides who can help anyone catch a fish, regardless of experience.
For the solo fishermen, you can head out to Patriot Pier at Ramsey Creek Park or the shorelines of Jetton Park for a chance at a largemouth bass. No rod? No problem! You can borrow a rod from the Quest Center at Latta Nature Preserve and cast out your line for some blue catfish or crappies.  All anglers aged 16 and older will need a North Carolina fishing license. Guided tours are a great way to experience deep-water fishing, and this will be your chance to catch record-setting bass or perch. Check out our list of the best fishing guides in Lake Norman.
Enjoying the great outdoors is easy at Lake Norman with a number of beautiful, local parks. Blythe Landing is known for its waterfront views, and you can even play a round of volleyball at their sand courts. Bradford Park is home to an award-winning disc golf course that is open to the public for 9-hole and 18-hole games. For those looking for an adventure, the Quest Center at Latta Nature Preserve is a new facility in Huntersville with over 16 miles of trails and plenty of shoreline! There are also many parks with dedicated monuments to fallen men and women who have served in our military. Read our blog on 7 Memorials & Monuments to find places to visit and pay your respects over the weekend.
---
Would it really be Memorial Day Weekend without a heaping plate of BBQ? If you don't have the chance to have a cookout this weekend, The Crazy Pig has you covered! The Crazy Pig specializes in traditional smoked pulled pork butt and slow smoked beef brisket, and with their delicious mac & cheese & homemade coleslaw, you'll certainly find the authentic flavors you'd expect in a backyard barbecue. Don't miss out on trying one of their locally crafted beers!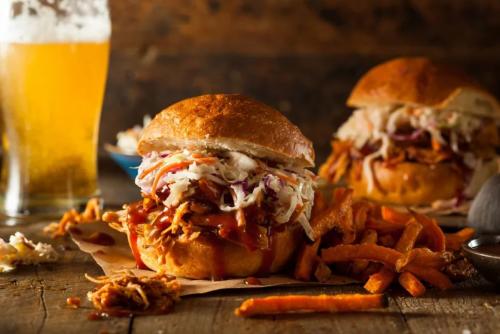 Pulled Pork Sandwich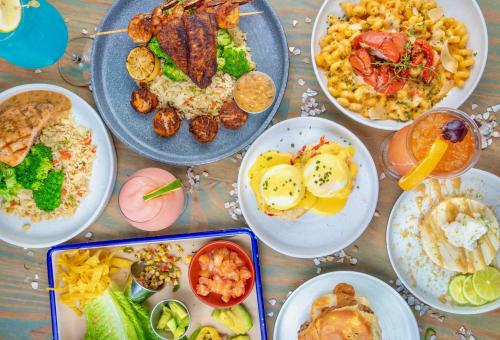 Sunday Lunch at Waterman Fish Bar
The Waterman Fish Bar is one of Cornelius's newest restaurants and is just a few minutes away from the lake. Located off Statesville Road, the Charlotte based restaurant offers fresh seafood cuisine and refreshing cocktails with a fitting nautical theme. The new location features a gorgeous three-season, climate-controlled patio perfect for the warming weather. We recommend you try one of their classics like the Lobster Mac & Cheese or the Creole Shrimp & Grits, and if you're in the mood for a drink, go for the Topside Treasure! Be sure to make it there on Friday if you can to enjoy their $1.50 Oyster Happy Hours on weekdays from 2-7pm!
Who says that dogs have to miss out on the fun? Lucky Dog Bark & Brew is a sports bar with an off leash indoor & outdoor dog park that also offers daycare, boarding & baths. You can bring the dog in for a beverage or two, or drop off the pup while you spend your day on the lake. Lucky Dog also hosts food trucks on weekends and will be the place to be for all dog-lovers this Memorial Day Weekend!
Waterfront dining is always a treat, and a long weekend is the perfect time to treat yourself. Hello, Sailor is renowned for their beautiful waterfront patio and is one of three waterfront dining options in the area. You can even come dine straight off of the boat! Their menu will often change based on availability of fresh ingredients, but some staples to try include peel n' eat shrimp, citrus crab louie salad, crispy soft shell crab, and jerk spiced NC catfish.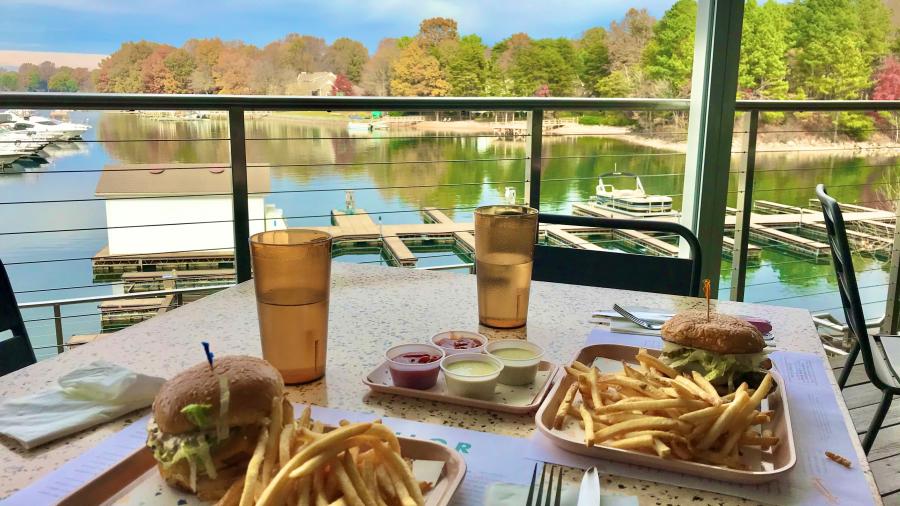 Lunch for two at Hello, Sailor
After a long day at the lake, you'll be ready to sit back and relax with a cold one. D9 Brewing is a premier brewery in Lake Norman, and offers a wide selection of craft beers including twelve options brewed in house! Enjoy the refreshing flavors of stone fruit in their "Into the White" beer, or sink into the sweet splash of melon flavor in the "Brewer's Day Off" beer. There will also be food trucks on Friday & Saturday, and a live music performance from Matt Bush on Saturday!
 
Whats Happening This Weekend?
There are a host of events being held over Memorial Day Weekend in the Lake Norman area. Whether you're looking for a concert, family fun, or something in between, there will be plenty of events suited just for you.
Friday, May 27th:

Block Party Lake Norman
Friday @ 5-9pm
D9 Brewery | More Details
Grab a beer and pull up a chair because the weekend is upon us! Each Block Party at D9 Brewing will feature live music, food trucks and local pop up shops.
Live Music @ Mac's 
Friday @ 5-8pm
Mac's Speed Shop | More Details
Come out to one of Cornelius' favorite hangout spots for live music and drink specials!
Saturday, May 28th:

Davidson Farmer's Market
Saturday @ 9am - 12pm
120 South Main St, Davidson | More Details
The Davidson Farmer's Market is a producer-only, year-round Market featuring more than 35 farmers and local producers from within a 100 mile radius. The Market is a lively gathering place for meeting friends and for learning about food, agriculture and nutrition.
Cruise-in at the Market
Saturday @ 9am - 12pm
14008 Holbrooks Road | More Details
Cruise into the Huntersville Growers Market at Veterans' Park for Cars, Carbs & Coffee! Shop the market, enjoy breakfast & coffee as you stroll checking out classic cars & trucks, hotrods, muscle cars, street rods and more.
​Sunday, May 29th:
 
Memorial Day Brunch
Sunday @ 1pm
Queen's Landing | More Details
Enjoy the lake while cruising the "Lady of the Lake" yacht on a premier brunch cruise!
Monday, May 30th:

Memorial Day Observance
Monday @ 10am
Veterans Park | More Details
Join the Town of Cornelius and American Legion Post 86 as we honor our nation's servicemen and women who have given the ultimate sacrifice for our freedom. This beautiful ceremony will be held on the lawn across from the Cornelius Veterans Monument at Rotary Plaza.
Memorial Day Ceremony
Monday @ 11am
Veterans Park | More Details
The Town of Huntersville and American Legion Post 321 would like to invite you to view the 21st Annual Memorial Day Service. Honor your local heroes by coming to Veteran's Park at 11:00 AM to participate in the ceremony.
---
Memorial Day Weekend will be an action-packed weekend full of events and activities suited for all ages. Let us know how you spent your three-day weekend by tagging us in your pictures @VisitLakeNorman. Have a great weekend and stay safe!